Have a siesta - wherever you like
Madrid duo Kawamura-Ganjavian dreamed up the Ostrich Pillow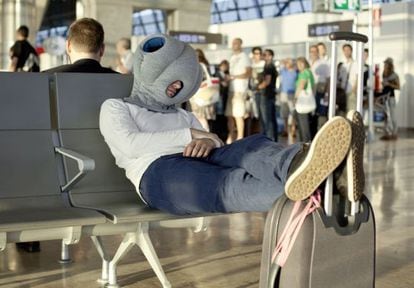 Any place is a good place for having a nap: a sofa, a beach or, why not, your office desk after a heavy lunch. With this in mind, the designers Key Portilla-Kawamura and Ali Ganjavian have invented the perfect accessory. Different from the usual cushion, the Ostrich Pillow can turn the most unlikely place into a relatively comfortable bed. The price? 50 euros.
The Ostrich Pillow may seem ridiculous at first sight. It is spherical, twice the size of a head, padded and has four orifices - one for the neck, another for the nose and mouth, and two for putting your arms behind your head - which allow air to enter in any position.
"We were looking for total privacy; a microenvironment where you don't hear or see anything," says Ganjavian. The idea came from a need that arose within their own company, located in Madrid, but also very common in countries where working hours are exhaustingly long, such as China.
The Kawamura-Ganjavian duo's base of operations is in the Madrid neighborhood of Tetuán. There, in a co-working space called Estudio Banana (of which they are co-founders), the concept was born and developed with the aid of designers throughout the world, who had to put their heads in all sorts of objects to find the desired prototype. They tried covering their eyes with a sweatband, or wrapping themselves all over in a blanket or a sweater.
The siesta is seen as a backward, old-world thing in Spain. But in other countries it is linked to productivity,"
"Working hours have changed. The time we pass in the workplace has doubled, and we cannot be equally productive with such long working hours," says Ganjavian. "Why not create a product that enables you to rest and disconnect, if this improves your work?"
The market promptly responded to the proposal, and in just seven days they obtained financing for the project. Not only did they get the $70,000 they needed to begin manufacturing, but received 160 percent more than they had expected. Three days after launching their product on the market, they already had over 2,000 orders.
"The siesta is seen as a backward, old-world thing in Spain. But in other countries it is linked to productivity," explains Ganjavian who, though of British-Iranian origin, speaks perfect Spanish.
"Little by little, Spain is opening up to innovation," he adds. Ganjavian says orders are pouring in from other countries. The US National Basketball Association has ordered some units for players to use while traveling. The British army has also requested a sample. "Not to mention some orders from centers for research on sleep, and associations concerned with autism," he explains.
Ganjavian's voice conveys calm. However, his ideas are crazy. Incredibly, this has enabled him to find a market niche by incorporating, in his functional designs, elements that also make the product amusing.
"Most of our projects stem from a crazy idea - but if you have the idea, however impossible it may seem, you can carry it through, just because you have been able to think of it." One of his mottos is "Fail, fail again, and fail better."