Catalan premier shelves fiscal pact after failed meeting in Madrid
Snap poll looms as Mas leaves meeting with prime minister under cloud of disappointment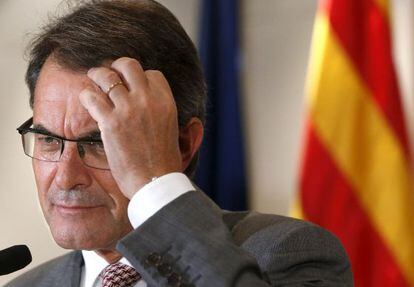 After a failed attempt to reach an agreement with the central government for a new financing plan for Catalonia, a disappointed regional premier Artur Mas said Thursday that in the coming days he will announce what steps he will take next, without ruling out early elections.
"This didn't go well," the Catalan CiU nationalist bloc leader said after meeting with Popular Party (PP) Prime Minister Mariano Rajoy. "The meeting was cordial and Rajoy's answer was frank: he told me there wasn't any margin to negotiate a fiscal pact."
Mas was seeking a new financing plan that would help his cash-strapped region obtain more funding from central government. Catalans have long complained that its tax base has given more money to Spain that any other region, but in the meantime they are getting less in return.
Rajoy pledged to review the system of financing for Catalonia during this legislature but outright rejected a fiscal pact, similar to that which is enjoyed by the Basque Country and Navarre regions.
"An historic opportunity was lost for a better understanding between Catalonia and Spain," Mas said.
Thursday's meeting came as tensions between pro-independence supporters and the Spanish government were heightened over the past week with about 600,000 people turning out for a pro-separatist rally during Catalonia's national day on September 11.
The turnout and Mas' subsequent call for new "structures of state" for his region prompted King Juan Carlos to issue a public message asking all Spaniards for unity as they face a deepening economic crisis, and warning Catalans to refrain "from chasing rainbows."
Addressing the growing discontent in the region before Congress, Rajoy vowed to uphold the Constitution and stop any independence drive.
After the two-hour meeting with Rajoy, Mas didn't want to state decisively whether he will call early elections. "There are questions for which there are no answers today. That day-to-day decision has not been taken," he said. He did recognize that this "closing of a door" constituted a "crossroads moment."
Alicia Sánchez-Camacho, the PP leader in Catalonia, called on Mas not to bring about early elections because the entire country "needs stability" to emerge from its economic, political and social crises. "That is our priority for now," she said.