FINANCIAL CRISIS
Rajoy relaxes, but has the bailout dilemma been decided on?
PM faces hot return to work desk after summer break in his native Galicia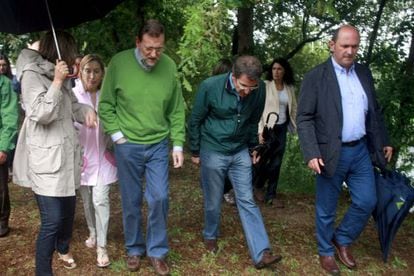 Mariano Rajoy faces a key dilemma in the coming days: whether or not to ask for a full bailout for Spain. It is a serious stress test for a man who considers everything from every possible angle before making up his mind. Then, he relaxes.
A day after the European Central Bank (ECB) clearly encouraged the Spanish prime minister to ask for a new rescue package, several of his ministers saw him looking relaxed at Friday's Cabinet meeting, as though he had a load off his mind.
But Rajoy did not actually tell his ministers what he plans to do. This type of issue is not addressed in Cabinet, but at smaller meetings which are only attended by his core aides: Deputy PM Soraya Sáenz de Santamaría, Economy Minister Luis de Guindos, Treasury Minister Cristóbal Montoro and Economy Secretary Álvaro Nadal.
Every minister consulted by this newspaper said they did not believe a final decision has been taken. Yet nobody denied that everything suggests there will be a new bailout (after Spain requested a "credit line" for its banks).
Rajoy is now on holidays in his native region of Galicia, knowing that upon his return he will be facing citizen wrath over the VAT rise, public workforce anger at pay cuts, and concern over what conditions Brussels might impose for opening up the money tap again.
A few ministers still believe that Spain can avoid going down the same path as Greece, Ireland and Portugal
A few government members still believe that Spain can avoid going down the same path as Greece, Ireland and Portugal. They think that Rajoy could negotiate using leftover money from the 100-billion-euro bank bailout to buy up debt. But others already accept that Germany and the ECB are pushing Spain towards a full-blown bailout with new, tougher conditions. And the record shows that so far, Rajoy has initially resisted but eventually yielded to Brussels.
What the executive is really worried about is being asked to reform pensions and reduce unemployment benefits even further. Pensioners are Rajoy's final frontier, after having gone back on his word on all other fronts.
"I have no intention of lowering pensions," said Rajoy on Friday. He no longer dares make a clearly negative statement. The fear of a rescue permeates every aspect of daily life: even the jokes. Not long ago, Montoro found a group of foreigners dressed in dark suits, standing in front of his ministry building. "Here they are! The men in black!" laughed his colleagues, in reference to the delegations of supervisors sent by the Troika (Brussels, ECB and International Monetary Fund) to bailed-out countries.
But even if the full bailout is somehow avoided, every single Spanish citizen will be feeling the effects of the recent austerity measures imposed by Rajoy's government. Some observers feel that burnout might force the prime minister to change part of his team this coming fall, but nobody in Spain believes that Rajoy himself might fall and be replaced with a team of technocrats, as the foreign media like to speculate.
"That makes no sense," says one government member. "Rajoy is doing everything they ask him to, and he does so with an absolute majority. He has no problem getting anything approved [and] there is no internal division. If Merkel wants to force a technical government like she did with Monti [in Italy], which was her move, she better be careful. That would be playing with fire. Spain is calm considering what's going down. But with a government that was not voted for at the polls, the streets would be on fire."