Joaquín Sorolla revisits the Alhambra
Show examines the Valencia painter's fascination with Moorish Spain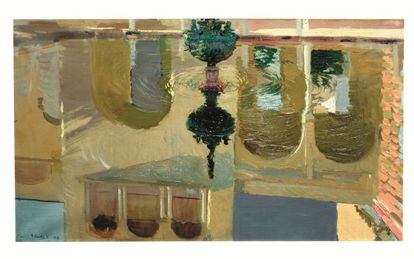 The Palazzo dei Diamanti in Ferrara, northern Italy, was due to be the first stop for Jardines de luz (Gardens of light), an exhibition of artist Joaquín Sorolla's (1863-1923) work inspired by Andalusia's Arab palaces and gardens. But the show had to be closed ahead of schedule after an earthquake struck the region on February 19.
Now this collection of late oil paintings by the Valencian artist is coming back home, to the Alhambra's Palacio de Carlos V in Granada.
Sorolla's "discovery" of the Alhambra and the Alcázar in Seville marked his reconciliation with Spanish culture, which in the last years of his life shifted him toward an esthetic and ethic shared by Nobel-winning writer Juan Ramón Jiménez (1881-1958).
"Even though Jiménez and Sorolla were from different generations, they both coincided on many things and above all on their vision of Spain," says the exhibition's curator, Tomás Llorens. "They were looking for that other Spain, deep and far away from the clichés, which Lorca and Ortega y Gasset also needed."
Sorolla traveled to Seville in 1908 with a commission to paint Alfonso XIII, "and he had a terrible time," says Llorens. "He hated the bullfights, and the flamenco made him dizzy. He wrote to his wife that he was going to go to bed early because he couldn't stand the Andalusians."
Sorolla hated the vulgar and empty Spain but the Alhambra can be said to have changed his life
Like the Generation of '98, Sorolla hated the vulgar and empty Spain. But when he discovered the Alcázar in Seville in 1908 and, a year later, the Alhambra and Sierra Nevada, he became captivated and reconciled with Andalusia.
The Alhambra can be said to have changed his life. He started to paint patios, marble, ceramics, ponds and columns, as well as the gardens and interiors in which he took refuge, like other painters and writers before him.
When in 1911 he was commissioned to decorate the walls of the Hispanic Society of America in New York with Spanish landscapes, and again painted Jiménez in 1916, his attraction for the writer's Spain became absolute. So much so that in this final portrait he placed his 1910 painting Fuente y patio de Alcázar de Sevilla (or, Fountain and patio in the Alcázar in Seville) behind the figure of the poet.
Jardines de luz, which travels to the Sorolla Museum in Madrid in the fall, silently speaks of the relationship between these two men via paintings that are evocative and filled with light. There are around 50 of them, more than two-thirds loaned by the Sorolla Museum, arranged in seven sections.
Llorens says that Sorolla and Jiménez converged through the Spain that they rediscovered through those Andalusian gardens. "The poet feels like he is at the beginning and throws out his question, like a manifesto, toward the future, while the painter, who has a long past, saturated in experiences and contrasting emotions, dissolves in the sheer pleasure of painting."
Sorolla. Jardines de luz. Until October 14 at Palacio de Carlos V, Conjunto Monumental de la Alhambra y Generalife, Granada. www.alhambra-patronato.es