The tale of the 'Spanish' millionaire who escaped the fate of Mubarak
Hussein Salem is facing extradition to Egypt on money-laundering charges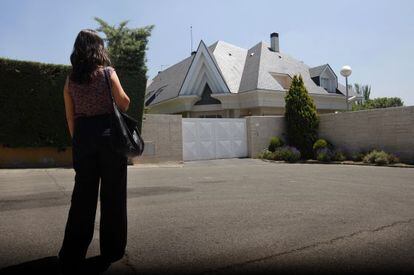 He is the wealthiest person that the Spanish money-laundering police unit has ever come across. Two suspicious money transfers totaling 17 million euros to Bankinter accounts led investigators to him in June 2011. The Egyptian multimillionaire Hussein Salem, 78, was arrested on money-laundering charges. When agents inspected the premises - a luxury home with gardens and a pool in the exclusive residential area of La Moraleja, outside Madrid - they found a safe the size of a slot machine. Inside was 300,000 euros in cash.
But what Salem really cared about was not the money, says one of the police officers. It was the documents inside the safe: contracts and deeds to all his properties, which are mostly in Egypt, where he has amassed a fortune that is estimated to total more than 2.5 billion euros. He made his money in the shadow of his friend, Hosni Mubarak, the former Egyptian ruler who was recently convicted to a life sentence for the killing of 850 protesters during last year's popular uprising.
Egyptian authorities are now trying to get their hands on Salem for bribery, money laundering, misappropriation of public money and influence peddling.
But at the time of his arrest, Salem produced a Spanish passport. He had acquired Spanish nationality in 2008, after being listed as a resident in Spain on the consulate register since 1985. The last thing Salem wants is to be extradited to his country of origin.
Salem acquired Spanish nationality after being listed as a resident since 1985
The arrest took place on June 14, 2011, six weeks before the trial against Mubarak began in Egypt. The leader, who was forced to step down on February 10 after 18 days of protests in Cairo, also faced charges of corruption. Salem was supposed to be there in the dock with him, together with several other defendants in the same case. The Spanish-Egyptian entrepreneur was accused of bribing Mubarak with five luxury villas for him and his children in the famous resort city of Sharm el-Sheikh, which overlooks the Red Sea. In exchange for that gift, the former ruler allegedly gave Salem over two million square meters of land in the most exclusive part of town, where he was planning to build a luxury residential estate.
On June 2, the same court that convicted Mubarak to life also acquitted Salem (in absentia) because his crimes had prescribed. The multi-millionaire, who Egyptian bloggers call "The Godfather of Sharm el-Sheikh," got off scot free from this deal, but he is still under investigation for allegedly maneuvering to obtain a contract to supply Israel with gas.
Besides that, he was also found guilty (in absentia, as usual) of another shady real estate operation: the purchase of land in Bayadeya, an island on the Nile that is a natural park, which he obtained through former Prime Minister Atef Ebeid. His sentence for that offense is 15 years. Meanwhile, in October 2011 the courts served him with a further seven-year sentence for laundering 1.6 billion euros from his gas business. So the Egyptian authorities are keen to get him back.
Salem left Egypt on January 29, just 12 days before Mubarak resigned, and he took refuge in his palatial home in Madrid. Ever since his arrest, he has been desperately trying to avoid extradition, and so far he has been successful. The High Court authorized his transfer on the grounds that he was using his Spanish nationality in a fraudulent manner, but last week the Constitutional Court suspended that measure until his appeal for legal protection is resolved. Meanwhile, Salem shows up at the police station every morning and continues to live in his Madrid mansion.
What is Egypt's richest man doing with a Spanish passport? "He is a man with strong roots in this country, who has been living here for many years," says one of his employees. "His children also live in Madrid, and they take their own children to school here. He has traveled in Spain a lot. He loves it. And he has not done more business here because he wanted to take the wealth to his country, Egypt, to help develop it. He always told me about the needs of his village."
This employee also adds that Salem - who declined requests for an interview with EL PAÍS, as did his children - is a tireless worker and an extremely good businessman, and that his enormous fortune is a result of his personal talent. "I have read and heard terrible things in the last few months about Mr Salem, but I have been with him for 32 years and I tell you that none of it is true. I never even heard him talk about Mubarak, for instance."
His two children, Jaled and Magda, who are also wanted by Egypt, have had Spanish nationality since 1998 and 1997, respectively, and they also live in La Moraleja, in two homes owned by the Salem family that were purchased in 1990 and 2001, and which police say are worth seven million euros. In Spain alone, Salem owns seven other properties in Marbella that are worth more than three million euros, besides several luxury cars.
For now, the only court Salem has faced is the High Court, over money laundering and the extradition case. Salem has denied that he fled Egypt over fears that the Mubarak regime was about to fall.
The courts served him with a sentence for laundering 1.6 billion euros
"I left Egypt because I am Spanish, and my intention was to go home, as usual," he said. "The situation in Cairo was very dangerous."
Salem also said that all the accusations against him are "false, outrageous, untrue and politically motivated." But the sentence he repeated the most, in English, was: "I am Spanish, like my children and my grandchildren." Before adding: "I love this country."