Messi's eternal night
Hat-trick against Granada sees Argentinean become Barça's top scorer with 234 goals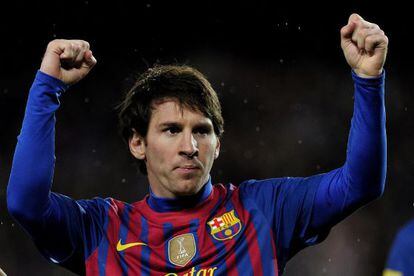 Alcántara went down in posterity as "The Netbuster." Samitier was known as "The Grasshopper Man" due to his inimitable style. Kubala will always be remembered for his precise and serene manner of scoring goals. Cruyff was "The Flying Ace." In more recent times, Laudrup was a dandy and Romario's goals were worthy of worship.
Barcelona has had plenty of good forwards. Since 1955 the most prolific scorer had been César, with 232 goals. But on Tuesday night Leo Messi passed that mark with a hat-trick against Granada to reach 234 for the club. Messi is a kind of supernatural synthesis of the great strikers — real number 9s and false center forwards like him — that the club has known.
A perfect and constant goal threat at the age of just 24, Messi's impact on soccer is impossible to gauge right now. He is currently the best player in the world, and is a very strong candidate to be the best of all time.
Messi is not interested in records, listening only for the play-time bell
But Messi is not interested in records, because he is not an athlete, but rather a soccer player who only listens out for the play-time bell. He plays for thrills, regardless of his position on the field, the opposition or the occasion. At Camp Nou this week he not only equaled and then bettered César's record, but he also helped Barça out of a hole after the Liga and European champion had let a two-goal advantage slip. Messi had doubled the lead established by Xavi before Diego Maínz and Guilherme Siquiera, with a penalty, both scored to make it 2-2.
So with César's record now a shared one and half-an-hour to play, Messi still had work to do. He broke Granada's offside trap to run on to Dani Alves' lofted pass, killing the ball with his first touch and sweeping it over the approaching goalkeeper with the next. Like almost everything Messi does, however complex, it was all over in the blink of an eye.
The two-goal cushion was restored when young Cristian Tello took advantage of a blocked Messi shot, and the Argentinean genius rounded off the night by converting another pass from Alves. Three more league goals to take Messi's career total to 153 (he has played in 204 Liga matches over eight seasons). Most of the rest of his club total have come in the Champions League, where he is one short of a half-century.
In today's Barcelona team under Pep Guardiola, he plays in nearly every game and he is close to averaging a goal a game, having knocked in 38, 47 and 53 in the three complete seasons since the current coach took over. This campaign is already a record for "The Flea," who has racked up 54 in all competitions.
Not even a late red card for Alves — with the concomitant suspension adding to Guardiola's defensive troubles — and a further goal for Granada from the penalty spot could sully a night to remember for 62,000 fans at Camp Nou. Nothing or no one, not even the referee, could dispute the starring role with Leo, the number 10 who plays as a false 9 but is more devastating than any Barça center forward has ever been. Is he set to become crowned the best forward in history? Only two men, the giants Pelé and Messi's compatriot Diego Maradona, stand between him and that accolade. Will he express his dominance in an Argentina shirt? Only time will tell.
But Messi put on a magnificent show, in keeping with the feat that was breaking César's club scoring record. It was a performance for all eternity.
"Compare him to Jordan"
A. GÓMEZ
"Apart from being an exciting match, the 5-3 was an homage to the cinc Copes team [from the 1950s — one of its members, Estanislau Basora, died last week] and it also served to commemorate another historical player such as César. And we did so with a match from another era. I must congratulate the team for overcoming the setbacks. At 24, Messi has entered club history with a record that no one will ever break." So said Pep Guardiola after Tuesday night's victory over Granada, in which Leo Messi became Barcelona's record goal scorer.
"Is he the equivalent of Michael Jordan?" the coach was asked.
"Jordan dominated basketball and Messi dominates soccer. There are very few who can dominate their sports with such ease, so yes, you can compare him to Jordan alright."