Spain headed for record deficit level, according to IMF
The global organization says the country will not return to pre-crisis unemployment figures before 2026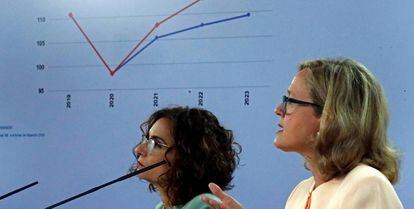 Besides leaving one million dead in its wake and changing lifestyles on a global scale, the coronavirus pandemic has also laid waste to the economic projections made by all governments, including that of Spain.
In pre-crisis days, the country had been expecting to see a 2020 public deficit of around 1.8% of gross domestic product (GDP). A week ago, Finance Minister María Jesús Montero was already discussing a revised deficit of 11.3%.
But on Tuesday, the International Monetary Fund (IMF) took that further and estimated Spain's deficit for 2020 at a record 14.1% of GDP. This account imbalance represents around €140 billion, roughly what the government spends on pension payments for Spain's nine million retirees.
Spain will also become the world's 16th most highly indebted country, according to the IMF
The soaring deficit is a result of the new financing needs created by the coronavirus pandemic, which has triggered a crisis on health, social and employment fronts. To this must be added lower tax revenues.
Spain will also become the world's 16th most highly indebted country, according to the IMF, which this week released its revised World Economic Outlook forecast. Compared with last year, when the public debt stood at 95% of GDP, in 2020 it is expected to reach 123%. This is still below other countries, such as the United States (131%), Italy (161%), Greece (205%) and Japan (266%).
The news comes on top of an expected economic contraction of 12.8% of GDP this year, the biggest of all advanced economies, according to the IMF. There is no precedent for such figures in modern Spanish history.
Economy Minister Nadia Calviño has pledged to reduce the deficit as soon as the Spanish economy begins to grow again. According to the IMF, in 2021 the account imbalance will shrink to 7.5%, but this will require significant efforts. The Spanish government has placed fiscal rules on hold for 2020 and 2021, to give regional and local authorities greater leeway to make spending decisions.
The IMF is not expecting Spain's deficit to drop below 3.9% before 2025 at the earliest. This figure would still be in violation of the European Union's Growth and Stability Pact, which stipulates that government deficit should not be more than 3% of GDP, while total government debt should not exceed 60% of GDP. Ever since Spain experienced the 2008 crisis, the country has only met the 3% deficit target once: in 2017, under the government of Mariano Rajoy of the Popular Party (PP).
The EU's fiscal policy rules have been temporarily placed on hold due to the exceptional situation caused by the coronavirus pandemic: nobody is thinking about cutting costs during a health crisis. But with a public debt expected to be in excess of 118% of GDP for the next five years, Spain could be a candidate for cuts when the winds of austerity start to blow again. It will not be alone, however: Portugal's debt for 2020 is forecast at 137%, while France and Belgium both come in at 118%.
The job market
Things are not looking better in the job market, which has traditionally been one of the weak points of Spain's economic structure. The IMF does not think that Spain will return to pre-crisis unemployment levels until 2026. This year and the next, the jobless rate is expected to be in the range of 16.8%.
There will be job creation in 2021, but only enough to make up for one out of every five jobs lost this year, according to the international organization. That is to say, fewer than 200,000 positions will be created next year, not enough to cover the estimated one million jobs that will be lost by the end of 2020.
The year had started out well enough. After emerging from the previous crisis, which pushed the jobless rate to 26% in 2013, the Spanish economy had been reducing that percentage for six straight years to reach 14%, a number that would be catastrophic in other countries, but which does not appear quite as bad in Spain, where citizens are used to double-digit figures.
The IMF predicts that the Spanish unemployment rate will remain above 14% at least until 2025. But the numbers could be even worse, considering that there are 728,000 workers currently on the government's so-called ERTE furlough scheme who do not count as unemployed.
Just like with the GDP contraction, it is difficult to find other developed economies with equally bad unemployment rates. In Europe, only Greece is expected to fare even worse with a rate of 19.9%.
English version by Susana Urra.