'Love Actually': The great Christmas romantic comedy that time turned toxic
As the streaming platforms bring about a rebirth of the holiday romance genre, the must-see film of the season faces endless criticism that its creators handle by claiming that the characters are not perfect; just human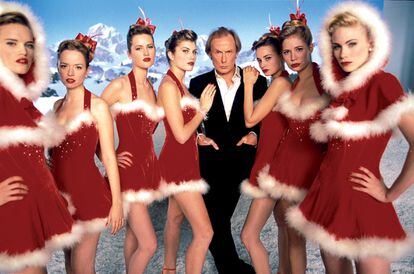 Aside from marking the official beginning of the Christmas consumerism season, Mariah Carey's "It's time!" also serves as a reminder that Love Actually is approaching — a movie in which Carey's All I Want for Christmas is You plays an essential role, and probably the last classic Christmas romantic comedy, 20 years after its release. The initial response to the film written and directed by Richard Curtis was rather lukewarm; after all, 2003 was the year of The Lord of the Rings: The Return of the King, Matrix Revolutions and Kill Bill. It was the sixth choice at the American box office at its release, even below the third installment of Scary Movie, and the critics did not hold back their disdain. "If listing the cast of Love Actually is exhausting, it is even more tiring to watch it," declared The Washington Post.
It was its DVD edition and the television broadcasts that turned it into an atypical Christmas classic in the vein of Die Hard or Gremlins, in which the holiday is only a backdrop with no particular weight on the plot; and it is the viewers that found it through streaming platforms who have subjected it to a phenomenon that series like Friends have also gone through: revisionism. Comments like "This movie has so many creepy elements to it and it shouldn't be shown on TV any longer," can be found all over social media, and there is an entire Reddit thread that deems it "a disgusting movie in its toxic portrayal of love." The growing tide of contempt against what used to be seen as nothing more than an overly commercial, corny product, led The Independent to ponder last year: "Why does everyone love to hate Love Actually?"
The word most used to define it by the viewers who have come across it recently is "toxic," and the main culprit is Andrew Lincoln's character, the best man who is in love with his best friend's girlfriend and is responsible for one of the most recognizable parts of the film: a declaration of love to Keira Knightley's character in which he uses a series of poster boards — a sequence inspired by Bob Dylan's video for Subterranean Homesick Blues — after having obsessively videotaped her.
"Are you sure I'm not going to come off as a creepy stalker?" the actor kept asking Curtis, according to Entertainment Weekly. Some viewers did not like that Knightley was kind to him after his declaration and rather than being romantic, as Curtis expected (the role was inspired by himself), her behavior was considered shady. However, the truly reprehensible detail of this story is often overlooked: at the time of filming, Knightley was 17. It was the site Jezebel that opened the floodgates of controversy a decade ago by describing Love Actually as a movie of just "straight white men" doing things. "None of the women in this movie fucking talk. All of the men in this movie 'win' a woman at the end."
Curtis admits that he feels "a bit stupid" about the movie's lack of diversity. There are things he would change, he told Diane Sawyer, "but thank God society is changing. My film is bound in some moments to feel out of date." The director is also aware that too many stories are set in the work environment and between bosses and their subordinates. We have the British prime minister flirting with his assistant, an office manager flirting with an employee and a writer who falls in love with his housekeeper. The most controversial, due to the obvious inequality of power, is Hugh Grant's storyline. His role requires a great deal of suspension of disbelief, from how unlikely it is that a young, single man could be prime minister, to the fact that he must go door to door looking for Natalie, his talkative, adorable assistant, who left the job, unable to deal with the situation. Does Downing Street not keep the addresses of its workers? From any point of view, past or present, his flirting with a subordinate is reprehensible, as well as the fact that he reconsiders diplomatic relations with the United States after surprising the country's president crossing the line with her.
Still, he is not the worst boss in the movie. The late Alan Rickman acts as a walking cliché as the older man who succumbs to the charms of a younger, more willing woman than his selfless, sensible, hard-working wife (Emma Thompson), one of those mothers who have to deal with their children letting them know on Sunday at 11:00 p.m. that they have to bring a poster board to class the next day (in this case, the situation has to do with a lobster costume). Rickman's character is not treated with benevolence: he is the great villain of the film, who causes his sweet wife — as well as the viewers — unbearable suffering.
Uncle Jamie, played by Colin Firth, also suffers — because he finds his brother in bed with his girlfriend. To overcome the trauma, he goes to France, where he falls in love with a Portuguese woman despite not speaking the same language; perhaps just because of that. It is one of the most analyzed and most criticized stories in the movie, due to his position of power and the fact that she barely speaks, as the story is told from his point of view. "Colin Firth falls in 'love' with Aurelia at first sight, establishing Love Actually's central moral lesson: The less a woman talks, the more lovable she is," wrote Lindy West in Jezebel.
The storyline of Liam Neeson, who plays a widowed stepfather who tries to establish communication with the son of his recently deceased wife, has also been categorized as creepy. When he finds out that the boy is depressed because he has a crush on a classmate, they begin to concoct crazy plans to win her over, which ends with a chase through the airport that in real life would set off several anti-terrorist alarms. But while the love life of two preteens raises some eyebrows, nothing is more questionable in this story than the fact that Neeson flirts too soon with Claudia Schiffer, as the protocols of dating after widowhood dictated by social media are very strict. He is also frowned upon for falling in love with her after seeing her only once, as happens with Colin Firth's story.
A criticism, in fact, that extends to almost the entire film and that no critic seems to be able to ignore, as Christopher Orr notes in The Atlantic, where he declares it "the least romantic film of all time." In his article, Orr states: "Love Actually is a considerable outlier among romantic comedies in its rigorous conviction not only that people fall in love without really knowing one another, but that they don't even need to learn anything about each other to confirm their initial attraction." A curious opinion in the time of Tinder.
Martine McCutcheon, who plays Hugh Grant's object of desire, disagrees with the criticisms, and to this day she stands up for the movie. "It was 20 years ago, and the world has changed a lot but I also think that part of the charm of the film was the fact that some of the love stories and the characters weren't perfect," she told the Daily Mail. "For me, part of the reason that I love the film is because it was so honest and it wasn't about ticking too many boxes and being PC, it was about being human."
Sign up for our weekly newsletter to get more English-language news coverage from EL PAÍS USA Edition