The hidden secrets of Rosalía's library
Publishing houses, fans and Twitter users alike are scrutinizing the books that appear on the Spanish singer's social media accounts. She has become a literary guru. Her favorite authors — from Simone Weil to Ocean Vuong — create imaginary worlds that influence her music
Last year, Rosalía broke a weeks-long silence with an end-of-summer photo dump. A pile of books that were face-down in the second picture prompted an immediate reaction: publishing houses, fans and Twitter users (who clearly had a lot of time on their hands) set out to determine which titles the Spanish singer was reading.
Works by Camille Paglia and Charles Bukowski came to light right away. A slim volume, however, raised some doubts: was it Leo Tolstoy's Confession, or Hombres Fatales (Fatal Men) by Elisenda Julibert?
The dissemination of subtle virtual clues is fundamental in Rosalía's social media universe… and her followers don't need any pretext to join the game. For celebrities who enjoy delving into the zeitgeist in search of influence, the incorporation of books into their online publications has opened a portal of infinite loops.
Ocean Vuong — a Vietnamese poet raised in the United States — was one of the first to appear on the star's social media. It was August of 2022 and Rosalía was on tour in Chile, when — in a post — she revealed the back cover of a yellow book. After extensively zooming in, the publisher of the Spanish translation of On Earth We're Briefly Gorgeous (2019) concluded that this was indeed Vuong's first novel. The singer then cleared up doubts shortly afterwards, by calling him her "favorite writer in the world." She even quoted Vuong's work in an interview with Penélope Cruz in Vogue: "The rules, like streets, can only take you to known places."
Like Rosalía in her music, Vuong tends to deconstruct language in his books. Written in English, in the second person singular, On Earth We're Briefly Gorgeous is a letter that Vuong pens to his mother, a Vietnamese immigrant who works extremely long hours in a poor Connecticut suburb. She's a woman who never learned to read. Vuong reconstructs the wars — both the intimate and literal ones — of his mother and grandmother, as well as his sexual and sentimental awakening with Trevor, a white teenager who lives in a trailer and fights his own battle against fentanyl.
Rather than using language as a tool, Vuong seeks answers within it. He constantly plays with double meanings and extracts syllables to create new concepts. He understands that words "are nothing but mirages" that transform what they name, just as the animals that appear in the book transform into each other. The reader encounters injured maples on the road and macaques whose brains are devoured in Vietnamese fertility rituals. Monarch butterflies — colored red and ocher — suddenly "expand through the white air, like a stream of blood."
The butterfly as a symbol of metamorphosis is the emblem of Motomami, an album in which Rosalía breaks down both the language and the musical genres that comprise it. In the song Saoko, she notes: "I'm a butterfly / I transform myself."
It's not hard to see why she finds Vuong to be inspiring. A gifted creator of images and moods, the novel has shaped the literary streets: he has invented his own genre. Only after taking this creative risk did he become a best-selling phenomenon who has been translated into 27 languages. The singer has taken the same kind of risk, as she proudly sings: "I didn't base my career on having hits / I have hits because I laid the foundation."
Vuong and Rosalía both fixate on the ever-changing and the ephemeral, shining a strange light on what is about to stop being what it is. This turbulence applies both to natural phenomena and fame itself.
"A flower is seen only toward the end of its life, just-bloomed and already on its way to being brown paper," the author writes. Rosalía has a similar idea within her lyrics in the song Sakura: "Sakura flower / Sakura flower / Being a popstar never lasts."
Posting and speaking about Ocean Vuong strengthened Rosalía's role as a literary influencer. She also revealed to her followers that her first album — El mal querer (The Bad Loving) — was inspired by Flamenca, a 13th-century anonymous romance that was banned. As soon as she mentioned this, the 800-year-old work flew to the top of the bestseller lists on Amazon.
Another book that appeared on Rosalía's Instagram last summer was Soap and Water, an essay on involuntary elegance by Barcelonan journalist Marta D. Riezu. The author's small independent publishing house quickly sold out of copies overnight. It didn't reach the general public (nor Rosalía's library) in paperback until it was reissued by the large Spanish publishing house Anagrama, which extended its life as a bestselling phenomenon.
D. Riezu's essay is fragmented. It's a catalog of observations and preferences that tries to give shape to the journalist's idea of elegance, an elusive concept that she relates to "discreet joy, the generous gesture… what prefers to go unnoticed and avoids marketing and noise." In people, objects and attitudes, she prioritizes what is solid and discreet over shabby and hasty imitations. The piece can almost be read as an anti-Ikea manifesto. Rosalía shares this philosophy: "This is so that it stays / What I do, lasts."
Riezu's criteria are personal and arbitrary — she approves or rejects things in no uncertain terms. She writes that we must "take care of what no one notices" because "God sees it." When it comes to finances, she opines: "I think cash is elegant. I'm fascinated by the design of banknotes… how they feel when they've been around for a while, their allegorical power. In exchange for a piece of paper, I fulfill a desire." In her song Chicken Teriyaki, Rosalía reveals this same fascination: "In New York, visiting my jeweler / He only wants cash, I give him my money / One bill, two bills / It's a bill store."
What Riezu tries to define is an amalgamation of things that bring value and solidity to the world, counteracting its cruelty. If her critics describe her as reactionary, it's probably because of her preference for traditional values and attitudes. She claims to have a "spiritual formation" that cannot be learned "on an Instagram profile, nor by reading interviews with Byung-Chul Han." But she's not pretentious — her work praises humble efforts, as well as "the routine, the shelter of stability, the balance" that she obtained in her childhood, thanks to "a family that made a big effort for her." In a similar sentiment, the Spanish singer raps: "I didn't have to do / anything that I regret / to stay standing / I killed myself 24-7 / That's what I had to do."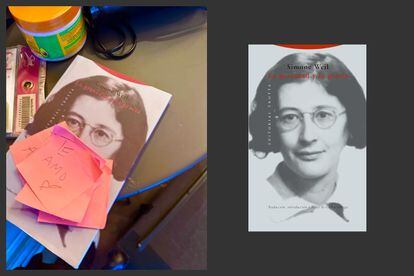 "If elegance sounds too pretentious, think about grace," Riezu writes in the introduction of her essay. "It's more vibrant and less solemn… and it also has character and integrity." For her, grace is salvation — it's a counterweight to all that is serious and abject that exists in the world and in each of us. Grace is the only way to escape the force of gravity, the central law of the universe.
These concepts were previously dealt with by the French philosopher Simone Weil in her best-known book, Gravity and Grace, which was published posthumously in 1947. It's made up of the scattered notes that Weil left in her notebooks before her premature death. Rosalía's spirituality is also no secret, as heard clearly in her single Hentai: "The second thing is, fuck you / God comes first." The appearance of Gravity and Grace on her Instagram caused a discreet stir at the intersection between fans of pop music and Christian philosophy.
Weil — a Jew who embraced Christianity — tried to live according to her complex and ever-changing thinking. She joined an assembly line to understand the spiritual affliction of the factory workers. Despite suffering terrible migraines, she spent her last days in Nazi-occupied France working in the fields, to experience what the peasants were going through. Then, while in exile in the U.K., after having been admitted to the hospital, she refused to eat more calories per day than those consumed by members of the French resistance (which undoubtedly accelerated her death). She firmly believed that philosophy shouldn't be abstract, but rather something that could be part of people's lives. The first revolution had to be the spiritual one — the one that each individual wages internally.
At one point in On Earth We're Briefly Gorgeous, Vuong quotes Weil. It's the first time that the narrator is having anal sex, on the floor of a barn. "Perfect joy excludes even the very feeling of joy, for in the soul filled by the object no corner is left for saying 'I'." Vuong equates the "perfect joy" of sexual communion with the complete renunciation of self that Weil believes is necessary to access grace… the only exception to the brutal law of gravity that governs life on Earth. Salvation requires an acceptance of emptiness. "The imagination is continually at work filling up all the fissures through which grace might pass," she wrote. As Rosalía sang: "Keep it cute, brother, keep it cute / Here, the best artist is God."
It might seem that there's no figure more antagonistic to Weil's ideas than the American art critic and cultural commentator Camille Paglia. However, despite defining herself as an atheist, Paglia respects religion as an inspiration for great works of art, as well as for being "a metaphysical lens through which we can see the vastness and sublimity of the universe." A collection of her articles under the title Feminism Past and Present was one of the books that the internet identified in a post by Rosalía this past September.
To define Paglia as a heterodox feminist would be to sweeten the polarizing effect of a writer whose debut work — an exhaustive study of sexuality in art, titled Sexual Personae (1990) — was compared to Mein Kampf by feminists of the time. Paglia, 76, earned her reputation as a strident debater back in the culture wars of the 1970s and 1980s. Her atavistic worldview is often caricatured, while her rejection of self-victimizing campus feminism is much-criticized. However, her prose — invigorating and full of electric insights — remains without equal in the literature of the genre. "You read major figures not because everything they say is the gospel truth," Paglia affirms, in the lecture that opens the book, "but because they expand your imagination, they expand your I.Q… they open up brain cells you didn't even know you had." A statement that could easily be applied to her own body of work.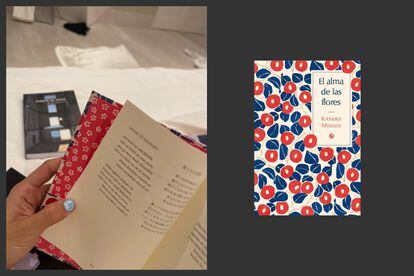 In the work, the object of Paglia's anger (in the early-1990s, at least) is a professor who, in a presentation, used contemporary magazines to denounce the oppression of women. She considers this to be a harmful and psychotic attitude, as well as an unforgivable insult to the altar of beauty. "Beauty is an eternal human value. It was not a trick invented by nasty men in a room someplace on Madison Avenue," she says.
In her world, there's no distinction between high and low culture: pop idols embody archetypes present in literature, while art (including fashion magazines) — since the beginning of time — "are part of art history." Her personal hero is David Bowie, the artist who defines transformation; the androgynous creator who flows between the masculine and feminine universes, without ever being one or the other. Cue Rosalía: "Drag queen makeup / I transform myself."
To travel through Rosalía's literary world — or, at least, through the small fraction that she's shared with her audience — is to soak up everything sacred and profane that reverberates in her music and visual universe. Transformation, evolution, grace, God, fame, elegance, sex, money… these are all pieces of the puzzle that Rosalía is putting together with her music, playing with syllables to find the voice of God.
Sign up for our weekly newsletter to get more English-language news coverage from EL PAÍS USA Edition