EDUCATION
Tribune
Opinion articles written in the style of their author." These texts are to be based on verified facts and must be respectful towards people, even though their actions may be criticized. shall feature, along with the author's name (regardless of their greater or lesser renown), a footer stating their office, academic title, political affiliation (if any) and main occupation, or the occupation related to the topic being assessed
The Smith effect: the college that gave American feminism wings
The elite institution — created in 1871 — educated icons such as Sylvia Plath or Gloria Steinem, allowing them to dream of broader horizons
In the small Massachusetts city of Northampton, about 100 miles away from Boston, the imposing walls of Smith College cannot be missed. This elite New England university — reserved exclusively for women — has stratospheric tuition costs. However, it's also a historical bastion of education, LGBTQI+ rights and American feminism.
The college was founded in 1871 by Sophia Smith, who was left a large inheritance from her wealthy father, a Hatfield farmer. "I offer my own sex," she wrote in her will, "educational means and facilities, similar to those that, today, are allocated to young men." Her desire was to create and sustain an institution in Northampton for the higher education of women, one that would be comparable to Harvard or Yale (where they were forbidden access). This dream ended up being more than fulfilled, as many famous feminist icons — such as Gloria Steinem, or Betty Friedan (author of The Feminist Mystique) — have passed through Smith's classrooms. Even some of the first female Spanish university students, such as María Goyri or María de Maeztu, visited the campus at the beginning of the 20th century.
Another alumna was Sylvia Plath — "America's Poet" — who studied at Smith College in the early 1950s. This wasn't easy to achieve, because, as Plath wrote in her diary, Smith College was, in many ways, an unattainable place for her. The students lived in houses made of red brick or wood, surrounded by elm, walnut and wild cherry trees. Small communities of women dotted the natural beauty of the campus, lovingly landscaped as a full-scale botanical garden by Frederick Law Olmsted, who co-designed Central Park. There was also a lake with silky waters and wooden boats; in the winter months, fluffy white snow covered the grounds. In the center of this paradise — standing out slightly above the rest of the buildings — stood the bell-shaped dome of a beautiful glass greenhouse, built in 1895, with hundreds of exotic plants and flowers inside.
Plath — the most ambitious poet of her generation — was well aware that studying in a place like this could be a trigger for her literary career. Fatherless, she also knew that she would need a good scholarship to make her dream come true. The miracle happened thanks to a stroke of luck, when the successful novelist Olive Higgins Prouty, also a graduate of Smith, awarded Plath one of her scholarships for promising young writers. Thus, at the start of the fall semester in 1950, Plath landed in Haven House, a small university residence painted white and yellow, located on Elm Street. This is where she would live during the early days of her college education.
"A bland vanilla moon of maple cream." With this juicy, unforgettable verse, Plath immortalized the arrival of one of her first Northampton springs, with its youthful stars and honey-colored sunrises. "I'm at Smith!" she joyfully noted, in her childish handwriting on one of the lined pages in her university journal. "Girls, there are girls everywhere, reading books… I live with two thousand girls, [some of the most] outstanding in the United States," she wrote.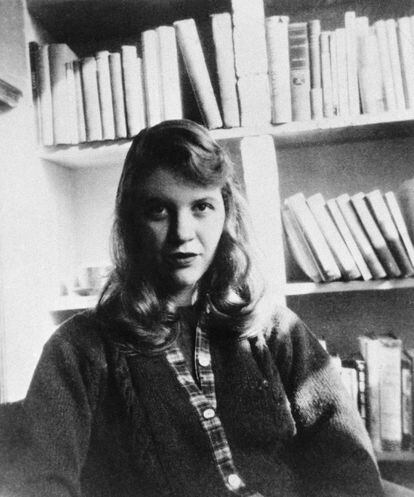 It's hard to believe that this same young woman — so open to beauty and life — tried to take her own life by the end of her third academic year, with an overdose of sleeping pills.
A decade later, those decisive years of university education — vibrant with longing, but also tinged with the terror of failure — would make up the autobiographical material of The Bell Jar. In this novel, Plath would approach the suffocating gender norms of 1950s America in a chilling way, albeit with irreverent humor. In her society, the wings of young women were clipped.
Although Plath would survive that particular suicide attempt, nothing would ever be the same. In fact, in the fall of 1957 — when she returned to Northampton, newly married to the British poet Ted Hughes, to work as a professor of English literature — she described Smith in her journals, but this time, she used dismissive words. She referred to Northampton as a "college town" and the students at Smith as "insubstantial." Gone was the Sylvia who gazed at her first vanilla moon from Haven House; the promising young woman whom the "Smith effect" had led to "yearn for more," pushing her "further and further," allowing her to dream of ever-widening horizons.
This dream was a collective one. For example, well before Plath's time, in 1909, the Spanish writer and educator María Goyri passed through Northampton (whose 150th anniversary is being commemorated this year). She came along with her husband, the distinguished philologist Ramón Menéndez Pidal, who was giving a lecture tour across the American Northeast. During the trip, Goyri wrote long letters to her mother, recounting everything she saw at Smith College. She was extremely interested in the idea of a prestigious college for women.
But Goyri is only the first of the many threads that intricately tie Spanish feminist genealogy with that of North American women's universities. Another fascinating tale is that of María de Maeztu, director of the Residencia de Señoritas in Madrid. Founded in 1915, it maintained close ties to Smith College in the early years of the 20th century, as the first Spanish institute of higher learning for women. In 1919, Smith gave De Maeztu an honorary doctorate.
However, the most romantic note in this fascinating Spanish-American connection is, undoubtedly, written by the poet Pedro Salinas, who fell madly in love with one of those feminist American professors, Katherine Prue Reding, who arrived in Madrid in 1932 from Smith, to attend the summer courses for foreigners. Some of the most passionate love letters of the 20th century — now preserved in Harvard's Houghton Library — flew feverishly over the next few years from Salinas's Madrid home to Northampton: specifically, to 77 Prospect Street.
In the middle of last June, I travelled to Massachusetts from Madrid to conduct research at the Sophia Smith Collection of Women's History. I also followed in the footsteps of some of the protagonists who made this transatlantic journey. Like Sylvia Plath, I was also stunned by the dazzling vision of that majestic crystal palace dedicated to female education.
During my trip, I learned that Plath had coincided with Gloria Steinem at Smith. And I was told that it's not unusual to bump into Steinem around campus today: she's very active as she approaches the age of 90.
When I found out that the poet and the author were at the campus at the same time, I began to fantasize about a secret meeting between them. I pictured them in the conservatory, of course, under the huge glass dome. Such an encounter, I told myself, would have been able to stop the unfolding of a tragic course of events: on February 11, 1963, Plath took her own life in her London home.
Perhaps the "Smith effect" could bring America's Poet back to us. A woman who — as Steinem described — guarded a dangerous world that would change the history of literature forever. She, too, might have been a wise nonagenarian today, sitting on one of the wooden benches in Smith's botanical garden, surrounded by students.
Sign up for our weekly newsletter to get more English-language news coverage from EL PAÍS USA Edition