Glory and tragedy of Arnold Schwarzenegger, the abused child who triumphed in film, politics and now television
One of the greatest actors of the eighties and nineties debuts on the small screen this Friday with 'FUBAR,' followed by a three-episode documentary on his life 
Australian writer Clive James once described the then 30-year-old bodybuilder Arnold Schwarzenegger, as having a body like "a condom full of walnuts." It is more than likely that Schwarzenegger read the phrase: according to one of his biographers, Michael Blitz, author of the hilarious chronicle Why Arnold Matters: The Rise of a Cultural Icon. The actor, politician and former Austrian athlete is an incorrigible narcissist who tries to "read every last line that is published about him."
Like so many other pop culture icons, Arnold seems to have a schizophrenic relationship with his own persona: "He loves the level of notoriety it gives him, but hates being reduced to what he considers a vulgar caricature." He is particularly mortified that the enormous efforts made to conscientiously "sculpt" his body between the ages of 15 and 25, in what he describes as the formative stage of his life, can be dismissed with a cynical and corrosive comment like James'.
Schwarzenegger staunchly resists the notion that his personal successes might be laughable, that the superbly honed musculature he conceives of as a work of art born of determination and discipline might be the subject of cruel jokes like James's, the man who thought that "a sense of humor is nothing more than common sense dancing." Schwarzenegger has tried dancing. And, with remarkable success, he has even been able to laugh at himself. But his sense of his own dignity means that he does not quite tolerate upstarts trying to mess with his legacy.
Always in the spotlight
This Friday marks the Netflix premiere of FUBAR, a series in which Schwarzenegger plays a fictional veteran CIA agent, and on June 7 Arnold will also appear in a three-episode documentary series with which Netflix has set out to show "the man behind the muscles." And this is not just any man. As much as his triceps might make one think of a prophylactic crammed with nuts, Schwarzenegger is a complex individual with a particularly rich biography.
To start, there's the scrawny kid who competed with his older brother for the affection of his father, a Nazi sympathizer who found cruel delight in behaving toward his family like a third-rate Adolf Hitler (Schwarzenegger has recounted that his father used to beat him, convinced that he was gay). There is the young athlete who emigrated to the United States at the age of 21, with just a handful of Austrian schillings in his pocket and an English vocabulary of no more than 20 words. There is also the gifted bodybuilder who won the Mr. Olympia seven times and was proclaimed Mr. Universe in 1968, while making a living as a construction worker in Los Angeles.
Then there is, of course, the actor who began to appear on the big screen in 1970, in the role of Hercules in Hercules in New York. Schwarzenegger persevered, despite atrocious reviews, to win a Golden Globe for Stay Hungry (1976), on the orders of Bob Rafelson, one of the New Hollywood greats. There is the action movie icon of the eighties, with a string of incredible (or unbelievable, depending on who you ask) blockbusters that runs from Conan the Barbarian (1982) to Last Action Hero (1993), passing through the Terminator saga, of course: Predator (1987), Red Heat (1988), and Total Recall (1990).
A regular feature of the tabloids, he had the audacity to marry a Kennedy, journalist Maria Shriver, while publicly expressing his sympathy for Republicans Ronald Reagan and George W. Bush. Schwarzenegger also painted himself as a supporter of the full restoration of family values while having an affair and a secret child with Mildred Baena, his Guatemalan-born maid. Finally, there is the admirer of Richard Nixon who ran for election in the state of California promising fiscal austerity and firm masculinity against the extravagant spending and Democrat politicians' "lack of manhood," only to end up as a defender of sexual minority rights and a great promoter of neoliberal environmentalism, a label that did not even exist before he entered politics.
A traumatic childhood
For Michael Blitz, Schwarzenegger has retained coherence and sanity amidst so much existential and physical turmoil because he has never lost sight of "the child he was and the character he built to rescue himself from a mediocre life." If one of his qualities were to stand out, it would be, in The Guardian journalist Rory Carroll's opinion, "his unbridled ambition coupled with an oceanic self-confidence." Schwarzenegger is "a pathological enthusiast." He never gives up, never gives in, always demands "that extra stroke that takes you to a new shore" and manages to keep smiling.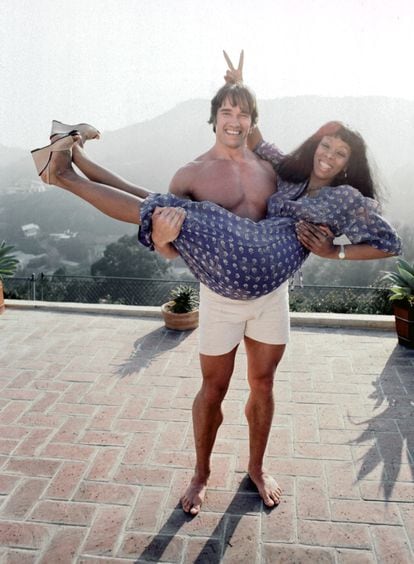 Some of the anecdotes about his life are full of his stubborn personality and his mercurial but playful endurance. The most touching Schwarzenegger anecdote is perhaps the one about the boy who tried to play soccer because his father showed an interest in the sport that his older brother, Meinhard (a superb boxer and mountaineer) was not so good at. The lanky pre-teen that was Arnold stubbornly kicked the ball around until his father lost interest after watching him lose an unimportant game. From there he went on to lift weights, tired of being a disappointment to his brother and his father, the Nazi Gustav, who was a police officer, war veteran and chronic abuser, and who even wondered if that mushy little wimp was really his biological son.
The most likable Schwarzenegger is perhaps the 18-year-old who went AWOL from the Austrian army in the middle of his military service in the summer of 1965 to participate in a bodybuilding competition in Germany. He returned with his best debutant cup and ended up in the stockade after receiving a harsh reprimand from his superiors. But in his memoir, Total Defiance: My Incredible Story (published in 2012), he claims that this "rare" act of indiscipline was worth it.
His time in the army provides another memorable anecdote, when he was taught to drive tanks. One in particular was an antique that he had the opportunity to drive through the Austrian countryside during his military service year. He tracked it down in later decades and ended up buying it when it was on its way to the scrapyard. He took it to the United States, exhibited it to his friends and eventually gave it to the Motts Military Museum in Ohio in 2000. Years later, he went to the site to take a look at his vehicle and found that it was being displayed, in his opinion, in a deplorable condition. So he asked for it back and today he uses it as a "lure" in an educational program for youths from the troubled neighborhoods of Los Angeles; if the kids behave, Arnie takes them on a field trip and lets them drive his tank.
Winning isn't everything; it's the only thing
Other fascinating aspects of Schwarzenegger's personality have to do with his use of tactics in his younger years to psychologically destabilize his opponents, something like the trash talking common in boxing or basketball, but little less than unheard of in the much more genteel world of European bodybuilding. Arnold says he developed very sophisticated strategies to "torpedo the self-esteem" of candidates with better bodies than his. In his opinion, rather than foul play, the use of this type of trickery was a symptom of "superior intelligence" to that of his rivals, not to mention the blind determination and competitive instinct that have always guided him.
Also noteworthy is the trick he played on his on-screen muscle rival, Sylvester Stallone, which only came to light years later. In 1990 he received a script that he considered one of the worst he had ever read and, aware of how things worked in Hollywood, he leaked to the press his enormous interest in starring in it. As he anticipated, this raised his rival Stallone's suspicion, and he fought to get his hands on the project. Arnold's dastardly trick worked. Stop! Or My Mom Will Shoot became a critical and public flop and, by Stallone's own admission years later, "one of the worst movies in the solar system."
A unique accent
Already in the United States, the young adult proved his mettle by resisting any attempt to interfere with his career. Mark Hamill, the future Luke Skywalker, with whom he struck up a friendship when they were both starting to frequent casting calls, advised him to "choose a stage name that people would be able to remember" and to get rid of the dreadful accent that made him sound like "an operetta Nazi" as soon as possible. Since it's hard to say no to a man possessed by the Force, Schwarzenegger took his advice on only one occasion: in his first high-profile role in Hercules in New York, he appeared as Arnold Strong in the credits and struggled to impose an accent more from the suburbs of Omaha than the outskirts of Graz.
The experiment left a bad taste in his mouth: it made no sense to give up what made him different and to replace it with a dull name and a fake accent. So he returned to the not so unpronounceable Schwarzenegger and that Teutonic touch that he has never really wanted to get rid of, even though he has demonstrated on multiple occasions that his Yankee accent is now much better than it was in 1970.
The same with politics. Arnold first won election as governor of California in 2003, at a time when he was considered a disciple of Nixon's fiscal austerity and Reagan's cultural conservatism. During the campaign, he insisted on presenting himself as the Terminator who was going to wipe the irresponsible frivolity and affectations of the Democrats off the map, even though his advisors thought it smarter to avoid the negative connotations of the character and present himself as a much nicer kindergarten cop.
It was clear to Schwarzenegger that his fellow citizens in the Golden State were going to buy into the hard line with far greater devotion than inane paternalism. He was right, and his success inaugurated the fast lane, from overwhelming popularity as a pop icon to political power, along which Donald Trump has subsequently traveled. Nevertheless, when he was up for re-election in 2007, Arnold detected in time that the political climate was changing and embarked on a sharp turnaround that led him to centrist, even progressive positions on certain issues. He triumphed again. And he did so by applying the technique he believes in most: trusting his own instincts.
That's Schwarzenegger, a guy who looks like a condom stuffed with walnuts, but is tough as nails, consistent in his striking contradictions and has a nuclear bomb-proof self-image. He's a character that deserves as many documentaries as they want to dedicate to him.
Sign up for our weekly newsletter to get more English-language news coverage from EL PAÍS USA Edition