'They dressed however they could because no brand wanted to do it': The complex relationship between hip-hop and designer clothing
Hip-hop is turning 50. The culture that invented a distinctive street esthetic wasn't recognized by the fashion world for decades. Now it faces the danger of forgetting its origins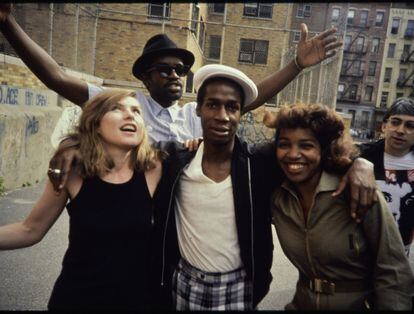 In 2018, when then-Gucci designer Alessandro Michele was "inspired" by a bomber jacket designed by Dapper Dan a decade prior, social media users rescued the African-American tailor from being forgotten. Gucci decided to collaborate with him and reopen his Harlem workshop 25 years after the police closed it for infringing intellectual property, because Dan, since 1982, had made a fortune copying famous logos and stamping them on jackets and pants worn by Nas, Missy Elliot, Salt-N-Pepa and other big names in 1980s and 1990s hip-hop. "I do not dictate fashion. I translate culture," Dan used to say.
Hip-hop culture, from music to fashion, is based on creating something new through sampling or customizing something that already exists. And, according to journalist Elena Romero, co-author of the book Fresh, Fly and Fabulous: 50 Years of Hip-Hop Style, "when all of those people weren't received in the luxury of Fifth Avenue, he treated them like luxury clients in his workshop." "Until well into the 1990s, rappers dressed however they could, because no brand wanted to do it. The expression 'shopping while Black,' which referred to the monitoring they faced in shops, was very real. Black clients were excluded because of how they dressed," she says. Once many of those artists had already achieved fame even among white audiences, they kept wearing Dan's creations.
In 2018, the same year that Gucci hired Dan, Ralph Lauren released the Stadium collection, a capsule of sportswear that was paradoxically similar to the outfits worn in the early 1990s by the Lo Lifes, a group of Latinos and African-Americans from Crown Heights, Brooklyn, who were famous for buying (or stealing) Ralph Lauren garments and customizing them. The Ralph Lauren brand, though founded in the Bronx, represented the opposite. It communicated a privileged lifestyle at a time when Wall Street yuppies collected brands with multiple zeros. Until the Lo Lifes appeared.
Dapper Dan and the Lo Lifes exemplified how hip-hop transcended the stereotype of logomania: it wasn't about buying certain brands, but turning their symbolic power upside down by customizing and faking them. Timberland boots and Kangol hats were mixed with clothes (hoods, baggy pants, shoes without laces) that evoked prison garb and vandalism. But the esthetic's global influence closed the circle. Sportswear brands quickly realized rap's value among the new generations, as demonstrated by the 1986 Adidas and Run DMC collaboration. But the luxury designers name-checked in rap songs continued to turn their back on the genre, until they were left with no choice but to pay tribute to it. As Romero points out, though, "the complex idiosyncrasy of the hip-hop esthetic and its evolution is still being put under a fictional umbrella called 'urban fashion.'"
2023 marks 50 years since the 1973 Bronx house party where rap was spontaneously born (the DJ, Kool Herc, scratched records and started reciting the guests' names to liven things up). The first major museum dedicated to rap is soon to open. And a rapper, Pharrell, has become the first musician to be hired as creative director at a major French luxury house (Louis Vuitton). It is worth now remembering the industry's complex relationship with perhaps the most influential street subculture in the world.
"History hasn't done a great job of recognizing hip hop's weight in culture, fashion and art," acknowledges Amanda Hajjar, curator of the Conscious, Unconscious exhibition, celebrating rap's half-century of life, at Fotografiska in New York. Hajjar points to the early 1990s as the turning point for hip hop "to become a phenomenon beyond American shores, thanks to the rise of MTV." It was then, in 1991, that Lagerfeld at Chanel, the epitome of French refinement, dressed models in ostentatious jewelry with the brand's name sculpted on a nameplate. In 1996, Gianni Versace invited Tupac Shakur, the new style icon, to an exclusive party celebrating his men's collection, also inspired by gangsta style, and the same year Tommy Hilfiger hired Aaliyah for a global campaign.
"Fashion was caught by surprise by rap's popularity. In fact, many brands had already been born (Cross Colours, Karl Kani, Ecko…), which despite making millions had no place in the media or traditional stores, perhaps because of who was buying them and who was designing them," Romero says. Hundreds of thousands of young people bought the brands created or worn by their idols, but it wasn't until 2004 that a Black man won a CFDA, the award of the Council of American Designers. It went to Puff Daddy for his brand, Sean John, which had been making millions for a decade. It has never been won by a woman of African descent. And behind the influential suit style popularized by Daddy was his then partner, Misa Hylton, one of the most powerful stylists on the women's scene, who worked with artists from Mary J. Blige to Lil' Kim.
They were among the first figures to subvert the stereotype of women in the scene, until then objectified in countless music videos. Another woman, June Ambrose, was responsible for the new image of artists including Jay Z and Pharrell, who in the book Fresh, Fly and Fabulous is described as "the turning point of the new hip-hop fashion," sweeter, more ironic and deconstructed. After 30 years in the industry, Ambrose became the creative director of Puma in 2022.
Sign up for our weekly newsletter to get more English-language news coverage from EL PAÍS USA Edition