Jonas Brothers release new album, plan to prioritize mental health on upcoming tour
After two decades in the spotlight, the Jonas Brothers are still chasing butterflies. Joe, Kevin and Nick Jonas are releasing their sixth studio record "The Album" on Friday, before embarking on an U.S. tour in August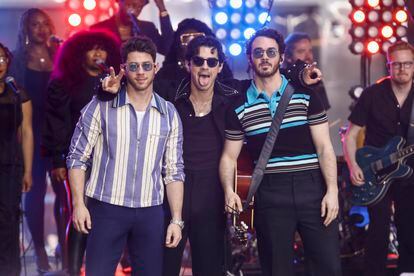 After two decades in the spotlight, the Jonas Brothers are still chasing butterflies.
Joe, Kevin and Nick Jonas are releasing their sixth studio record The Album on Friday, before embarking on an U.S. tour in August. Nick says the band of brothers are putting themselves in new positions so they can feel "butterflies and excitement" before stepping onstage.
One of those butterfly moments will come when the trio kicks off their tour at Yankee Stadium on Aug. 12.
"It's our favorite baseball team's stadium for our entire lives," Nick says. "We got to go and kind of go to a game and meet some of the players about a month ago. And we were just looking around, thinking the 10-year-old version of us that was sitting up in the highest nosebleed section seat would not believe that we're going to play this place twice."
All three band members now have young families and Joe says this means the brothers are "quicker to return home" after touring. But that doesn't mean that they are any less excited about hitting the road.
"We're treating this like the best tour we've ever done. And I think, we intend to make it that experience for fans as well," Joe says.
They're also looking forward to hanging out as brothers too, with Nick saying that touring "doesn't feel like work."
The tour will criss-cross the U.S. from mid-August until October, with the trio being ultra careful to avoid burnout. The band's physical and mental health is a priority, says Joe, who believes they can look after themselves and have "a blast while doing it."
"We've been burnt out before and then you're like, 'I still got 20 more shows on this tour,'" he says. "So we all have our own perspective ways of going about that, and we just make sure that that's prioritized and also that we think the three of us are communicating as best as we can."
The brothers have set aside a period for family after the release and promo duties for The Album, before gearing up to tour in August.
Sign up for our weekly newsletter to get more English-language news coverage from EL PAÍS USA Edition