The incredible story of the African prints that made the 'Mama Benzes' rich
Because of their connection to colonialism, these fabrics remain the focus of intense cultural debate. Today, they are symbolic of African dress and are increasingly capturing the attention of Europeans
In Madrid's multicultural neighborhood of Lavapies, there's a plethora of African clothing stores with windows featuring eye-catching garments. The items are dyed in vibrant reds, yellows, blues and pinks, with bold prints. Many of these garments are made from wax fabrics, an emblematic West African fabric that weaves tradition and culture into a history spanning three continents.
"In Africa, clothing says a lot about a person," explains Laura de la Carrera, a historian and expert in African textiles. "A fabric goes far beyond how you wear it; it speaks of your ethnicity, your culture, your tradition and your country." De la Carrera is one of the owners of MAMAH AFRICA Gallery, which she founded 25 years ago with her sister, Maica, who is also the designer. Laura explains that African clothing tends to have a wider and stiffer shape. "Africans like clothes with a lot of fabric because it gives them poise. They starch it so much that it almost stands up." One of her customers believes that "the luxury of these garments is not in the cuts or the material. It's in the colors and the prints. When I touch them, I find them austere - I mean that in a good way - and simple."
Wax fabrics are one of West Africa's most popular fabrics. Interestingly, the inspiration is not African but rather comes from batik, a traditional Indonesian fabric. According to the academic study The Wax Print: Its Origin and Its Introduction on the Gold Coast, during the colonization of the Dutch East Indies (now Indonesia) in the early nineteenth century, the Dutch and other European settlers became interested in batik fabrics, a term that refers to a technique of reserve dyeing. It is a laborious process in which the design is drawn first and then a layer of wax is painted on top of it. This wax layer is called " resist wax " because it resists the application of the dye there. Then, when the fabric is dipped into the dye, the wax-covered part is reserved. These steps are repeated until the entire fabric is dyed.
In the midst of the industrial revolution, Europeans saw an opportunity in batik, and the most prominent fabric-producing countries (the United Kingdom, Switzerland and the Netherlands) competed to produce them on a massive scale. In the mid-nineteenth century, the Dutch invented a machine that could print layers of resist wax. Using it, they could produce a higher quality of imitation batik. P.F. Vlissingen & Co. was one of the first manufacturers to make these fabrics and export them to Indonesia. The company would later become Vlisco, a brand that still dominates the market in West Africa today and is considered the pioneer of Dutch wax fabrics. Indeed, Vlisco invented many of the classic designs that are still among the most popular ones today.
There are different theories as to how these fabrics reached Africa. According to the study The Wax Print: Its Origin and Its Introduction on the Gold Coast, it was a combination of increased demand for such products in Europe and opportunism. In the end, the triumph of Dutch wax fabrics in the Dutch East Indies was short-lived. Competition in the domestic market and a growing rejection of these European batiks meant that demand had all but disappeared by the end of the 1960s.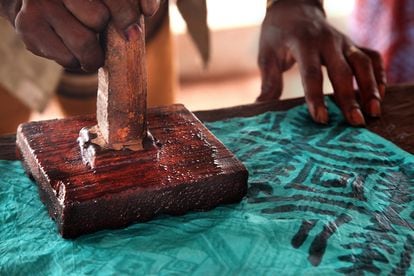 Meanwhile, in Africa, European powers struggled to control trade on the continent. In 1873, the United Kingdom established the Gold Coast colony (now Ghana), and under British rule, the region became an important trading post. The economy prospered and a demand for luxury fabrics emerged. A new market opportunity opened up for Dutch wax fabrics.
"Africans loved these fabrics," shares Laura de la Carrera. According to the study, they were attracted to the cloth because of the imperfections, which Indonesians did not like. The treatment of the fabrics after applying the wax caused the wax to crack as it dried. Subsequently, the dye entered the cracks, leaving a crackled effect on the prints.
Women have played an important role in developing these fabrics as a symbol of African identity and culture. "They were the most active ones in Africa's markets, and they went to the ports where the Dutch were arriving. One obvious way to sell and market them is to tell stories through them, depending on the design, the colors, [which helps them] sell better," explains Laura de la Carrera. Through these methods, wax fabrics became an important channel of information in West Africa; they contained proverbs, and political, religious, and social messages that often could not be said openly.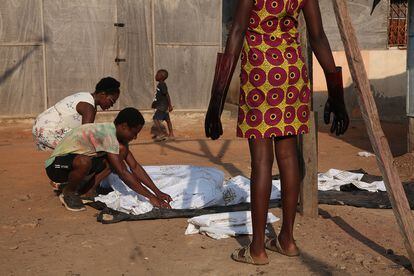 Several examples of traditional wax fabrics hang in the MAMAH AFRICA Gallery. There is one from Ghana called "Nsu Bura," which means "water well." It has a pattern of concentric circles, reminiscent of the ripples that are made after a stone is thrown into water. The design's message is that our words and actions always have consequences. Another wax fabric is called Don't Get Married Empty-Handed; it contains a sequence of hands with solitary fingers underneath. This interpretation, from Togo, means that it is the woman's responsibility to bring something into a marriage in order to be independent. But often, a cloth has several meanings, depending on the country. This one has another, more universal meaning, explains de la Carrera, which is that there's strength in unity. "By itself, one finger does nothing; it is much more powerful when it has the other four [with it]."
The Nana Benzes
A group of women play a particularly important role in the history of wax fabrics. They are known as the Nana Benzes, named after the luxury cars they were able to afford. When domestic production had boomed in the 1960s—a period when several African states gained their independence—Togolese businesswomen saw an opportunity.
"They began importing these fabrics from Ghana and proposed selling them to import/export firms in Togo, at a time when relations between the president, Kwame Nkrumah, and his Togolese counterpart, Sylvanus Olympio, had worsened," summarizes Comi Toulabor in the academic study Transformation of the Nana Benz of Lomé—A Comprador Bourgeoisie Seen through Fortune and Decline.
Thus, Mama Benzes began to dominate the market. "They became wholesalers of wax fabrics, buying and reselling these fabrics in large quantities to retailers in Togo," says Edith Mbella, a specialist in African art and textiles. According to Toulabor, "some had as many as 10 exclusive dealerships with suppliers." Between 1976 and 1984, these women represented 40% of the informal commercial sector in Togo.
In Togo, these wealthy textile traders are popularly known as Nana Benz, and they are highly respected figures in the country. "They are the richest people in Togo. They control everything here. Men are afraid of them because of their money," a woman observes in a Togo market in the 1992 documentary God Gave Her a Mercedes Benz. In 2012, decades after the peak of their power, their income could still be between €800 and €2000 a month, notes Toulabor. At that time, a university professor earned about €600 and the minimum wage was just €53.35.
For Edith Mbella, the impact they had on the wax fabrics market is less about their economic monopoly and more about what this collective meant to other women. "They were African women, not white women, promoting a product for African women. It inspired others because they represented an image with which they could identify."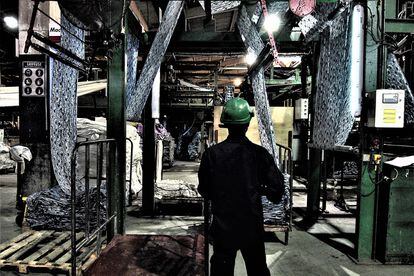 The debate over colonial fabrics
There is a sector of the public that does not want to recognize these fabrics as part of African tradition because their arrival is intimately tied to colonialism. Cameroonian designer Imane Ayissi refuses to include them in his collections. In an interview with Wiriko, an important Spanish-language resource on African arts and culture, Ayissi explained: "For me, it is a colonial fabric, recently introduced in African societies, which has almost erased the other traditional African fabrics that were linked to African cultures and rituals".
But Edith Mbella, who is of Cameroonian origins, doesn't see it that way. "Wax fabrics are an appropriation of something that comes from another culture. But there are similar examples all over the world." For her, the important thing is that Africans have adapted these fabrics to their culture. Moreover, "it is now considered something from Africa, even though it is not. Wax fabrics have become a hallmark of African culture throughout the continent and, now, throughout the world.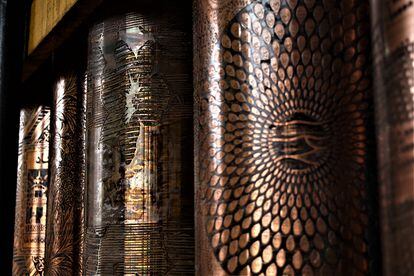 The European fashion scene attests to the growing interest in these fabrics. They have come to dominate the catwalks of the industry's biggest fashion houses. They were featured in Dior's 2020 cruise collection, in which the luxury brand even reinvented its most iconic pieces, such as the Bar jacket, using wax prints.
George, the owner of SARREGAAL, a store in Madrid, Spain, that sells this type of fabric, says that since it opened a year ago, the shop's sales have been very successful. "Everything I've made, I've sold," he says.
SARREGAAL already has a good clientele, most of whom are Spanish. Many come looking for unique outfits for weddings or multicultural events, where diversity is a priority. "We recently had a man come in who wanted to buy a garment for his sister's wedding in Galicia," George recalls with a smile. "He wanted to be dressed in something different, so I made him a suit out of wax fabrics, and he was super happy. He ended up buying the suit and then a skirt for his mom."
Laura de la Carrera insists that these fabrics have been sought-after in the European market for a long time. "When we started MAMAH AFRICA 25 years ago, we sold a lot, because back then these fabrics were very exclusive," she says. "It's true that there is more competition now, but ultimately that's what we want, to highlight African culture."
For Edith Mbella, wax fabrics can serve as an important "entry point" for Europeans to approach African history and culture through its textiles. Moreover, their popularity in the European market signals that "things are turning around." To her, it couldn't be clearer: "With these garments, made and designed in Africa, we are economically conquering Western people."
Sign up for our weekly newsletter to get more English-language news coverage from EL PAÍS USA Edition