'Paul McCartney? I don't know who you are': When Fela Kuti accused the Beatle of cultural appropriation
The father of Afrobeat, now featured in comics, exhibitions and animated films that vindicate him, and the British musician had one of the most controversial disagreements in contemporary music
"Do you really want me to tell you what happened with McCartney?" asks French screenwriter and musician Loulou Dédola, the author of a comic book about Fela and an unconditional fan of Kuti, on a phone call with ICON. The question about Paul McCartney and Fela Kuti's notorious clash in 1973 amuses him, and he says that he knows what happened firsthand. Dédola began visiting Lagos in the late 1980s and has gone to see Kuti and his sons ever since. "Actually, McCartney called him on the phone, and he said, 'Hi, it's me, Paul McCartney! I'd like to do a duet with you. And Fela...'" Dédola cuts off the sentence with a laugh. "That Fela... Fela said to him, 'Who? I don't know who you are.'"
McCartney was in Lagos recording his third album with Paul McCartney & Wings, Band on the Run, and he was still trying to shed the baggage of having been a Beatle. The recording was hectic to say the least, although the effort was worth it; the album was a bestseller in the UK in 1974. That success didn't seem promising when the Brit arrived in Lagos. His producers said it was one of the best recording studios of the time. But they found that the band didn't have the necessary material to record a rock album. McCartney was warmly received in the newspapers, but one person was not moved: Fela Kuti, the father of Afrobeat and a pioneer in African music in the 1960s, accused the former Beatle of going to Africa to steal black music.
"I went to Lagos and the first thing that happened to me is that I was accused of stealing black people's music. 'You have come to steal music!' So, I asked, who said that? It was in the newspapers... It was Fela, of course. I called him on the phone and said, 'Hey, man, I'm not here for that, I just love African music and I want to recreate that atmosphere,'" McCartney recounted in a 2013 interview. On several occasions, McCartney, who has always praised Kuti's figure and influence, returns to that anecdote, changing some details and displaying his musical genius: from memory, he plays what he remembers of his favorite Kuti song, a refrain that he was unable to identify or later find on recordings.
That's not surprising: live, a Fela song could last up to half an hour. But McCartney still remembers the rhythm. It is curious that McCartney starts the interview by referring to the musician as "Fela Ransome Kuti." Ransome was Fela's last name at birth, but he changed it because he considered it to be a colonial legacy. The Nigerian recording artist and his mother took on an ancestor's surname, Anikulapo, which means "the one who carries death in his pocket."
According to Dédola, who was just at the Cartoon Movie in Bordeaux, France, to present the project adapting his comic book into an animated film, it took McCartney two weeks to track down Kuti and let him know that he was really asking him to do a duet with him. "McCartney told him that he had decided to do a duet with top black musicians, and Kuti kept teasing him, 'Yeah, all right, but I just don't know who you are.'" McCartney had avoided mentioning it up to that point, but he had to fall back on his laurels. "I'm one of the Beatles!" But Kuti was adamant: "The who?" "That was Fela. Some of those who were [familiar with] that call said that it lasted more than fifteen minutes, that Fela cut him off to talk to women and that it exasperated the Brit, who eventually joined the fray. "This conversation is nonsense. You know very well who the Beatles are; they are the most important group in the world!" Then, according to Dédola, before hanging up on McCartney, Kuti responded: "If you haven't played in Africa, you're not the most important group in the world!" Dédola's version of events does not coincide exactly with McCartney's account. Nevertheless, it reflects Kuti's character.
The rumor that the former Beatle wanted to play with locals reached other ears as well. "Paul McCartney was fascinated by Fela, but he took it terribly. It seems that Fela was afraid that a British musician would appropriate his music or go to Lagos just for the folklore," says Alexandre Girard-Muscagorry, the curator of the Fela Anikulapo Kuti: Afrobeat Rebellion exhibit, which is on display at the Philharmonie de Paris until 11 June. This is the first exhibition devoted to Fela Kuti's musical and political career. The exhibit recovers the material that the musician gathered to create Afrobeat in the 1970s and 1980s. "That Fela treated him that way does not detract from the fact that McCartney always recognized that Afrobeat was a setback for him, as it was for many Westerners at the time, because it was a sound they had never heard before."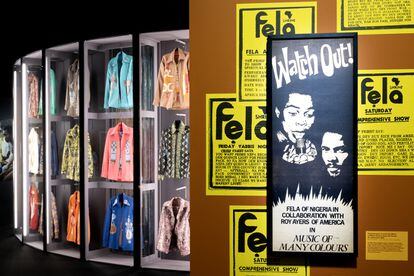 The truth is that, for better or worse, that conversation happened, but the two geniuses did get to know each other, as evidenced by a 1973 photo of the two together. McCartney has said that Kuti accepted his invitation to come to the studio and see firsthand that the work they were doing was not theft. "'There's nothing like African music,' he said to me. So, we became good friends, and he invited me to the Afrika Shrine, his legendary club outside Lagos. I had a fantastic night; it was a wild experience. And he played a song that I've never been able to find recorded. But it was very intense; when it was over I was crying," said the British musician, who was knighted by Queen Elizabeth in 1997. Before that, in 1965, Elizabeth II decorated the Beatles with the Order of the British Empire. John Lennon returned the honor in 1969 because of the United Kingdom's involvement in the war between Nigeria and the pro-independence region of Biafra and UK support for the United States in Vietnam.
Political awakening
The Nigerian Civil War, between 1967 and 1970, led to Fela Kuti's radicalization and most political period. Until then, the son of a well-to-do but politically aware Christian family (his mother, Funmilayo, was a women's rights activist) had stood out as a musician with his band the Koola Lobitos. In 1963, after studying at London's Trinity College of Music, Kuti recomposed the group with which he played the new highlife genre that had arrived from Ghana, influenced by the jazz he had heard in England and Afro-Caribbean music. But, as African American activist and musician Sandra Izsadore describes in the documentary Finding Fela, his songs spoke of "soups." Hence, the Koola Lobitos' tour in the United States was a failure. The awakening of black consciousness and movements like the Black Panthers in the United States was a far cry from the street chronicles in Fela's songs.
Izsadore, who was romantically involved with Kuti until she arrived in Nigeria and discovered he was already married, ends up calling him a "son of a bitch" in the documentary. The composer's feminist conscience was far different from Fela's "machismo." Still, she was the one who put the autobiography of Malcolm X in his hands, completely changing his life and music. He also appropriated the Black Panthers' signature avenging gesture: raised fists.
British decolonization in the early 1960s awakened political, ethnic and religious tensions in Biafra, triggered by the struggle to control the region's glut of oil. Biafra was blockaded and its inhabitants suffered a famine that killed some 3 million people during the two-and-a-half-year-long conflict.
The Nigeria that emerged had grown up in the shadow of oil wells and the corruption of a new political system that became the main subject of Kuti's new songs. "Fela would have had no need for that had it not been for what oil did to the country," John Darnton, a former New York Times correspondent in Lagos, points out in the documentary.
"From his trip to the United States, Fela recovered many elements of black nationalism and, above all, a consciousness and pride in being black. There, he began to assert himself and to give his music a very political meaning. Not only did he reaffirm his racial identity, but he connected with the political dysfunction in Nigeria, even going so far as to become involved in a presidential election in the late 1970s," says Girard-Muscagorry.
Kuti's unique way of challenging the Nigerian regime even led him to create an independent republic at his home just outside Lagos, the self-styled Republic of Kalakuta, where he lived with his family, friends and the 27 dancers he decided to marry. "He said that polygamy was an African tradition…that we had to reject the values of Christianity and reconnect with African traditions, but of a very reductionist, generalized Africa... Sometimes he took extreme or macho positions. Fela was very progressive politically; he affirmed democratic values for the people and against the corruption of the elites. But he was much more conservative on gender issues, fueled by anti-colonial criticism. It's very paradoxical and complex," observes the curator of the exhibition on the self-styled Black President. (One of Kuti's musical colleagues, Mabinouri Kayode Idowu, and music curator Mathilde Thibault-Starzyk are also involved in putting on the exhibit).
Not only did Kuti perform at his nightclubs, but he also launched into criticisms against the state, military forces and foreign powers. His anti-colonial discourse drew from the Pan-Africanist intellectuals of the time, which helps us to understand why Kuti ended up accusing Paul McCartney of cultural appropriation in 1973. "It is true," adds the curator, "that Fela collaborated with European musicians, he toured Europe, in the 1980s his manager was French, and he was open to collaborations. I think it depended on how the issue was approached and when."
"Look, McCartney is also a genius of Fela's stature. You have to have heard McCartney play solo piano in any bar in London. Like Fela, he is on par with Mozart or Chopin, but I don't think Fela understood his intentions. Perhaps he perceived [McCartney's] gesture as a bit patronizing. That's how I interpret it," says Dédola. For the French musician, there was no attempt at appropriation. "Let's be clear, Afrobeat is African music but it's not black music. It is played with white instruments, on a white scale, with jazz... I don't see what McCartney could have done. Fela played with Ginger Baker, a white guy who plays Afrobeat super well. What mattered to him was reaching as many people as possible."
The truth is that Paul McCartney talks about Fela Kuti's influence on his music whenever he gets the chance. He sent the Paris Philharmonic a few-seconds long self-recorded video, in which he flashes the peace sign: "Fela is the boss."
Sign up for our weekly newsletter to get more English-language news coverage from EL PAÍS USA Edition