'Everything Everywhere All at Once': The indie film that could sweep the Oscars
The sci-fi comedy-drama shot before the pandemic premiered without fanfare at the SXSW festival, but went on to be a box-office hit in the US
Everything Everywhere All at Once was shot in just 38 days between January and March 2020, at the onset of the Covid pandemic. It had a budget of just over $14 million and a team of no more than nine people working on the countless digital effects – two of whom were the directors, who had not previously done anything similar. One of the main roles was being played by an actor emerging from a 20-year retirement.
Still, this indie gem by Dan Kwan and Daniel Scheinert, collectively known as the Daniels, has managed to garner 11 Oscar nominations, making it the favorite to win an Academy Award, while grossing more than $104 million worldwide and $70 million in the US alone. It is a small-film triumph, even by indie standards. In terms of David against the Goliaths of the big studios, Everything Everywhere All at Once is the David of the Davids.
The success of Everything Everywhere All at Once has surpassed all expectations: its producer, Jonathan Wang, often points out that the $14 million budget is just one fourteenth of the budget for Doctor Strange in the Multiverse of Madness, and the Daniels quip that the money they spent on their film was the equivalent of what Marvel spent on catering for that shoot. Regarding its distributor, A24, a company founded only 10 years ago, it is their biggest commercial success to date, surpassing the critically-acclaimed horror film Hereditary, although if it wins the Oscar for Best Picture, it will not be the company's first: they already won it for Moonlight.
The Daniels are by no means newcomers to indie filmmaking. Dan Kwan, 34, from Westborough, Massachusetts, and Daniel Scheinert from Birmingham, Alabama, became friends in Boston when they both studied at Emerson College. After graduating, they directed several music videos and short films. And they haven't stopped working together since, thanks to numerous jobs on TV shows and series.
They made their feature movie debut with the dark comedy Swiss Army Man (2016), winner of the Sitges Festival, which tells the story of a man played by Paul Dano who befriends a corpse, played by Daniel Radcliffe, and drags it across a deserted island. Radcliffe enjoyed the experience so much that he was keen to appear in a cameo in Everything Everywhere All at Once, but the schedule clashed with his other commitments. Afterwards, Kwan founded We Direct Music Videos, a community of music video directors, while Scheinert went solo, directing 2019′s The Death of Dick Long. Everything Everywhere All at Once had been on the backburner as an idea since 2010. In 2016, they wrote the script.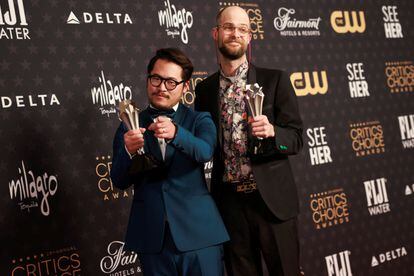 The Wangs' beautiful laundromat
The plot begins by describing the day-to-day lives of the Wangs, who run a laundromat in a drab California town, struggling to make ends meet. Evelyn's marriage is on the rocks and she wrestles with her relationship with her demanding father, Gong Gong. She also finds it hard to get along with her daughter, Joy, who is more focused on her relationship with her non-Chinese girlfriend, which Evelyn hides from the girl's grandfather.
All that Evelyn has built as an immigrant in the US comes under threat when the laundromat is audited by the IRS. At that point, she discovers that what she has lived is only an infinitesimal part of millions of lives in what is termed the Alphaverse – many parallel universes that exist because every life choice creates a new alternate universe. She realizes that she will have to battle Jobu Tupaki –­ the Alphaverse version of Joy – a ruthless killer present in the rest of the universes or dimensions who wants to eliminate all living beings. Evelyn is the only hope for the multiverse not to be destroyed. Among this chaos is a black bagel, which is central to the story.
As time passed the Daniels, whose accolades include five Critics Choice awards, two Golden Globes, three Saturns from the Academy of Horror, Fantasy and Science Fiction, plus Bafta nominations, were concerned the idea had grown tired. So they made some changes. Having originally written the film for Jackie Chan as the lead, they decided to switch gender, with renowned action film actress Michelle Yeoh in mind. But other doubts crept in. Little by little they saw how other movies and audiovisuals were running with the central concept of their script. "We were getting angry, because everyone was going into multiverses," says Kwan. "For example, Spider-Man: A New Universe [2018]." They stopped watching the animated science-fiction sitcom Rick and Morty when they saw its second season was based on ideas very similar to theirs. And then came others, such as Loki and Doctor Strange in the Multiverse of Madness.
In the event, they needn't have worried. The movie has been a hit, thanks in part to the support of the US Asian community. Everything Everywhere All at Once, in turn, has helped to reinforce the community's screen presence, which had already been established with Crazy Rich Asians (2018), and Shang-Chi and the Legend of the Ten Rings (2021), featuring both Yeoh and Stephanie Hsu. Regarding Ke Huy Quan, a child actor famous for Indiana Jones and the Temple of Doom and The Goonies, his retirement from the screen in 2002 was prompted by the sense that he didn't quite fit the bill. So, it is something of a victory that his comeback sees him play Evelyn's husband, Waymond – or rather 200 different Waymonds. The strength of Ke Huy Quan's performance and the Oscar nomination will perhaps go some way towards making up for the years of ostracism.
In Everything Everywhere All at Once, Evelyn speaks to her father in Cantonese, and to her husband, Waymond, in Mandarin. Evelyn and her daughter, Joy, played by Hsu, communicate in a mixture of Mandarin and English. This mix of languages underscores a certain lack of communication in the Wang family, who can't find the right words to express their feelings. Regarding language, the Daniels did face a small problem after the premiere: in the US, Asians call Caucasians "big noses" and that is how the Wangs refer to one of their laundry customers. After the premiere, the directors realized that the expression is another derogatory way of describing Jews. Now, in the streaming and DVD versions the laundry customer has been dubbed "Dog mom."
Showcasing a cocktail of genres, Everything Everywhere All at Once premiered on March 11, 2022, at the South By SouthWest (SXSW) festival in Austin, Texas, the perfect platform for this kind of experimental film. When the screening ended, the first to approach Kwan was Jamie Lee Curtis, who plays the IRS official. She was crying with emotion and told Kwan: "Now I finally understand the film." In an interview with EL PAÍS, she said: "Its beauty is fucking stunning! And the amazing thing is that Dan and Daniel's script has intellectual foundations on which they have then built an emotional film."
Since its release in April, the film has been a runaway success. Filmmakers such as Alejandro González Iñárritu and Guillermo del Toro have called it "the Trainspotting of this generation." Meanwhile, the Daniels, who have already signed on to develop a TV series for A24 and a five-year film deal with Universal, are hoping that on Oscar night, an image distilled from the scene in Everything Everywhere All at Once where Jobu morphs into an Oscar statuette, will fly off the screen to become a reality.
Sign up for our weekly newsletter to get more English-language news coverage from EL PAÍS USA Edition