Jennifer Coolidge returns to 'The White Lotus,' the series that brought her late-in-life success
The actress talks about her character in the HBO Max comedy and how her close friendship with its creator, Mike White, caused an unexpected turn in her career
When Jennifer Coolidge was announced as the winner of the Emmy for best supporting actress in a miniseries for The White Lotus, on September 12, the 1990s house song "Finally" played in the background. The chorus ("Finally it has happened to me") was appropriate for the actress's long-awaited moment of recognition. Thanks to the dark comedy by HBO Max and a character that her friend Mike White, creator of the show, conceived expressly for her, the actress has finally been embraced by an industry that had ignored her for decades.
Her bizarre award acceptance speech, in which she confessed to bathing in lavender which caused her to "swell up" inside her dress, ran out of time and ended up dancing on stage, won over the audience. The viral moment blurred the line between fact and fiction, evoking the character of Tanya McQuoid, the delusional millionaire that Coolidge plays in the series whose second season begins on October 31.
"Two years ago I was about to buy a flower shop because I really thought I wasn't going to be able to pursue acting. And look where we are now," said the actress in April in Taormina (Sicily), during the filming of the new episodes of The White Lotus. Little did she know that her Emmy would arrive five months later.
Her career was marked by her role in American Pie (2000), where she seduced one of her college son's friends. But she feels like she was typecast almost from the start, in the early 1990s, when she debuted with an episodic role on the hit show of the day, Seinfeld. "So, there was a certain type of woman with, let's say, non-standard beauty who always played the crazy best friend of the protagonists, the weird sidekick. I told my agent that I was no longer interested in doing that, that I wanted to do stand-up comedy. And I spent four years trying to make a living from it. Until I returned to those characters," she recounted from Italy, as she resumed the role with which she managed to vindicate her career.
After a series of jobs to make the rent, and public appearances not unlike that at the Emmys, Coolidge became a charming disaster, an aesthetic reference known for tacky haute couture, always sweet and often clumsy and out of place.
A small role a few years ago in the celebrated Promising Young Woman changed things somewhat. But, the actress says, everything took a great qualitative leap when her friend Mike White brought out The White Lotus. "No one had asked me to be the protagonist of their story until he arrived. It's like he gave the rest of the industry permission to give me those kinds of roles." Coolidge is now preparing projects with leading roles alongside David Harbor (Stranger Things), Anthony Mackie (the new Captain America) and Reese Witherspoon. Ryan Murphy has cast her in his Netflix feature The Watcher, and she will join Jennifer Lopez in Shotgun Wedding.
She and Mike White met while playing a wedding couple in the independent comedy Gentlemen Broncos (2009) by Napoleon Dynamite director Jared Hess. They have been close friends ever since. They travel together and live together for months on end. "He has me hooked. I think he finds it hilarious that I can continue to live as I am," says the actress. For 15 years, he had promised the actress that he would write a series or a movie exclusively for her so that she could shine. He completed a script in 2018 and pitched it to as many networks as possible, but no one was interested in the pitch. When The White Lotus arrived, White cast her to compensate for not having kept his promise, not knowing that the consolation prize would give her the triumph that she had only glimpsed.
In the first season of the comedy, the actress plays a woman from a wealthy background named Tanya McQuoid. She encourages Natasha, one of the workers at the luxury resort where she is on vacation, to set up her own business with her financial help. But Tanya meets a man and gets distracted from her initial project of helping her new friend. In the new episodes, the millionaire gets what she wants. She has high expectations regarding her love life, but she discovers that it may not bring her happiness. "When you have a lot of money, it is much more disappointing to not do the right thing. It is in your hand to change other lives for the better. But there are also times when people tend to think that if you are in a privileged position, you can do anything. I've been asked many times for help getting into a film or television project and, when I don't succeed, people have stopped talking to me," she confesses.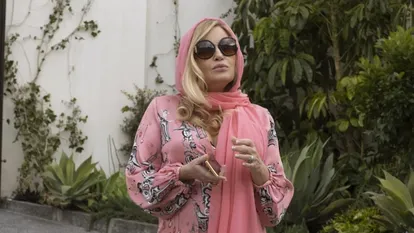 The actress is aware that she is a muse of someone special in Hollywood, who, in his own way, is loyal to her. White was an unsuccessful actor who decided to spend his unemployment time writing his own stories. He created Enlightened, a comedy that played with the bipolarity of its protagonist. He had a modest win with the story on HBO between 2011 and 2013. Then his career hit a slump again, until The White Lotus came on the same platform. As his face was not well known among the general public, a couple of years ago the writer and director decided to participate in the reality show Survivor, which in the United States is reserved for anonymous contestants. A few weeks ago, White lost all anonymity after receiving the highest recognition in the television industry.
"Mike always knew she was a star who hadn't found the right material yet," says David Bernad, executive producer of the comedy and one of the first people to whom they both dedicated their Emmys. Coolidge was faced with the responsibility of playing a character that White had written expressly for her. The actress has underscored the humility that the felt, although when she tells it, she can't help but make even serious things sound funny: "Sometimes it's painful. You see how a person who is really smart can see you. And it is not always in an attractive way. It is a difficult mirror to look at. When I read what he writes sometimes I think: 'Oh, God, Mike has seen me in situations where I've been ridiculous. And on top of that, the guy records it through a character. But one of these days I'm going to write about him and what he's like," she jokes.
Coolidge understands her friend's sense of humor: "Uncomfortable situations are funny to him," she explains. Sometimes, she adds embarrassing aspects to Tanya that she knows he will like. At other times, she allows herself to become a puppet in White's hands. In a somewhat tragic scene in the first season, during a funeral aboard a ship, Coolidge improvised, out of necessity, part of her speech, while her co-stars tried not to laugh so as not to spoil the shot. "I don't remember very well what I did because I was terribly ill. Mike knows I hate boats. He has seen it with his own eyes. That's why he decided to do that dramatic sequence in one of them. I was filling an entire bucket of vomit inches from my castmates. It was disgusting and I had no privacy at all, because the boat was much smaller than what I was promised. But he thought it was all very funny," she says, feigning indignation. "I knew she didn't like going on a boat… Well, it's true that sometimes I torture her a bit for the sake of comedy," he admits with a laugh.
"Mike has a memory like an elephant for all the embarrassing situations I go through, but he also pays close attention to what I want. That's also in my character. With him, I don't feel like I'm acting. He has a broad and compassionate perspective and sees the good and the bad in people. He forgives his characters, however they may be. I guess that's why I forgive him," admits the new queen of comedy.