This publicity tour is a disaster: When egos, affairs and insults derail movie releases
'Don't Worry Darling' is the latest in a long line of films that made headlines for the wrong reasons
The screening of Don't Worry Darling at the 2022 Venice Film Festival in late August provided a brief respite from the negative headlines about the film's actors. Florence Pugh, who has the lead female role, has been openly uncooperative in promoting the film. Harry Styles, who was only hired for the lead male role after Shia LaBeouf abruptly departed halfway through filming, reportedly spit on co-star Chris Pine (his agent denies this) right before the Venice Film Festival screening began. Olivia Wilde, who directed the film, helplessly tried to dispel the tension on the set. Meanwhile, Wilde ended her nine-year relationship with Jason Sudeikis (Ted Lasso) during filming and started dating Styles. All this was the perfect fodder for whipping the internet into a meme-fueled frenzy.
Film producers cringe at this kind of Hollywood drama, especially when it spills over into the public arena during pre-release promotional events. Like these.
Edward Norton is a great actor who is also good at causing conflict on movie sets. He's known for esteemed films like Fight Club (1999) and American History X (1998), for which he earned one of his three Oscar nominations. He's also notorious for antagonizing his co-stars. Nick Nolte refused to work with him after they met to read the Pride and Glory (2008) script.
Then came Marvel. Norton signed on to play the Hulk in the 2008 film and sequels, but his poor relationship with the producers and refusal to promote the film got him fired and replaced by Mark Ruffalo in the Avenger movie franchise. Trouble started even before filming began. Norton likes to tinker with scripts, as he did with American History X. When he signed on for The Incredible Hulk, screenwriter Zack Penn's script was still not finalized, so the producers promised Norton that they would consider his script suggestions. The actor asked for extensive changes to the script that would give The Incredible Hulk the same feel as Christopher Nolan's Batman trilogy (2005-2012).
Marvel accepted Norton's proposals, but reactions to preliminary screenings were negative — the movie was too slow and intellectual. The producers ordered more action scenes that Norton was obliged to shoot, but when it came time to promoting the film, Norton retaliated by disappearing to Africa for a humanitarian project.
Jim Carrey also refused to promote the 2013 film Kick Ass 2 in which he played a villain named Colonel Stars and Stripes. Carrey said that he wouldn't promote a film with so much violence. The actor tweeted that the massacre at Sandy Hook Elementary School (Connecticut, USA), which happened a month after filming for Kick Ass 2 ended, had changed his way of thinking. Carrey apologized to everyone involved in the film and explained that his conscience prevented him from glorifying violence.
Thimotée Chalamet says that working with Woody Allen ruined his Oscar chances. The young actor joined the cast of Allen's 2019 film, A Rainy Day in New York, co-starring with two of the most popular actresses of his generation — Selena Gomez and Elle Fanning. That same year, the Harvey Weinstein sexual assault cases ignited the "Me Too" movement. Not long after, Dylan Farrow resurrected old allegations of sexual abuse by Woody Allen, when Allen was with Dylan's mother, Mia Farrow. The "Me Too" movement led many actors and actresses to express their regret at having worked with Allen.
In the meantime, A Rainy Day in New York entered post-production and Thimotée Chalamet was nominated for a Best Actor Oscar for Call Me by Your Name. Feeling that his work with Allen could hurt his Oscar chances, Chalamet decided to express his remorse for working in A Rainy Day in New York, and announced that he was going to donate his salary from the film to charity. "I'm learning that a good role is not the only criterion for accepting a job," Chalamet said. In the end, the Oscar went to Gary Oldman and Allen's film was not released until 2019.
Lars von Trier has a reputation as a provocateur, but the biggest scandal of his career happened when the Dogville director stunned a group of 300 journalists by expressing his admiration for Adolf Hitler during a press conference at the 2011 Cannes Film Festival.
In an earlier interview, the filmmaker had professed a liking for Nazi aesthetics. When asked about this at the Cannes Film Festival, Von Trier said that Hitler "did some wrong things" but that he "understands Hitler." Then Von Trier started digging himself deeper into a hole. "I'm not for the second world war, and I am not against Jews. I am very much for Jews; well not too much because Israel is a pain in the ass."
Von Trier, who was at Cannes to promote his latest film, Melancholia, had to apologize immediately. "If I have hurt someone this morning by the words I said, I sincerely apologize. I am not antisemitic or racially prejudiced in any way, nor am I a Nazi."
The apology was not enough. The festival's management considered expelling Von Trier, but ultimately decided to keep the film in competition. They declared Von Trier persona non grata at the Cannes Film Festival, publicly breaking with one of its favorite directors who had won its top award in 2000 for Dancer in the Dark.
One of the actors involved (indirectly) in the Don't Worry Darling ruckus has a history of disputes when it comes to promoting his films. Shia LaBeouf's career looked promising when Michael Bay gave him the lead role in Transformers (2007). But when he criticized Indiana Jones and the Kingdom of the Crystal Skull (2008), in which he played the famous archaeologist's son, legendary director Steven Spielberg took him to task. LaBeouf struck back at Spielberg sparking a rift that continues to this day. The actor has never worked on another Spielberg-related production.
One LaBeouf's most eccentric stunts happened when he walked the red carpet with a paper bag over his head at the 2014 Berlin Film Festival. "I'm not famous anymore" was the message on the paper bag. He was 27 years old at the time and was there to promote Nymphomaniac, directed by… Lars von Trier. There was some history behind the paper bag incident. Months earlier, when the actor was at the Cannes Film Festival promoting a short film he directed called Howard Cantour, many people commented that LaBeouf's film had many similarities to a graphic novel written by Daniel Clowes. When Clowes protested the unauthorized use of his work, LaBeouf admitted to having used Clowes' graphic novel for "creative inspiration." Following this latest incident, the actor tweeted that he was retiring from public life until further notice.
To remind the world that he was abandoning celebrity life, LaBeouf pulled the paper bag stunt at the Berlin Film Festival and staged a bizarre live performance called I'm sorry. The actor lived for five days in a locked room, sitting at a table without speaking, moving or doing anything at all. Spectators were able to spend 10 minutes alone in the room with LaBeouf. After the "I'm sorry limited run ended, LaBeouf claimed in an interview to have been raped by a woman who allegedly forced to perform degrading acts during a performance. He never filed a police complaint and there is no evidence substantiating LaBeouf's allegations. Yet another chapter in the life of an actor addicted to controversy.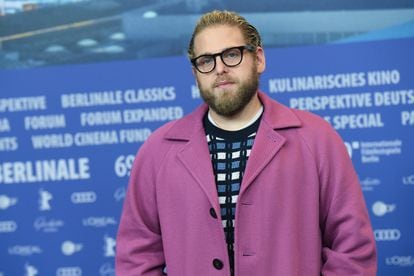 Jonah Hill recently announced that to protect his mental health, he will no longer promote his own films. The actor will not attend any events or give media interviews because they exacerbate his anxiety attacks. Hill penned an open letter ahead of the release of his new documentary, Stutz, which he directed. The film is about Hill's relationship with his therapist, Phil Stutz. In the film, Hill and his therapist discuss his mental health and the panic attacks he has been dealing with for 20 years. He describes the documentary as "a journey of self-discovery" that he hopes will "give therapy and the tools I've learned in therapy to a wide audience." Hill's letter goes on to say that he will not promote Stutz or any other project he is involved in, as long as he continues to suffer from anxiety.
Talking about anxiety is still a taboo for many people in the public arena, but more and more celebrities are daring to speak openly about mental health problems. Most recently, actor Ryan Reynolds posted publicly about his "lifelong pal, anxiety."