Adele reportedly fires entire creative team to get her show back in Las Vegas
The singer hired new staff to reschedule a summer run of the residency she postponed last January due to production problems, according to a British outlet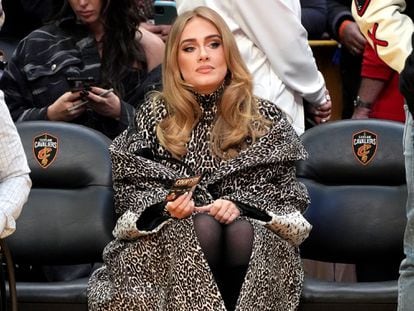 Last January Adele stunned her fans when she decided to cancel Weekends With Adele. The string of shows were to take place over the course of several weeks at the famous Colosseum inside the Caesars Palace casino in Las Vegas, but the singer canceled the entire residency just hours before the scheduled debut and after having sold tickets for as much as $600 (€530). The artist assured fans that it was only a postponement, and now seems willing to debut the residency in the summer. To that effect, she has reportedly made a drastic decision: firing her entire creative team and hiring a new one.
According to the British newspaper The Telegraph, the 33-year-old singer wants to begin her summer residency at the renowned entertainment venue with a "completely redesigned" show after having postponed it due to delivery delays and the high number of positives for Covid-19 in the team. "I'm sorry, but my show is not ready," she explained at the time, claiming to feel embarrassed about the decision.
It is not the first time that the British star has externalized her disagreement with members of her team. Days after announcing the show's postponement, The Sun brought to light a heated argument Adele had with set designer Esmeralda Devlin, who had already worked with her on the 2016 world tour. "In spite of the set costing millions to put together, Adele was unhappy with the result, and she made her feelings very clear to Es," a source said. The same person also assured that the singer was very nervous and that the fight made her panic because she was desperate for everything to be perfect. According to Page Six, Devlin has been replaced by Kim Gavin, artistic director of the English pop group Take That.
The new plan, according to The Telegraph, is to start the show in late July or early August. These dates reflect Adele's wish to have the 24 planned concerts take place "100% this year."
In the fall of last year, Adele confirmed her relationship with sports manager Rich Paul, whose agency represents NBA stars such as LeBron James. The romance has become the first officially recognized relationship by the artist following her separation from Simon Konecki, father of her son Angelo.
Paul is the founder of a sports agency called Klutch Sports Group, which manages the careers of NBA and NFL players. The agency has been recognized as one of the 100 most outstanding companies of 2021 by Time magazine and the 13th most powerful in its sector in 2020, according to Forbes magazine.