From Jennifer Lopez to Megan Fox: The most surprising celebrity engagement rings
Original designs, hidden messages, hefty price tags... Here are some of the most incredible jewels that the rich and famous have used to show their commitment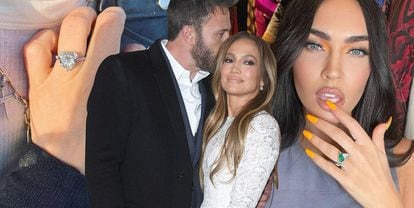 Jennifer Lopez. The artist from the Bronx and Ben Affleck are engaged again after getting the Bennifer saga back on track a year ago. Lopez announced the news herself on April 8 on her personal newsletter OntheJlo.com, with a video message in which she showed off an 8.5 carat green diamond ring, green being Lopez's "lucky color." "Maybe you can remember a certain green dress," she told fans, referring to the Versace gown with the plunging neckline that catapulted her to stardom at the 2000 Grammy Awards. "I've realized that there are many moments in my life where amazing things have happened when I was wearing green." According to experts on celebrity site Page Six, the ring could be worth more than $5 million.
Avril Lavigne. The singer announced her engagement to rapper Mod Sun on March 27 through her Instagram account and now wears a ring especially designed with her in mind. It features a heart-shaped diamond and the engraving "Hi icon," which were the first words Mod Sun said to the singer, as she revealed to People magazine. The jewel also has "Mod+Avril" etched on its underside.
Megan Fox. The engagement ring Machine Gun Kelly presented to Fox as he asked her to marry him was designed by himself and Stephen Webster jewelry, and is composed of two magnetically linked but separable parts. "I know tradition is one ring, but I designed it with Stephen Webster to be two: the emerald (her birth stone) and the diamond (my birth stone) set on two magnetic bands of thorns that draw together as two halves of the same soul, forming the obscure heart that is our love," Kelly explained on his Instagram account. The surprising thing about the ring is that it is designed to cause pain if removed, as the singer explained in an interview with Vogue. "The bands are actually thorns," he said. "So, if she tries to take it off, it hurts… Love is pain."
Emily Ratajkowski. The model revealed on Jimmy Fallon's The Tonight Show that her current husband, producer Sebastian Bear-McClard, asked her to marry him at a restaurant and improvised by fashioning the clip holding the bill together into a ring. The official engagement ring arrived five months after the wedding: a piece formed by two large diamonds, one square and one pear-shaped, which the couple designed together, based on more than 50 sketches, as revealed by Ratajkowski in Vogue.
Ariana Grande. Real estate agent Dalton Gomez proposed to the singer just 11 months into their relationship with a ring featuring an oval-shaped diamond alongside a pearl taken from Grande's late grandfather's tie pin. The artist first showed off the pearl in 2014 via her Twitter account: "Nonna [Grande's grandmother] had a ring made for me w/ the pearl from grandpa's tie pin. She says he told her in a dream it'd protect me."
Kim Kardashian. The reality star and businesswoman received not one, but two engagement rings from Kanye West worth millions of dollars. He designed the first himself in 2013 with American jeweler Lorraine Schwartz. It featured a 15-carat diamond set in a gold band, studded with tiny diamonds and engraved with the name of their daughter, North. Three years later, the rapper gave her a new, larger version of this engagement ring, also created by Schwartz, this time with a 20-carat diamond valued at $4 million. That same year, the ring was stolen from a Paris hotel room in a robbery that made headlines.
Mariah Carey. Among the most expensive celebrity engagement rings is the one that Australian billionaire James Packer gave the singer in 2016: a 36-carat diamond ring designed by jeweler Wilfredo Rosado, valued at $10 million. But the wedding never took place and Carey ended up hawking the ring for just $2 million.
Victoria Beckham. The former Spice Girl owns no less than 14 engagement rings. The first is the one David Beckham slipped on her finger as he asked her to marry him in 1998 – a marquise-cut diamond on a yellow gold band created by the British jewelers Boodles. Since then, the designer's collection has expanded as the ex-soccer player has repeatedly renewed their engagement over more than 20 years of marriage, a gesture accompanied by rings featuring emeralds, sapphires, rubies and other precious stones.
Katy Perry. Orlando Bloom proposed to the singer on Valentine's Day in 2019, after three years together, presenting her with a flower-shaped ring composed of an oval pink diamond circled by eight smaller white diamond "petals" set in a yellow gold band. It wasn't just the design that was surprising, but also the price, coming in at more than €4.5 million, according to the president of WP Diamonds Andrew Browns, as quoted in E! News.
Meghan Markle. The Duchess of Sussex's engagement ring from Prince Harry in 2017 was designed by the jewelry house Cleave and Company, and features a large diamond from Botswana where the couple had been vacationing. This was framed by two smaller diamonds from Princess Diana's jewelry collection. It is a unique piece that the actress decided to modify shortly after, replacing the gold band in which the three stones were set with a more delicate band studded with diamonds.
Scarlett Johansson. When the actress got engaged to comedian and Saturday Night Live writer Colin Jost, her ring was notable both for its size and unconventional design. The piece features an unusual 11-carat light brown elongated oval diamond on a black ceramic band. It is signed by Taffin, the jewelry house owned by James de Givenchy, nephew of designer Hubert de Givenchy, and, although its exact value is unknown, celebrity site Page Six cites an estimate by experts of over €350,000.