From Gwyneth Paltrow to Jack Nicholson: How Hollywood stars have fallen in love with the art world
Not so long ago, the worlds of show business and collecting rarely collided, but now some of the biggest names in movies have works by Warhol, Picasso and Basquiat on their walls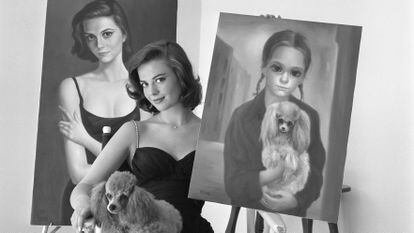 Edward G. Robinson, the Hollywood actor known for his gangster roles, was in real life an avid art collector. He began by purchasing reproductions of artists such as Van Gogh and Matisse, and later went on to amass a fabulous collection that included genuine works from the aforementioned painters, and became one of the first collectors of Frida Kahlo's art. In the 1950s, he was forced to sell up due to the financial obligations of his divorce.
In those days, it was not usual for Hollywood stars to have such a close relationship with great art. For proof of this, look no further than the photo above, of Natalie Wood posing with her portraits signed by the camp painter Margaret Keane. Cases such as Robinson, Greta Garbo, Vincent Price and Billy Wilder, who auctioned work by Picasso, Chagall, Calder and Niki de Saint Phalle, were less common. That said, there were no doubt others who kept their activities strictly private.
But these days, art collection is a status symbol among celebrities, and on certain levels is less to do with personal taste and more to do with building an image for others.
It is from this perspective that a recent controversy involving Architectural Digest magazine and actress Gwyneth Paltrow must be considered. In an article, she showed the world her new home in Montecito, California, posing by a genuine painting by Ed Ruscha and a sculpture that, while at first glance was identical to those created by Japanese artist Ruth Asawa, was in fact the work of D'Lisa Creager, an artist who sells her work for around $10,000 (€8,790) a piece. Such was the confusion, that the magazine itself identified the work as being by Asawa, and later had to correct the information.
An original by Asawa (who died in 2013) went for more than $5.3 million (€4.66) at auction in 2020 at Christie's. At the same time, owning an original from US pop artist Ruscha is not exactly cheap. To date, his work reached its highest price of $52.4 million (€46 million), in 2019, for one of his historic text paintings.
Paltrow is one of the Hollywood stars who can often be seen at the Art Basel art fair events, whether in Miami or Hong Kong. That's where you can find the biggest contemporary art collectors in the world, together with the most-powerful galleries, and which exhibit the best of their living artists and the legacies they also represent. Actors and friends Leonardo DiCaprio and Tobey Maguire are among those who are recognized for their expensive hobby of acquiring top-level art.
Actress Mary-Kate Olsen has in her possession pieces by Andy Warhol and photographer Thomas Ruff, while actor Neil Patrick Harris is a fan of David Wojnarowicz and Robert Longo. Sofia Coppola has opted in the past for British artist Tracey Emin, while Jack Nicholson's collection is valued at around $150 million (more than €130 million), and includes Fernando Botero.
Steve Martin has work by Cindy Sherman, Eric Fischl and Francis Bacon, while Brad Pitt is an eclectic collector whose taste ranges from Marcel Dzamato the neosurrealism of Neo Rauch and the media phenomenon that is Banksy.
As for famous couples, Beyoncé and Jay-Z own works by Ruscha, Warhol and Basquiat, as well as Damian Hirst. Hirst, Banksy and Emin also figure among the collection of David and Victoria Beckham, who are not exactly notable for the originality of their purchases but rather for their high price tags.
It is no doubt the world of cinema, however, where the most avid collectors are to be found. Multimillionaire David Geffen, who financed pictures such as Interview with the Vampire, leads the ranking of the major global collectors, having in his possession work by Pollock and De Kooning. His nose for business has also translated into lucrative purchases and sales, having set a series of record prices. In 2006, for example, he sold a Pollock for $140 million (€123 million), and in 2016 he offloaded another Pollock and a work by De Kooning for a total of $500 million (€440 million).
Star Wars creator George Lucas and legendary film director Steven Spielberg are also high-level collectors, and a decade ago the Smithsonian American Art Museum organized an exhibition with paintings by Norman Rockwell from both of their collections.
In the past, art dealers were somewhat shadowy figures who occupied a background role, but recently some have become famous in their own right – a phenomenon fueled by their romances with well-known actors. Lucas Zwirner, for example, was in a relationship with Sienna Miller for just over a year, while Vito Schnabel has been linked to models Heidi Klum and Irina Shayk, as well as actresses Demi Moore, Cameron Díaz, Kate Hudson, Liv Tyler and Amber Heard. Jennifer Lawrence, meanwhile, is pregnant with her first child – her husband is Cooke Maroney, the director of the Gladstone Gallery.
It's a perfectly contemporary phenomenon, in which the market and the culture of show business infiltrate the fabric of art until the three become indistinguishable. Or it could also be seen as another derivation of the idea that the introduction to art is always an emotional question. After all, that is what all proud collectors would say of themselves.