'Correbous' – the survivors of the Catalan ban on bullfighting
In Catalonia 'corridas' are forbidden by law, but controversy still hangs over a traditional activity involving the animals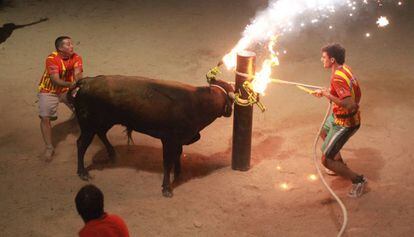 The clock strikes 7am in the Catalan village of Vidreres, near the city of Girona. It is a warm September morning and a long-awaited day: the local festivities are about to take place. In an open area near the entrance to the village, the Town Hall has set up a ring that will host one of the most anticipated activities of the year. A fierce bull, weighing several hundred kilos, will be released into the ring alongside a group of men. Guided by its instincts, the bull will run after them and try to attack. Its horns are so sharp that they could easily pierce the fragile flesh of the participants.
Catalonia abolished bullfighting in 2010. Although Spain's Constitutional Court overturned the Catalan ban in 2016, corridas, as bullfights are known, have completely disappeared in the region. But correbous, a Catalan tradition, is still celebrated in dozens of villages. The tradition has not been banned and is, to some extent, still part of the Spanish bullfighting tradition, with the exception that the animal is not slaughtered during the ritual.
FROM BULLS IN THE STREET TO HORNS IN FLAMES
Thirty-three Catalan towns hold activities with bulls. They are mostly concentrated in the south, in the villages on or nearby the River Ebro. In 2017, these municipalities celebrated a total of 432 activities with bulls, according to information from the Catalan regional government .
Correbous festivities are divided, principally, in three different formats:
Bulls in the street. The animals are released on a closed route through the streets, in a kind of small-scale version of Pamplona's world-famous Sanfermines.
Bous embolats. The bulls have balls of fire and pyrotechnics on their horns.
Bous capllaçats. A rope is tied around the bull's horns. People pull that rope in different directions.
According to the Catalan government, the number of correbous has not diminished over time, despite the effective end of bullfighting in the region. Instead, there has been an increase. The NGO AnimaNaturalis, an international association that defends animal rights, reported in October 2018 that correbous had "dangerously intensified" in comparison to 2017. In addition, the organization highlighted a 10% increase in correbous: bous embolats events, a particular kind of correbous that involves setting the bull's horns on fire.
Months after the abolition of bullfighting, the Catalan Parliament shielded the correbous tradition with the approval of a regulatory law. Almost all of the festivities are concentrated in the south of Catalonia, near the River Ebro. This area is also home to an organization that brings together various towns and bullfighting associations that support correbous. Its vice-president, Ximo Martí, claims that "Catalan pro-independence parties forbade bullfights because they are related to Spain." In contrast, Aïda Gascón, the Spanish president of AnimaNaturalis, argues that "it was a popular initiative, not a political one."
Some bulls have even died in 'correbous' from a heart attack because "they are not used to such sacrifice
PACMA, Spain's animal-rights activism party, currently has no seats in the Catalan parliament. Its spokesman in Catalonia, Nacho Pascual, believes that in the 21st century "we can't afford to have fun mistreating animals." Despite being raised for the tradition, fighting bulls "are not designed to run," says Pascual. He is clear on the fact that correbous should be banned as "they are institutionalized torture."
Politics aside, the organization AnimaNaturalis is putting pressure on governments to lobby for pro-animal policies. Gascón is convinced that there is a "large social majority in Catalonia that rejects spectacles such as correbous," and, if they could, "they would vote to ban them." The problem that she points out is that "very few people are aware of their existence."
Martí avoids arguments based on tradition and culture. He prefers to talk about correbous as a professional activity regulated by law and with veterinarian controls. In contrast to the PACMA spokesman, he argues that the bull "is brave and attacks by pure instinct." But what Martí highlights is the atmosphere and expectation that these events generate in the villages. "It can't be expressed in words," he says.
A biased concept of suffering
Animal rights activists state that the bulls not only suffer physically during correbous – they are at risk of damaging their bones, muscles and horns – but also psychologically. The bulls have to endure the stress and anxiety caused by their horns being on fire or of being immobilized by ropes tied around their heads and tails.
Gascón states that some bulls have even died in correbous from a heart attack because "they are not used to such sacrifice." After having organized correbous for 10 years, Martí declares himself to be a pro-animal activist. When asked about their suffering, the vice-president of the correbous association appears skeptical: "I don't know whether the animal suffers or not, and neither do the animal campaigners. But we are the most interested in the bulls health, so we make sure we avoid causing pain to the animal," he says. "Therefore, we trust in the veterinary surgeon certificate before and after every event."
The certificate guarantees that each animal is able to take part in the correbous. As regulated by Catalan law, after the event, a veterinary assistant is required to determine if the bull has suffered any traumatic injuries.
Despite this, AnimaNaturalis filed six reports on November 29 against several correbous festivities that took place in different towns near the River Ebro. The reports filed claimed that animals had been abused during the celebrations. These towns are not the first to have been reported. "I have even been reported for advocacy of violence," says Martí.
"A good moment to put more pressure on the Catalan government could be after the local elections in May if the national conflict calms down," says Gascón. Nevertheless, Martí predicts a prosperous future for correbous: "Festivities with bulls have evolved and become professional. Now we even organize competitions."
An Elpais.cat project
Since November 2016, the Catalan edition of EL PAÍS, Elpais.cat, has been publishing a selection of news stories in English.
The texts are prepared by journalism students at Pompeu Fabra University (UPF), who adapt content from EL PAÍS, adding extra information and background to these stories so that they can be understood in a global context.