The story behind the hoax English Edition headline that spread like wildfire on Twitter
The man who took the photo of the machine-translated webpage explains to Verne how an "innocent joke" among friends turned into viral sensation accusing EL PAÍS of incompetence
Let's call him Marcos. It's not his real name, but he is worried about being harassed on social media and fears the story could hurt him professionally. "It's sad and a little absurd, but so is everything that has happened with the photo," he tells Verne by phone. So what took place?
On Wednesday, May 6, Marcos turned on his work computer, which has a webpage translator installed on it. Marcos is Spanish, but has been living in the United Kingdom for years, where he works for a large communications company. He went to read the news, and when he opened the EL PAÍS home page, the webpage translator, detecting that the page was in Spanish, offered to translate the page in English. The lead news story at the time was about the debate in Congress to extend the state of alarm, introduced in mid-March in a bid to slow the coronavirus outbreak, for another two weeks. The leader of the Popular Party (PP), Pablo Casado, had just announced he would abstain from the vote, after strongly criticizing the government. The headline of the story in Spanish was: "Casado anuncia la abstención del PP después de un duro discurso contra Sánchez." The translator changed this to "Married announces the abstention of the PP after a harsh speech against Sánchez," given that the word casado means married in Spanish.
"I saw it and I thought it was funny. So I took a photo and I sent it to one of my WhatsApp groups, which has around 30 people, some of them journalists," says Marcos from the United Kingdom. "They laughed. Two minutes later they asked me if it was real and I explained. But someone had already resent it. Ten or 15 minutes later they asked me again if the photo was mine because it had already reached someone from another site."
In just over an hour, the photo that had made Marcos laugh became a viral online hoax that accused the English Edition of EL PAÍS of mistranslating the surname of Pablo Casado as "married." Politicians and journalists helped spread the hoax by sharing the photo without even checking whether it was true in order to disparage the newspaper. It is an example of how the messenger loses all control over the message once it is sent.
Finding "patient zero" of an online hoax, like this one, is very rare. Normally, we never find out who the person behind it was. A few years ago, there were tools that helped trace viral messages on social media and allowed – occasionally – investigators to get to the sources of a rumor. But that has completely changed with the arrival and popularization of the instant-messaging service WhatsApp. It is impossible to trace WhatsApp messages, or find out how many times a message has been shared. Every time a message is forwarded, the thread is broken, meaning there is no way to discover who started the chain. The context is lost, just as Marcos' explanation to his friends about the automatic translation was left out from the forwarded photo.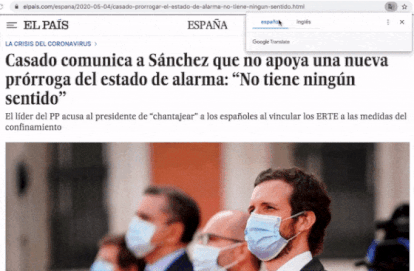 In this case, we would never have found out who was behind the hoax photo, unless Marcos hadn't come to us himself. On Thursday, May 7, having seen that the issue "had gotten tremendously out of hand," Marcos decided to send a letter to the editor. This is what it said:
"I am writing to you to apologize. The photo of your home page showing Pablo Casado named as Married, which thousands of people shared yesterday, is mine. That was far from my intention. I live and work in England. Yesterday, when I arrived at the office, I opened your webpage and the computer automatically translated the headline into English… It was funny so I sent a photo to a WhatsApp group.
"A joke like so many others to ease the situation and current uncertainty. I was, I thought, an innocent joke. My friends laughed and although I quickly explained what it was … it was later, Twitter had put its machinery to work. Even journalists and politicians, who you would think have more education and rigor, repeated the message, convinced of EL PAÍS' ineptitude. It was even sadder to see the hate and contempt expressed by many users toward professionals who in a second turned into 'useless, monkeys with pistols, flyer-writers….' The freedom [of some] to share hoaxes [and insults] makes you want to stop the world and turn off… Once again, my apologies."
El País dice que la imagen que circula con una traducción de un titular en inglés de Casado como "Married" no es publicación original de El País luego debemos deducir que es una falsificación, un montaje con mala fe para desprestigiar a este diario. Por ello procedo a retirarlo. https://t.co/i0XPqLWiu7

— Hermann Tertsch (@hermanntertsch) May 7, 2020
We have also had access to Marco's WhatsApp group conversation, in which he shared the photo at 10.22am in the United Kingdom, 11.22am Spanish time.
Marcos was surprised by how quickly the hoax photo became viral on Twitter, and the support it received from public figures. "At first I thought about replying to a tweet. I have an account with a few followers, I don't write anything and I only follow my family," explains Marcos. "But then I saw that it had become such a huge issue that it wouldn't matter what I said."
Among the public figures who shared the image, without verifying if it was actually from the English Edition, were Almudena Negro, a PP deputy in the Madrid regional assembly, and Hermann Tertsch, a member of the European Parliament for the far-right party Vox.
After the EL PAÍS social media team spent a large part of the day replying to the false messages, some of these figures deleted their tweet or corrected it. But others did not. Negro, for instance, as of Wednesday, May 13, still had the hoax photo on her Twitter account, one week later. By Wednesday afternoon, it had been deleted.
Marcos says the reaction on social media scared him. "It is scary to see the hate with which many people respond. This hatred is absurd. The problem is that it doesn't matter whether it's true or false. It's an issue of insulting others."
WhatsApp disinformation
Marcos is one of the people who has been trying to correct fake news these days, partly because his work has trained him in this issue. "I am the strict one in groups," he jokes. During the coronavirus pandemic, WhatsApp put a new limit on forwarding messages in a bid to stop the spread of disinformation about the disease. Now users are only allowed to forward a message to one contact or to one group at a time. This has led viral messages to fall by 70%, according to figures from the company.
"There is a significant lack of education… Young people should be taught, because this [the problem of fake news] is only going to worsen. It's a problem that is here to stay. Because even if people retract and say it was a joke, the idea remains," says Marcos.
English version by Melissa Kitson.