Hadi Matar: The unremarkable executioner who tried to make good on Tehran's fatwa against Salman Rushdie
The young man who stabbed the Anglo-Indian writer admits that he hasn't read more than a couple of pages of 'The Satanic Verses', the novel that prompted Iranian ayatollahs to call for the author's death in 1989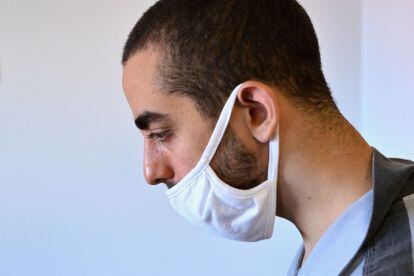 On August 9, the drums of Ashura, the Shiite celebration of Imam Hussein's martyrdom, were still echoing when a young man of Lebanese origin lunged at writer Salman Rushdie with a knife. Rushdie, whom Iran's theocratic regime had sentenced to death in 1989, was about to deliver a lecture in western New York on August 12, a Friday (a sacred day for Muslims). Then, Hadi Matar rushed onto the stage. The 33-year-long wait after the fatwa was issued against the Anglo-Indian author was about to be washed away in a bloodbath.
The 24-year-old assailant, the son of Lebanese refugees in the United States, confessed that he had only read a couple of pages of The Satanic Verses, the book that Ayatollah Ruhollah Khomeini, the architect of Iran's 1979 Islamic revolution, described as blasphemous. Matar probably didn't comprehend the meaning of the lines he did read, which Rushdie's powerful inventiveness gave a life of their own. But he didn't need to understand them to blindly follow the order to kill the ungodly man who'd insulted Islam. Teheran had also placed a bounty of over three million dollars on Rushdie's head.
On Wednesday, Matar talked with the New York Post from prison. He expressed surprise that Rushdie, who was badly injured, is still alive (although he may lose an eye). Matar had identified his target through YouTube videos, and he decided that the best time to act was at a talk that Rushdie was scheduled to give on the U.S. role as a refuge for threatened writers.
Matar decided to go to Chautauqua after the writer announced on social media that he'd be there. "He's someone who attacked Islam," Matar told the New York Post, justifying the attack without admitting that he was motivated by Tehran's fatwa. "I respect the ayatollah. I think he's a great person. That's as far as I will say about that," he said in a limited response to the newspaper. Iran's first official reaction to the attack was expressed in almost identical terms; it blamed Rushdie for the attack because he had insulted Islam, but Tehran also denied any relationship with the assailant. On Thursday, a judge prohibited all involved parties from discussing the case with the media.
All that we know about Matar – who led an unremarkable life until a week ago – comes from information from media outlets and social media. On Friday, the first bits of information about his identity appeared on Twitter: he's a follower of Iran's powerful ayatollahs and he possesses a fake driver's license. The forged document was issued in New Jersey, and the name that appears on it – Hassan Mughniyah – pays homage to a last name that is almost sacred for the followers of Hezbollah, the Lebanese Shiite militia-party. Mughniyah refers to the organization's former head of security and an important commander, the martyr Imad Mughniyah, whom Israel killed in Damascus in 2008. Several Iranian pro-state media outlets immediately praised Matar as "a Lebanese hero."
A turning point in Lebanon
Hadi Matar's beliefs changed during a trip to Lebanon. In 2018, he spent an entire month in Yarun, a town in Nabatiyeh, a Hezbollah stronghold in the south of the country. He went to visit his father, who had settled there after he divorced Matar's mother. A majority Shiite area, Southern Lebanon is so strict in its observance of Islam that men even avoid shaking hands with foreign women (who are infidels by nature), which seems to contradict, or at least clash with, traditional Arab hospitality.
Matar returned from Yarun a transformed man, his mother told The New York Times this week. He stopped talking to his siblings, and he confronted his mother because she insisted that he study to give himself a future in the so-called land of opportunity. Matar didn't listen to his mother. Instead, he spent his days going back and forth between the bargain clothing store where he worked at a dead-end job and the gym where he took boxing lessons, about 3 kilometers (a little under 2 miles) from his home. According to The New York Times, he sent an e-mail to the gym's manager to cancel his membership just three days before the attack. Matar's account had an image of Ali Khamenei, Iran's current spiritual leader, as its avatar. The gym manager – who describes Matar as a thin, awkward young man who always looked sad – only noticed the photograph after the attack.
Nothing in Matar's life seemed to indicate that he was becoming a terrorist, though he did invoke religion in response to his mother's pleas that he study. But reviewing the events that coincided with what the Iranian media refers to as "the deed" allows one to draw conclusions or at least make certain connections. The attack on Rushdie occurred two days after the US accused a member of Iran's elite Revolutionary Guard of attempting to assassinate John Bolton, Donald Trump's former National Security Advisor. On the same day, a Sunni Afghan was arrested in Albuquerque, New Mexico, for murdering four Muslims, three of whom were Shiites, sparking fears of sectarian retribution between the two branches of Islam. Meanwhile, rumors about reviving the Iranian nuclear deal swirled around Washington. The secular legal system will determine whether Matar is linked to that chain of events or a lone wolf, as the police believe. Now, he must face the consequences of trying to mete out divine justice.