Who was Salvador Ramos, the young man who sowed terror in a Texas school shooting?
Before carrying out the shooting that left 19 children and two teachers dead in Uvalde, the 18-year-old student argued with his grandmother and shot her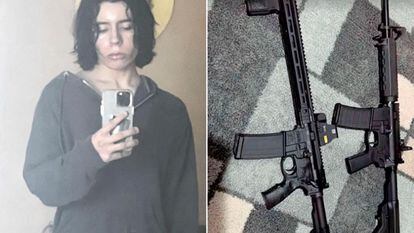 Tragedy has knocked on the doors of Uvalde, Texas. On Tuesday night, the name of Salvador Ramos, 18, was on the lips of all the residents of this mostly Latino community halfway between the city of San Antonio and the Mexican border. Standing in front of Robb Elementary School, where 19 children and two teachers were killed in the worst school massacre in a decade, two locals were talking about the attacker. "He was the quiet type. And they say that he did like to play those shooting video games, Call of Duty and Modern Warfare," said Eric, who did not want to reveal his last name, but whose son studies at the same school as the shooter.
Eric, 44, dressed in a camouflage T-shirt and cap, had a gun hanging from his waist. Guns are popular in Texas, a state that allows them to be carried without the need for a special permit. Guns and rifles are also popular in this community, where there are many hunting and fishing enthusiasts. According to this resident, Salvador Ramos was "a good guy," but he was a victim of bullying in high school. "My son tells me that he knows a boy who liked to hit him," he says.
Lieutenant Christopher Olivarez, a spokesman for the Texas Department of Public Safety, assured the press that Ramos entered the school wearing "body armor." Witnesses say he was armed with an automatic rifle and a handgun. He barricaded himself inside a fourth-grade classroom, where a graduation ceremony had taken place minutes earlier. The school had 535 students enrolled in the academic year that ended in 2021. Many of the shooting victims were 10 years old.
Ramos lived with his two maternal grandparents, Rolando Reyes and Celia Martínez, in a one-story house on Diaz Street, a few meters from the school. The assailant's mother, Adriana Martínez, did not live with them, but in another part of town. "His mother was going through bad times," one of the neighbors on that street said on Tuesday night. That is why the grandparents were taking care of Salvador, whose father was never present in his life. The area is populated by first or second-generation Americans, children of Mexican immigrants. Almost everyone speaks Spanish here. According to Roland Gutierrez, a local senator who had access to police reports, Ramos was born in North Dakota.
According to the authorities' account, Ramos argued with his grandmother before committing the crime. The young man had uploaded to social networks photographs of the weapons that he had bought legally in a local store. The grandmother, according to some of the neighbors, knew of her grandson's plans and tried to prevent him from carrying them out. To settle the argument, Ramos shot his 66-year-old grandmother, who was taken to a San Antonio hospital and is in critical condition. A backpack full of ammunition was left lying in the courtyard of the house.
Ramos held a few jobs in town. The reporters who descended on Uvalde after the massacre have visited Wendy's, the fast food restaurant where he worked for a year until last month. What they have found so far is the portrait of a shy young man without many friends who had difficulty establishing social relationships. "A lot of my employees talk to each other and are friendly. He wasn't like that. I don't think anyone knew him," the restaurant's nighttime coordinator told The New York Times.
The teen also did sporadic jobs with his grandfather Rolando, who installs air conditioning units and does other maintenance tasks. In recent months the family had mourned several deaths of close relatives. Rolando had lost his mother and his brother, Salvador's great-uncle.
"I'm very sorry for my friend Rolando," Adolfo Cruz, 69, who is also an A/C technician, said Tuesday night. Originally from Uvalde, he says he has known the murderer's family for more than 60 years. "He is a firm guy," he says about the grandfather, a vision that is shared by the residents of Diaz Street. Adolfo's granddaughter, Elija Cruz Torres, 10, is among the victims of Salvador Ramos' anger in a place where everyone knows each other. "I don't blame my friend at all. I don't hold a grudge against him," he said.
What does bother Cruz is the role of the police. "Where were they?" he wonders. According to him, the police chief, Daniel Rodríguez, had promised special surveillance in the school district. In May 2018, the authorities of this town arrested two teenagers, ages 13 and 14, who were students at Morales High School and who had been planning to carry out a shooting there. The investigation revealed that the minors identified with Eric Harris and Dylan Klebold, the Columbine killers. Years later, a massacre has occurred inside the classrooms of Uvalde after all.