The young man bringing Plato's ideas to a troubled community on the Colombia-Venezuela border
Jimmy Danilo Acosta, 23, has emerged as a social leader in La Fortaleza, a place accustomed to violence where youth groups are working to change the dynamics
On the nightstand of Jimmy Danilo Acosta, 23, sits Plato's Republic, with a bookmark inserted near the very front. "I borrowed it without permission from the library," he says with a chuckle. "But a person who steals a book, is he wise or bad?" Thanks to Plato's conception of ethics, he says, he has learned to listen. "If someone comes to criticize me, I give them all the attention in the world and then ask if they know where I come from."
Acosta notes that a few years ago, a conversation like that in La Fortaleza, on the Colombian border with Venezuela, might have ended with "you being stabbed to death, or they would draw a gun." For almost five years now, Acosta has been promoting education in human rights, peace and dialogue in what was once one of the bloodiest and most forgotten communities in the troubled city of Cúcuta. He now wants to "finish the book and return it," he says. "This one, and another one by Karl Marx."
This young man's family moved cities four times as a result of Colombia's decades of armed conflict. First they lived in the Vaupés region, bordering Brazil, then they set up home in Guaviare, then on to the central city of Villavicencio and finally to Cúcuta. They have lived here since he was 11 years old, and by then he had grown accustomed to leaving everything behind, and to his parents' advice: keep yourself out of trouble, and don't repeat your brother's mistakes.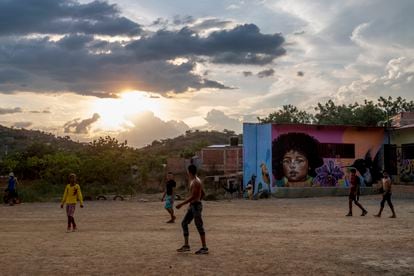 In fact, his brother has been in jail for several years, after "misunderstandings" with the gang that recruited him. "It's very easy to get carried away and fall into mischief when there are no other options," says Acosta. For a time he was not immune to such temptations, entering his brother's world of drugs and crime. "I'm not proud of it, but I have changed," he says, mentioning a workshop run by the United Nations refugee agency UNHCR as the starting point for his turnaround.
In 2014, UNHCR inaugurated a project called Directions of Peace, which focused on giving young leaders the chance to develop activities linked to art and music. Although Acosta didn't initially think much of the idea, he ended up going along. Rap became one of his hobbies: "It was the best decision of my life, because they supported my going back to school. And I learned perseverance and respect for others, and was able to share my art," he says. He is now sharing these experiences with a group of young followers.
The youth in the neighborhood began to change. Their get-togethers no longer involved fighting or drugs. They founded the New Adolescent Cycle Corporation in 2017 with 12 leaders and 134 participants, and got together to clean the soccer field, rap together, watch movies, and teach dance therapy courses. "I organized them but I was one of the ones who sat and watched others dance," he laughs. A lack of commitment caused part of this collective to disintegrate, and the pandemic didn't help.
Jimmy's challenge now is to bring the group back together. "We are meeting to agree on our mission and we are learning Law 743 (regarding community action boards, and the rights and duties of leaders). We want to analyze what we did wrong and why we fell apart," he explains.
Ayuda en Acción (or Help in Action) is the organization supporting this type of organic leadership in these communities. For Orlando Ortiz Medina, director of the impact team and coordinator of the organization's programs in Colombia, young people are a key element precisely because they are "in the midst of building a scale of values," he says. "Training them and boosting them to take on these roles becomes a kind of protective ring against the set of risks they face – recruitment [by gangs], teenage pregnancy, drug use. A young leader is a dynamic force in their environment, normally through artistic and cultural activities and sports, which motivate them most and attract their attention."
"I have been training for a long time to be a good leader," Acosta says firmly. "I have the initiative, the potential, and I understand that there are difficult moments.... It's not an easy task, but it doesn't make sense for me to give up now, neither for myself nor for those who follow me," he says. "I missed a lot of opportunities when I was doing coke and marijuana. I understand what it's like to be addicted, but we're going to come back stronger and find other guys to get them qualifications just like they did for me."
Replicating the lessons learned by other local leaders is also the objective of the non-profit. "We can legalize an organization for you; we'll pay for it," explains Angie Colmenares, head of the project. "But beyond legal incorporation, you have to strengthen the shape of the organization you already have." Acosta nods and watches, as if taking a mental note of the steps to follow.
With the work of Socrates' pupil in his hand, he reads out a passage: "And the great blessing of riches – I do not say to every man, but to a good man – is that he has had no occasion to deceive or to defraud others, either intentionally or unintentionally; and when he departs to the world below he is not in any apprehension about offerings due to the gods or debts which he owes to men. " He stops, then adds: "So to speak, because there is only one God."
This young man has the thirst to learn of a child who was robbed of that chance. His earliest childhood memories are linked to tending to the pigs and chickens on his father's farm, and to household chores. "I didn't play and I left school early to start working in the coal mine," he recalls. "But now I aspire to something bigger."