Why it took just days for the Red Hot Chili Peppers to sell out their first mega-concert in Spain
The band will kick off their next world tour in Seville and Barcelona in June next year, but tickets have sold fast. What is it that makes this group of mostly 60-somethings still able to pull in such a crowd?
In October, the Red Hot Chili Peppers announced the dates for their Global Stadium Tour, which will see them visit some of the biggest venues the world over and will get going in Spain. The first date will be in the Estadio de La Cartuja, in Seville, on June 4, 2022, and the second in the Estadi Olímpic, in Barcelona, three days later. This will be the first time that the Californian group will be playing in major stadiums in Spain, and that fact could be surprising to some. Are they still a big enough band to fill up so many seats at prices that are not exactly affordable? For example, a general ticket is priced between €55 and €150, while the VIP option costs as much as €600. The answer came just a week after the gigs went on sale, with the Seville date completely selling out. How did this happen? We analyze the never-ending success of the veteran band.
Celebrating survival
Red Hot Chili Peppers have been active since 1983, having survived addictions to hard drugs, lost old members, had internal battles and many creative and emotional lows. In some ways, announcing a stadium tour right now is like making a bet by which they are putting their power to resist on display and presenting themselves as a supergroup that is ready to celebrate itself to the maximum. In the United States, their support acts will include greats such as Beck, The Strokes, Haim and St. Vincent, among others. In Europe, meanwhile, they will be backed by rapper A$AP Rocky and the unclassifiable Thundercat.
What's more, as editor of Spanish music magazine Mondosonoro Joan S. Luna points out, this is the first major tour that has been announced since the coronavirus pandemic hit. Covid-19 ruined the group's plans in 2020, both in terms of the live shows they had planned and the recording of a new album. Their next release will be characterized by the return of the most-emblematic line-up: John Frusciante (51) will be returning as guitarist and Rick Rubin (58) as producer, accompanying founders Anthony Kiedis (59) on vocals and Flea (59) on bass, and long-term drummer Chad Smith (60).
For fans of the group, who have bought tickets from all corners of Spain, the Seville date is doubly symbolic: it will see the start of the band's world tour and will also be the first major rock music party in the wake of the pandemic.
Like the Rolling Stones, Bruce Springsteen and U2, the Chili Peppers are a classic rock band who manage to turn every one of their concerts into an unmissable event, independent of the interest that their latest albums have sparked. For the general public, all they need are a few dozen singles that they recognize and can sing along to, even if they never bought one of their albums in their lives.
"It's been many, many years now since they've released a masterwork," explains Joan S. Luna. "I think that Californication, which came out in 1999, is their last great record, but then they have released singles that have worked very well commercially and have turned them into a band for the whole public, having done endless mid-tempo and more accessible songs. They've lost a lot of what made them an exciting group to offer instead an effective formula and cover that quota of rock tastes for a lot of people."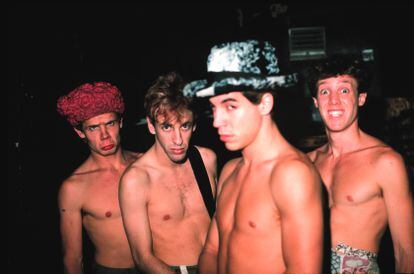 A multi-generational band
Related to the previous factor is the group's capacity to create songs that endure in the collective memory, meaning that nostalgia is playing a large part here too. "The Chili Peppers have been the soundtrack to my life," explains Fran Belda, a 44-year-old from the Canary Island of Tenerife, who snapped up tickets for the Seville concert for him, his partner, and a group of friends he hasn't seen for years. "For a time I would play Blood Sugar Sex Magik every evening, and play the bass along to all the songs from start to end. I will, without a doubt, continue to listen to them, because not only have they conveyed their love of funk and rock to me, but also listening to them transports me to incredible times in my life."
"Being such a legendary band, one I grew up with, I couldn't miss the party," adds Belda's partner, Susana Lasvignes, a 45-year-old from Madrid. "I'm going to have a great time with my friends, singing all of their hits, and I'm sure I'll cry and laugh," adds Cristina Bendala, better known as Tinatha. This multidisciplinary artist – who creates rap music, as well as graffiti, illustrations and design – discovered the band thanks to some skaters from Huelva in southern Spain when she was 11 or 12.
"The Chili Peppers were like my cool cousins, people who gave me the power to grow," she explains. "I wanted to draw, to add color to everything, paint t-shirts and tie-dye them, be in the group, skate, be wild and natural. And to be strong like Anthony too," she says between laughs. "Their attitude was really important for me," she continues. "To see these really crazy guys, who were free and wild, really fun and with a wonderful spirit. Nearly naked on the stage with those socks strategically placed over their genitals, like on that poster I hung in my room in 1996. That was so cool!" Which brings us to…
They created a unique (and very attractive) look
No one could doubt that one of the major secrets of their success has been the personal way in which they brought together the bravado of hip hop and the carnality of funk, with the electric intensity of metal and punk. In the second stage of their career, they also mixed in the melodic accessibility of pop and alternative rock, as well as a light-hearted and zany image. This can be seen in the video they released to announce their tour, in which each member is instantly recognizable thanks to their own charisma and sense of humor. They could almost be cartoon characters, but when they're together they ascend to another dimension.
The way that the band members interact on the stage releases a huge amount of entertainment, but also physical energy. They are a muscular group in both the literal and metaphorical senses. "You only have to see how Flea still convulses while he plays, at nearly the age of 60, and how Anthony moves across the stage, although it is true that the singer has lost a lot in recent years," explains Fran Belda. "I also like the twists and different ways of playing some songs. That moment when John Frusciante, Flea and Chad Smith stretch out a song and make you wish it would never end. Above all, they transmit a lot of positive energy." For Tinatha, their best values on the stage are "the combination of savagery and sensitivity, entertainment and sadness, explosivity and ease."
Four reputed and influential musicians
All of the band members of the Red Hot Chili Peppers, past and present, are considered to be among the best musicians in the world with their respective instruments. Anthony Kiedis has been characterized by an unmistakable voice in different registers, which evolved and peaked with the release of Californication. Chad Smith joined the band in 1989, following in the footsteps of prestigious drummers such as Jack Irons, who subsequently joined Pearl Jam, and Cliff Martinez, who was to become one of the most sought-after soundtrack composers.
John Frusciante has been in and out of the band over the years, but is a fixture on the most important Chili Peppers' releases: Mother's Milk (1989), Blood Sugar Sex Magik (1991) and Californication (1999). "Among the most-recognizable elements of his style is how clean it is, and the space he leaves between the notes and the chords – he's not an invasive guitarist," explains a well-known Spanish rock guitarist. "He's never pedestrian, predictable or obvious. And he has something else that's fascinating, which is the physical sensation that he imprints on his instrument. You can feel the contact between the pick and the string – it's like seeing a painting by [Jackson] Pollock, you feel the gesture, the active sensation of the body carrying out an action."
And of course there is Flea, considered by many to be the best bassist of all time. "He's my biggest musical reference," states Fran Belda, who currently plays with a group called Cachorro. "What impressed me the most was how he slapped the bass, turning it into a percussion instrument. He also opened the doors for me to funk, allowing me to discover amazing groups like Parliament, Funkadelic and Sly and the Family Stone."
Susana Lasvignes, who plays drums for Cachorro and used to do the same in a duo called Diecisiete, has just as much admiration for Flea as she does for drummer Chad Smith. "As well as having an immediately recognizable style, for me Flea is a completely crazy man who gets so much enjoyment out of his instrument in spite of his years, in spite of his virtuosity and in spite of his success," she explains. "That, to me, is tremendously admirable and enviable."