Billie Holiday: an indomitable spirit up against the US government
A recently released biopic explores how the leading lady of jazz lost her legal battle over drug possession, and how she was targeted for repeatedly performing a protest song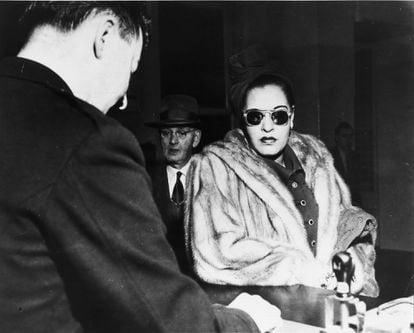 One of Billie Holiday's most famous phrases, "sometimes it's worse to win a fight than to lose," sums up how her own story ended. The grande dame of jazz lost her battle with the Federal Bureau of Narcotics (FBN), but in doing so her legend was forged as the voice that sang with the greatest depth and integrity against injustice in a segregated United States, a country wracked with paranoia over the success of a talented, independent, defiant and black woman like her. The Republican government of Dwight D. Eisenhower finally won its fight with Holiday, who was arrested and jailed for possession of narcotics, but it now remains framed for posterity as the persecutor of a star that has never stopped shining.
The recently released film The United States vs. Billie Holiday retells this part of the story of Lady Day, a nickname given to her by her friend Lester Young, whose intense and emotive saxophone was the most faithful companion to Holiday's anguished, emotional voice. Holiday died of cirrhosis at New York's Metropolitan hospital in 1959, under police guard due to the ongoing crusade by the FBN. Having worn mink coats and white silk dresses at the height of her fame, she had barely a dollar to her name and died bankrupt and alone, although her vocal jazz is preserved forever as an emblem of pride and human dignity.
Many of these episodes were recounted by Holiday herself in her autobiography Lady Sings the Blues, which has become a classic in the genre. Like all memoirs, it is not without personal embellishment and a tendency to blow up the extent of battles waged but, nevertheless, it portrays a large part of Holiday's crusade from her roots in a Baltimore slum. "When you are poor you grow up fast," she wrote. Holiday was forced to grow up too fast: abandoned by her parents, she lived with her grandmother, who died in her arms. She spent time in reform schools, suffered abuse, was a victim of attempted rape and found work running errands in a brothel at age 12. It was there that she fell in love with jazz, a genre of music derided by many white people at the time as "the music of the brothel." With her unique voice, Holiday elevated it to the sublime.
Surrounded by the greatest bandleaders of the era, like Benny Goodman, Artie Shaw, Teddy Wilson and Count Basie, Holiday's big break came when she was contracted by the Café Society in New York's Greenwich Village. She emerged from that famous nightclub in Sheridan Square with the aura of a star, not least through performing songs like Strange Fruit, a poem that Communist writer Lewis Allen had given her. Holiday composed a song from the poem, which dealt with the lynching of black people in the southern United States, and it became her "personal protest." Strange Fruit became the first Civil Rights protest song in US history. During the 1940s, Holiday liked to end her shows with the song to draw attention to the issue and, in her own words, to single out "the cretins and the idiots" in the audience: the ones who applauded at the end of the song's performance.
Holiday, consumed by heroin and the pain of being humiliated, was a powerful on-stage force. And her memory, almost a century later, remains so as well.
English version by Rob Train.