Spanish tennis star Carlos Alcaraz: 'I'm ready to win a Grand Slam this year'
The player from Murcia says he has 'the condition, confidence, and mentality' to take home a major title and assures that his newfound fame has not changed him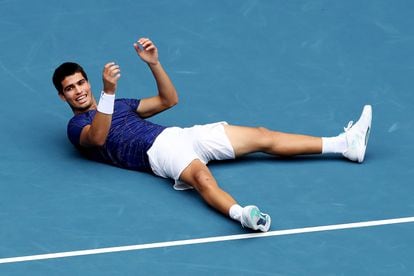 "We have done more interviews than in a Grand Slam." This statement from the ATP Head of Communications gives some idea of the scale of Carlos Alcaraz's historic victory in Miami, where the Spanish tennis player won his first ATP Tour Masters 1000 title. The comments were made just before the Alcaraz smiling for an online interview with a group of Spanish media, EL PAÍS included.
It is early morning in Spain, and evening in Miami, where the 18-year-old has beaten the Norwegian Casper Ruud (7-5, 6-4) at the Miami Open, becoming the first male Spanish tennis player to win the title – Arantxa Sanchez Vicario won in the women's category in 1992 and 1993. The upcoming star is now considered one of the best players of the season along with Rafael Nadal, who is currently recovering from a stress fracture in his rib that he suffered at the Indian Wells Open.
Alcaraz appears worn out but happy. Despite the build-up of exhaustion and fatigue following the North American tour of the last month, one could swear that he could continue playing if necessary. He appears in high spirits, becoming increasingly at ease with the journalists, but still maintaining the modest profile he had before entering the sporting elite. Such humility contrasts with his highly ambitious goals – he shows no fear or reticence about going after the top spots in tennis.
When asked by this newspaper if he thinks he is capable of winning at Roland Garros in May, he replies: "I would say yes. I have the condition, confidence and mentality to do it. Maybe not Roland Garros, who knows, but I feel that I am ready to win a Grand Slam this year, and I'm not afraid to say it. I know there are lots of great players like Rafa [Nadal], Medvedev, Tsitsipas, Zverev, or Djokovic, the best in the world, but I'm not afraid to say that I am ready to win a Grand Slam."
One step at a time
Alcaraz shares that, beyond talent, the secret to his success is focusing on the day-to-day. He talks about a motivational video shared by his physio and rehab specialist Juanjo Moreno, who has joined him in Miami. "Juanjo explained this to me, each day, I'm taking one step, and that's the key: one step at a time, in the best way you can. It's not about being impressive. It's about doing it right," says Alcaraz, who is known in Spain as Carlicos and within the tennis world as Carlitos.
Alcaraz is already a big name in the tennis scene. He has risen to the 11th position in the ATP World rankings, on the verge of the top-10, only 29 points behind the British tennis player Cameron Norrie.
"I'm just a guy who wants more, and I'm now thinking about Monte Carlo and the French Open," he explains. "I'm thrilled to be able to experience all of this now," he says, referring to his young age. "But I don't consider myself special, not at all. I know I will have my spot because everyone is looking for their places, but I would say that no player is special on tour. Everyone works to find their place, and I'm currently working to find my place at number one," he answers EL PAÍS.
After a demanding month and a half, Alcaraz states he needs a break to recharge. He stresses that "being on top of my game every tournament is difficult," but that he has built up a "good condition." Thanks to his versatility, the Spanish player is a fearsome player on court.
"There are many players out there whose game is aggressive, like mine, but not all of them have the resources or play in the same way, hitting the ball hard, going to the net, or looking for winners, all the time during the game," says Alcaraz of his playing style. "I am a very dynamic player, who can do one thing or another at any moment. I can always play a different shot because I have many resources. It's something good, and I should say it."
Although Alcaraz has only recently set foot on the top-level circuit, the young player – who is sponsored by Nike and represented by the multinational IMG – is rising up in a way that is reminiscent of the significant figures of his sport. He has already won three titles: the Croatia Open Umag (250 ranking points), the Río Open (500) and Miami (1000), taking one step at a time.
"I have learned a lot," he states. "Before, I used to finish matches, asking myself what had happened. I didn't read them well, but I have improved quite a lot now. I tell myself: 'alright Carlos, this is happening now, so let's try something else because things aren't going well,'" he continues. "Last year, everything was new to me. It was my first time in almost everything, something I had to experience. Today, I'm a different person and a completely different player. Each experience has allowed me to face everything the way I have."
Alcaraz is aiming to win but prefers not to get ahead of himself. His style will set the course, and right now, it is pushing him forward at a vertiginous speed. By his side is Juan Carlos Ferrero, who has coached Alcaraz since he was 15 years old, and who surprised him on Saturday, the night before the final. He had returned to Spain before the beginning of the tournament after his father, Eduardo, passed away, and Alcaraz did not think he would see him before the match.
"I wasn't expecting him at all to turn up," he says. "I thought that maybe I would speak with him on the phone before the final to see what he would say to me... With Saturday's surprise, I had already won."