Meet Joaquín, the Real Madrid-supporting bar owner who's loved by Atlético fans
The latter have found an unusual place to enjoy their pre-match beers at Akelarre, an establishment that's packed with memorabilia from their rival but happens to be located close to Atleti's new stadium
When Atlético de Madrid soccer club moved to its new stadium in 2017, thousands of season ticket holders had to say goodbye to their favorite pre-match bars around the Vicente Calderón ground and find a new place to enjoy a few beers before the game. Many ended up exploring the streets of the Canillejas neighborhood, which is where the Wanda Metropolitano stadium is located, and some – like Miguel Ángel Martín – ended up by accident in an establishment called Akelarre. The bar is one of those that is plastered from top to bottom with pictures of heroes of soccer, but with one quirk: the owner is a die-hard fan of Atlético's eternal rival, Real Madrid.
On a day when he came to see one of his first games in the Wanda, Martín found a parking space close to Akelarre. As he wandered along the sidewalk he suddenly locked eyes with a life-size picture of former Real star Cristiano Ronaldo. Martín went inside and immediately recognized the man behind the bar, who was wearing a Real Madrid shirt. Days before, Joaquín Vázquez had appeared on Spanish TV complaining about how some people had threatened to burn down his bar. Martín got chatting with him, and immediately connected with this polite and proper gentleman, who felt completely defenseless at the time. "The next week I told my friends, 'We've found a pre-match bar!'" Martín explains.
This past Saturday, two hours before the league match against Osasuna, Vázquez's bar was rammed with Atlético fans who were drinking their beers surrounded by photos of past Real players such as Raúl, Redondo and Mijatovic. Other bars in the area are decked out with Atlético flags, crests and photos, but these fans of the club have chosen instead a temple to their sworn foes for having their pre-game drinks, something that is such an important ritual in the life of a soccer fan.
Vázquez is 70 years old, and today is wearing a red Real Madrid shirt. His wife, María José Molano, 66 and known to all as Mari, is working in the kitchen. She has told her husband time and again to not wear a Real shirt when there is a game on at the Wanda, out of respect for the patrons. But the fans themselves are the ones that encourage him to keep it on.
Vázquez also wears slippers with the team name on them so that he can walk more comfortably – his feet are a mess. Mari, meanwhile, has a problem with her knee and has been waiting two years for the hospital to call for an appointment to give her a prosthesis. The two have been running their business since 1972, first in the Vicálvaro district in the southeast of Madrid, and since 1986 in Canillejas, in the east. Since the Wanda arrived in the neighborhood, things have never been better.
Who would have believed that Atlético de Madrid would put food on my table?!

Bar owner Mariano Vázquez
Vázquez opens a notebook he keeps behind the bar, and where he jots down the daily take. On the days without a game, they rarely make more than €300. When Atlético are playing at home, however, the takings rise to some €2,000. "Who would have believed that Atlético de Madrid would put food on my table?!" he exclaims. His wife says with a smile that they find their energy however they can. "This should have happened to us 10 years ago and not now, when everything hurts and we're seniors."
The unexpected success of Akelarre is due, in part, to the joking around that is so commonplace in the bar. Mari herself is an Atlético fan and the patrons get on her side to annoy Vázquez.
"What did this guy say to you to get you to marry him?" they ask.
"We were only 12 years old when we met," she replies.
Some try to convince him to switch allegiances, or at least for him to pose with an Atlético flag. "I'll put on an Atlético shirt on the day I die, just so people can say that another Atlético fan has kicked the bucket," he promises them.
While the fans enjoy their beers and calamari sandwiches, Vázquez winds them up by putting on the Real Madrid Televisión channel. By chance, a group of fans from the opposing team are also in the bar. The Osasuna supporters passed by Akelarre and, mistakenly, thought that the bar was run by someone from their part of Spain, the north, given the name. As they were hungry, and could see Mari preparing sandwiches as big as their arms, they decided to stay. As for the name, Vázquez tells the journalists that when he bought the bar from its previous owner – who was from the Basque Country – he opted to continue with the same name.
Vázquez points to a tower of old CDs, where part of the history of Akelarre survives. Before its current era as a home for Atlético fans, it was well known for its boisterous Real-supporting patrons from the neighborhood, as well as being a destination for those wishing to watch the Spanish national team play. TV and radio crews would often come by to broadcast live during matches. He puts a disc into the DVD player and all of a sudden the bar's televisions show footage of a younger Vázquez jumping off the bar into the arms of his patrons as if he were Bruce Springsteen.
Ahead of today's game it's mayhem in Akelarre, with Spanish pop music and flamenco blaring from the speakers. But with 15 minutes to go before kick-off, Joaquín and Mari are left alone. Vázquez explains that if Atlético win, the fans will return to celebrate. And if not, he can rely on the Real Madrid supporters – people like Antonio López, who appears once the Atlético fans have gone.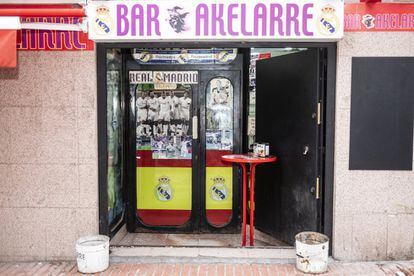 López is grateful to Vázquez for sticking with the team, unlike other bar owners in Canillejas. "Lots of them are Real Madrid fans but they have swapped their shirts just to bring in business," he explains. Even grocery stores in the neighborhood fly the Atlético flag on the days that there are games.
Akelarre has become the last bastion of Real Madrid in Canillejas, but its owners are eager to retire so they can finally get some rest in the Costa del Sol, where they have an apartment. "We'll give ourselves a year, a year-and-a-half more," Vázquez confesses. They'll sell on the business, and then it will be up to the new owner as to whether the bar will retain its Real identity and Atlético clientele. But everyone who knows Akelarre thinks that however much they might try, it just won't be the same.
More information