Spanish golfing champion Jon Rahm withdraws from Olympics after testing positive for Covid-19
A masseur for the cycling team and a hockey coach have been quarantined following coronavirus tests
Spanish golfer Jon Rahm will not be able to compete at the Tokyo Olympic Games after testing positive for the coronavirus, the Spanish Olympic Committee (COE) announced on Sunday. The Basque champion, who is ranked number one in the world, tested positive in June during the Memorial Tournament and was forced to withdraw. That same week, he had been vaccinated with the single-dose Janssen shot. Rahm contracted the virus before traveling to Tokyo from his home in Arizona.
"The positive case was detected after he submitted to a third consecutive PCR test, which is mandatory for everyone who has recently been in the United Kingdom," the COE said in a press release. Rahm had recently been in the UK for the British Open.
Rahm will be replaced by Jorge Campillo, but the decision is pending the results of his coronavirus tests. Like Rahm, Campillo competed in The Open Championship in the UK, meaning he will need to take three PCR tests.
In a message on Twitter, Rahm said: "I would have loved to have been the first Spanish Olympic gold medalist in golf, but unfortunately destiny had other plans. This is a great reminder for all of us that we're still in a pandemic."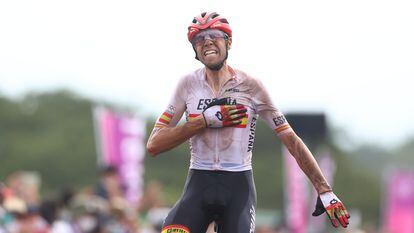 Rahm is not the only of Spain's Olympic delegation to test positive for the coronavirus. A masseur for the Spanish cycling team, Joseba Eguezabal, tested positive on Friday, but tests for members of the team came back negative and the Spanish Olympic Committee said they would be able to compete. On Monday, David Valero took bronze in the mountain biking event.
Adrian Lock, the trainer of the women's field hockey team, also tested positive in an antigen test for the coronavirus. The 45-year-old British coach had had the virus a month earlier. The results came back on the same day the Spanish hockey team was set to compete against Australia in its first qualifying match. "We didn't find out he was positive until breakfast," said hockey player Beatriz Pérez. The team lost to Australia 3-1. It will play its second game on Monday against Argentina.
Besides Valero's bronze in cycling, the 17-year-old Adriana Cerezo won silver for Spain in taekwondo.
English version by Melissa Kitson.