Spain's regions to receive weekly shipments of the coronavirus vaccine
The first doses of the Pfizer/BioNTech shots are due to arrive this weekend, and more will be delivered every Monday at undisclosed locations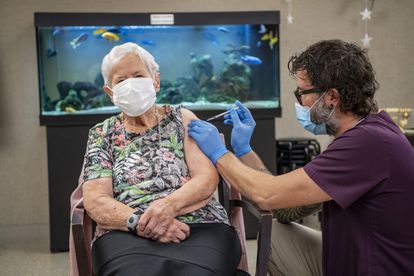 Spain's regional governments will receive their first shipment of coronavirus vaccines between Saturday and Sunday. December 27 has been announced by the European Union as the symbolic starting date for immunization campaigns across the continent.
After that, regions will receive weekly deliveries of the Pfizer/BioNTech vaccine every Monday. The Spanish Health Ministry has drafted a list of priority groups who will have early access to the double-dose treatment, beginning with residents and workers of care facilities and frontline healthcare personnel.
Several regional health chiefs on Wednesday unveiled more details about the vaccination plan, which will also be discussed at a meeting this evening of central and regional health authorities known as the Inter-territorial Council of the National Healthcare System.
The very first vaccine administered on Spanish territory will be in Guadalajara on Sunday, according to sources in the regional government of Castilla-La Mancha.
Regional sources said that the central executive has sent them general guidelines on the number of doses and the expected delivery dates, so they can start rolling out their own distribution and inoculation plans.
The vaccines will arrive from Puurs in Belgium, where Pfizer has a factory. The company will distribute them directly to Spain's regional authorities, who will store them in centers whose location has for the most part not been disclosed for security reasons, following recommendations by the Spanish Interior Ministry.
Aragón, however, has announced that its doses will be kept inside Zaragoza's Clínico Hospital before distribution to specific administration points throughout the region. The hospital has two specialized freezers that can hold up to 193,050 doses each at the required ultra-low temperature of -70ºC.
The deputy premier of the Madrid region, Ignacio Aguado, said that the shipments will come in every Monday, and that two million syringes have been purchased to administer the shots. Aguado, of the liberal Ciudadanos (Citizens) party, said that he already knows how many doses Madrid is slated to receive, but added that "we are used to having [that figure] changed," alluding to the central government headed by a center-left coalition of the Socialist Party (PSOE) and Unidas Podemos.
The southern region of Andalusia will receive 1,980 doses on Sunday, according to the health chief Jesús Aguirre. Two storage sites have been set up in Seville and Granada, and from there they will be distributed to over 40 primary healthcare centers and 37 hospitals. "We have 178 vaccination teams with over 500 nurses trained specifically to administer the Pfizer vaccine; 73 medical teams will handle senior homes and other long-term care facilities, which is where the campaign will start," said the epidemiologist Inmaculada Salcedo.
In Navarre, authorities said that 150 residents of the care home El Vergel in Pamplona will be the first to receive the shots. And the Valencia region said it will vaccinate 800 residents and workers of care homes. Beginning on Monday, the region will receive 30,000 doses a week, according to the regional health department.
In Castilla y León, 133 nurses will begin inoculations on Sunday "in a testimonial manner," said the regional health chief Verónica Casado, adding that the first shipment of 126,000 doses is expected on Monday and vaccinations will formally start on Tuesday. The Balearic Islands will start its campaign on Sunday.
In Catalonia, authorities are expecting to receive 215,000 doses this weekend, probably on Saturday. Authorities in Asturias said they do not yet know how many they will be receiving, but that 148 professionals are standing ready to start vaccinations at care homes.
The plan is to use the doses as they arrive, rather than keep them in storage for prolonged periods of time. The vaccines can be stored for six months at a temperature of -70ºC or lower, and five days in regular freezers.
The plan is for all of Spain's 17 regions to begin the immunization drive at the same time starting with the first priority group: residents and staff of care homes, other healthcare workers and people with serious disabilities who are not in a care facility, for a total of around 2.5 million individuals. This group is expected to be vaccinated by the spring. Phase 2 of the vaccination campaign is set to cover the April-to-June period, followed by Phase 3 between July and September.
English version by Susana Urra.