Data shows over 17,500 confirmed or probable Covid-19 deaths at Spain's care homes
Despite difficulty obtaining figures, an EL PAÍS tally shows more than 72,000 infections or suspicious cases at these centers, which have been hit hard by the coronavirus pandemic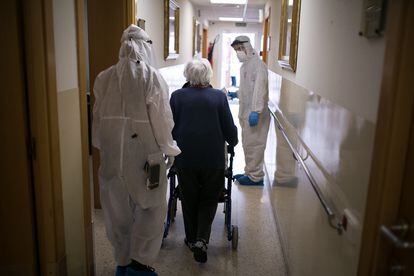 A total of 17,585 people have died of coronavirus or with associated symptoms at residences run by Spain's social services, according to a tally made by EL PAÍS using figures provided by regional governments.
It is impossible to know how many of Spain's Covid-19 victims were living in care homes. But by comparing both death counts – the official national toll of 25,857 on Wednesday and the 17,585 deaths at social services centers, using Tuesday figures except for Castilla y León, which includes Wednesday figures – it is possible to determine that the virus has been especially harmful to the elderly.
It is not possible to know how many of the over 5,400 care homes in Spain have had coronavirus cases
In a country hit hard by Covid-19, the plight of nursing homes has been particularly shocking. Prosecutors have opened 140 criminal investigations after bodies were found on beds in understaffed and overwhelmed centers that lacked adequate protective gear for its workers.
But determining the true extent of the pandemic at senior homes is difficult because of different criteria used by regional governments to count cases, and because the executive has not shared the information relayed twice a week by regional authorities.
It is also not possible to know how many of the over 5,400 care homes in Spain have had coronavirus cases. There isn't even an official tally of how many people are living at these facilities. The state-run scientific council CSIC has counted around 373,000 available beds.
Varying criteria
Queried by this newspaper, regional authorities provided numbers based on varying criteria – some like Madrid did not separate nursing homes from other care centers for people with disabilities; others did not say how many cases were confirmed via tests; yet others only provided a count of confirmed cases, not probable ones.
But the numbers still reflect the magnitude of a pandemic that has been especially deadly in care homes. Over 72,000 people at Spain's social services centers have been infected or had symptoms suggesting Covid-19. Of these, 39,000 cases have been confirmed by a test.
The number of confirmed and probable deaths at care homes counted by this newspaper using regional figures was 17,585, compared with the national overall death tally of 25,857 on Wednesday – which is probably much lower than the real figure because it only includes people who were tested.
Two weeks ago, the number of both confirmed and probable coronavirus deaths at social services centers was over 15,300, and since then the figure has grown by more than 2,000 cases.
The worst hit region is Madrid, with 5,786 deaths (1,141 of them confirmed by tests), followed by Catalonia with 3,155 deaths, although authorities there did not specify how many victims were tested. Castilla y León is in third place with 2,449 fatalities (of which 1,358 were tested) and Castilla-La Mancha ranks fourth with 2,230 deaths (1,091 confirmed with tests).
Although experts warn that not all people who died with coronavirus-like symptoms were necessarily infected, most regional governments have provided figures about suspicious cases because lack of testing has been a major problem at residences. In at least 7,300 of the 17,585 suspected cases that resulted in death, no tests were performed.
Not all regional governments have shared information about the number of infections at these centers. Madrid has only admitted to 5,093 coronavirus cases, after reviewing the results of over 13,000 fast tests. Catalonia has reported 11,747 confirmed cases and a further 30,047 with associated symptoms, for a total of over 60% of all available space at centers in the northeastern region.
In five regions, confirmed coronavirus deaths at care homes represent over half of all registered deaths in the region. These are Extremadura (68.6%), Asturias (59.9%), La Rioja (57.4%), Cantabria (53.5%) and Navarre (50.2%). In the Canary Islands, the rate is only 12%. In other regions it is not possible to make these calculations because of missing or contradictory figures.
No data from the government
Meanwhile, the executive has still not released information about deaths at care homes, even though the Official State Gazette (BOE) published an order a month ago forcing regional authorities to provide these figures to the central government. Regional authorities send this information to Madrid on Tuesdays and Fridays. For two weeks, Health Minister Salvador Illa has been saying that the data will be released after it is analyzed. Even when it is, it will probably be a global figure encompassing senior homes and other social services centers.
Given this situation, establishing an adequate deescalation plan for care homes is a complicated issue for the central government, which has provided no clues as to its intentions. The deescalation plan released last week only mentioned that the management model at these centers will have to undergo review, and that any action will be delayed until Phase 3 goes into effect.
Residents of these homes have been excluded from the daily walks that other citizens have been permitted since last Saturday. One of the government's main concerns is how to stop the virus from ravaging these centers once more if and when transmission spikes again.
English version by Susana Urra.