Madrid region lifts coronavirus restrictions in 10 areas
With second wave in full swing, PM announces new healthcare hirings and the health minister supports large-scale vaccination campaign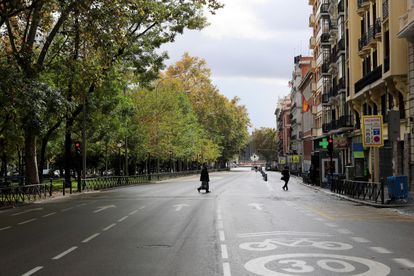 As the death toll from Covid-19 in Spain continued to rise, the Madrid region on Friday said it will lift the perimetral confinement on 10 of the 41 healthcare zones that were closed off due to a very high coronavirus incidence rate.
On Monday, citizens may once again move freely in and out of these healthcare zones – administrative units that include one or more primary health centers – because the 14-day cumulative incidence rate has dropped by as much as 50% to under 500 cases per 100,000 inhabitants.
The zones are: Brújula and Las Fronteras (in the town of Torrejón de Ardoz), Guadarrama, Peña Prieta and Rafael Alberti (Puente de Vallecas), San Andrés, San Cristobal and El Espinillo (Villaverde), San Blas (Parla) and Villajero (Moratalaz). Together they represent nearly 2% of the population of the Madrid region, or approximately 200,000 people.
Even so, Madrid's deputy chief of health and head of Covid-19 management, Antonio Zapatero, said on Friday that "the most advisable thing to do is to reduce our mobility to strictly essential trips."
More healthcare professionals
Spain's Prime Minister Pedro Sánchez on Friday announced that 10,001 new positions will be created next year for healthcare professionals as part of an effort to shore up the national healthcare system, which is under great stress from the coronavirus crisis.
Speaking in Pamplona, the Socialist Party (PSOE) leader said the initiative will increase this year's vacancy offers by 3.2%. Examinations will take place earlier than usual, on March 27, 2021 so that successful candidates can start their new jobs as soon as possible and make up for "years of healthcare staff reduction" in Spain.
Also on Friday, Health Minister Salvador Illa defended Spain's coronavirus vaccination strategy for 2021, when the country expects to have around 20 million doses of Pfizer's vaccine.
Speaking in Girona, the minister also criticized anti-vaxxers and coronavirus deniers. "If someone wants to keep insisting that the Earth is flat or that humans did not get to the Moon, go ahead, but anti-scientific attitudes are intolerable because they lie," he said. "Vaccines save lives, this has been widely proven. Vaccination is nothing new in Spain, every year 10 million people get immunized."
Failing grade on transparency
The Transparency and Good Governance Council (CTBG), the Spanish agency created in 2015 to monitor how well transparency laws are observed, has written a critical report lamenting the uncooperative attitude shown by the Health Ministry, which is the top authority under the state of alarm and in charge of managing the health crisis.
In its findings, the Council says that the ministry is not only ignoring most citizen requests for information: it is not even replying to the CTBG itself. An analysis of 17 resolutions issued by this agency regarding requests for information from the Health Ministry, some of them filed as far back as March, shows that on 15 occasions there was no reply. And in one of two replies, the ministry merely sent back a link that did not answer the question, which had to do with government purchases of health equipment.
Some of the questions that the ministry has failed to answer in recent months include who Minister Salvador Illa has met with and when; who has met with Fernando Simón, the head of the ministry's Coordination Center for Health Alerts and Emergencies; government purchases of health equipment; and existing protocols for when members of government may skip self-isolation.
Emilio Guichot, a professor of administrative law at Seville University who has authored books on Spain's Transparency Law, has described the ministry's attitude as "pathological."
"State agencies have an obligation to reply, silence is not an option but a pathology, a failure to fulfil their duty," he says. And Isaac Martín, a professor of administrative law at Castilla-La Mancha University and author of several studies on transparency, says that it is not just the Health Ministry but all ministries and state-owned companies that are failing to provide answers to requests for information.
With reporting by Manuel Viejo, Mikel Ormazabal and Elena G. Sevillano.
English version by Susana Urra.