Nicole Kidman makes a surprise appearance on the Balenciaga runway
The actress was joined by other celebrities such as the socialite Kim Kardashian and the singer Dua Lipa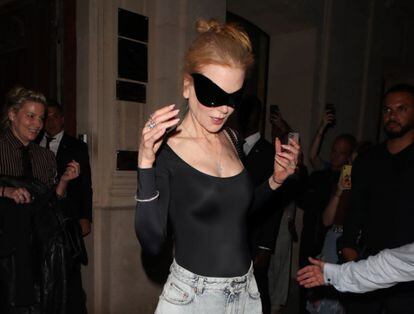 Nicole Kidman was an unexpected guest on the Paris streets during this couture week. The actress is a fixture on red carpets, but not at fashion events. Dressed in full Balenciaga, including a pair of baggy jeans and shield sunglasses in Denma Gvasalia's distinctive style, her look foreshadowed a new development: alongside Kim Kardashian, she has become one of the Georgian designer's guests of honor.
But she isn't just another celebrity sitting in the front row. Kidman made her Balenciaga modeling debut wearing a spectacular silver dress. It isn't her first time on a runway: in 2005, at the time an ambassador for the brand, she walked in a Chanel show.
Balenciaga's couture show included familiar figures like Dua Lipa, Kim Kardashian and Naomi Campbell and top models from both the current day and the times of Cristóbal Balenciaga, the Spanish founder of the house that bears his name. Those globally recognizable faces contrasted with the models who walked the runway with their faces covered by black polyurethane facial shields, designed in collaboration with Mercedes. The contrast between the first and second halves of the show accented the ideas behind the collection: the past and the future of technology, and paying homage to the house's founder through the princess-style dresses that the celebrities wore.
At the end of the event, Nicole Kidman greeted the press alongside her husband, Australian singer Keith Urban, also dressed in Balenciaga.