Coronavirus restrictions in Spain: All the latest news, region by region
There are no longer any nighttime curfews in the country and only two regions continue to limit social gatherings. The use of face masks when indoors and the closure of nightlife venues will be the last measures to be lifted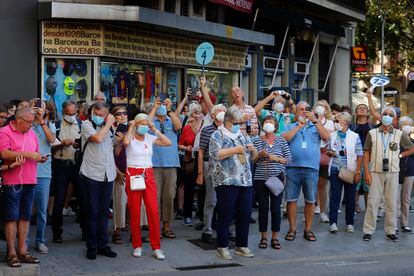 Spain is taking steps toward normality after the fifth wave of the coronavirus. The measures vary from region to region, and are progressive – they are far from the so-called "freedom day" proclaimed by British Prime Minister Boris Johnson on July 19, when the remaining restrictions were lifted all at once in England. But as the infection curve comes down in Spain, the regions are lifting restrictions, and some are planning on eliminating them all in the coming weeks. For now, the full reopening of nightlife is still not an option, at least not with dancefloors and drinking permitted while not sitting at a table. And one measure is likely to be here for months to come: masks when indoors.
In terms of the cumulative incidence of the virus, Spain has been out of the "high risk" zone since Thursday. Aragón and the Canary Islands are the only regions that are still limiting social meetings, whether in public or private. The former has set the limit to 10 people and the latter to 12 on the islands that are on level one alert (this is most of them). Until last week, that same limit was in place in Catalonia and Valencia, two regions that have scrapped their nighttime curfews. This measure affected one in every six Spaniards just two months ago. On Friday night, the last curfew in place in Spain – in Cantillana, a municipality in Seville with 10,736 residents – was lifted.
With no perimetral lockdowns, curfews nor limits on private meetings, the most palpable social restrictions left in Spain are capacity limits for businesses and the hospitality sector, as well as the closure of most of the country's nightlife venues. All of the regions are keeping some restrictions in place at restaurant tables, depending on their risk levels. But these are also being relaxed, as the incidence falls and the vaccination campaign progresses, with nearly 75% of the population in Spain now having the full protection offered by the vaccines.
Castilla y León is the region that has most relaxed its restrictions in hospitality, allowing tables with up to 25 diners, as well as being one of the few territories that is permitting nightlife with practically no restrictions, apart from a capacity limit of 50%.
There could be a sixth, seventh, eighth or ninth wave, but they won't be like the previous ones

Fernando Simón, director of the Health Ministry's Coordination Center for Health Alerts
Galicia has chosen a different formula, allowing establishments to choose between two options. In the first, restaurants and bars can open with a capacity of 50% inside and 75% outside. In the second, the indoor capacity rises to 75% and to 100% outside, while inside, people can consume at the bar counter if alone or with one other person from their household.
Each region is now completely free to set its own social limits. Apart from the use of face masks, which is still regulated by a national law, and some other protocols, such as those covering the return to schools and universities, regional authorities can keep those they see fit depending on risk levels. Back in June, the Health Ministry failed to reach an agreement with the regions to impose certain obligatory restrictions in the hospitality sector, meaning that the traffic light system that had been designed previously is now just there to give recommendations.
Some regional governments have been calling on the Health Ministry to set rules for the use of Covid-19 "passports" to grant entry to bars and restaurants, with a view to reopening them completely. In many European countries, such as France and Italy, this proof of vaccination, negative test result or recent recovery from an infection is needed for access to hospitality venues, among others. But the ministry has no plans for such a move for now, after the courts rejected the measure in the four regions that tried to put it into place.
Symbolic restrictions
The limitations that remain in place are "more symbolic," according to Manuel Franco, a spokesperson from the Spanish Public Health Society (Sespas). "We are very close to normality now, apart from masks indoors, and it seems that we are trusting everything to the vaccination campaign," he says.
He and another 600 public health specialists met last week in León, northern Spain, at the yearly meeting of the Spanish Epidemiological Society (SEE). Some attendees spoke about their shock at seeing bars packed at nighttime, with people drinking and dancing "like in 2018," in the words of Franco. One of his colleagues admitted that perhaps they are "living in a bubble," because all of them were shocked and surprised to see such an image.
In any case, some are now assuming that we have to start living with Covid-19. That was the opinion of Fernando Simón, the director of the Health Ministry's Coordination Center for Health Alerts (CCAES), and the visible face of the government during the coronavirus crisis. During a talk in which he participated at the conference in León last week, he said: "We have to start to normalize the disease."
As more and more people in Spain have been vaccinated, the risk of serious illness or dying has drastically fallen. The death rate in the fifth wave was 0.2% – i.e. two people died for every thousand infections. That's compared to 1.7% for the entire epidemic in Spain – eight times higher. And the last wave began with most of the under-70s without full protection from the vaccines – just one in every five Spaniards was fully inoculated at that moment.
If there are more waves, they will be much less pronounced, the majority of experts consulted by EL PAÍS believe. "It's very likely that Spain will not have any more major epidemic waves," said Simón last week. "There could be a sixth, seventh, eighth or ninth, but they won't be like the previous ones."
SEE President Elena Vanesa Martínez is of the same opinion, but she insists that certain measures must remain in place, "something that will allow for the coming waves to be controlled." She adds: "The fewer cases there are, the more [the restrictions] will work. We have to keep monitoring and not put our foot on the accelerator." The key, she explains, is to continue to be cautious in places "where we know there is genuine risk." That's to say, indoors with no masks, in places where people eat and drink, for example. "Stores, where you don't even spend half-an-hour and no one takes their mask off, are not a risk, and [that risk] also falls a great deal in the open air. We have to focus on this and remind the population that the risk has not disappeared," she insists. In her opinion, infections still need to be carefully monitored in order to vary the restrictions, if necessary.
With the majority of the Spanish population now protected against the most serious consequences of Covid-19, some experts believe that the infection curve is not as important as it used to be. The healthcare system is not likely to be compromised if there are new waves – it wasn't during the fifth spike, when there was a huge increase in infections as the school year ended and socializing among young people went up.
Fernando Rodríguez Artalejo, a professor in public health at Madrid's Autonomous University, believes that it no longer makes sense to set a level of 50 cases per 100,000 inhabitants over 14 days as the "low risk" level, and believes it should be more like 100. Once below this level, he continues, "the majority of measures can be lifted." According to the latest Health Ministry report, on Friday the data point was at 131.3, and has been falling every day for some time now.
Here are the current restrictions in each region of Spain.
Andalusia
The regional government is expecting measures to soon be relaxed if the cumulative incidence falls below 100 cases per 100,000 inhabitants over 14 days. The majority of municipalities are on level one of four. This means capacity is limited to 75% in hospitality venues indoors, with a maximum of eight people per table, while outside areas have no limits. Restaurants and bars can open until 2am and nightclubs until 3.30am. Consumption at bar counters inside and outside is permitted at level one, while at level two this is only permitted outdoors.
Aragón
The health department in the region is considering loosening restrictions "very soon," according to an announcement made on Thursday. For now, the measures remain in place. Meetings in private and public are limited to 10 people, bars and restaurants can open until 12.30am, but new customers are not allowed in from midnight. The capacity indoors in these areas is limited to 50%, with up to six people per table, and outdoor areas have no capacity limits but the maximum number of people per table is 10. Consumption at bar counters is not permitted and there is no smoking in outdoor areas. The same measures apply to nightlife venues.
Asturias
The regional government on Friday presented the new restrictions in place from Saturday onward. The measures affect hospitality venues, which can now open according to their license and with a maximum of 10 people per table both inside and outside. The use of bar counters is permitted as well as consumption at bars. As for nightlife, venues can open until 4am and dancing is permitted when the dance floor is outdoors. Inside, nighttime bars and nightclubs can open but patrons can only stand or sit in groups of six.
Balearic Islands
New restrictions went into place on Thursday and will stay in place until September 27. In Ibiza, the closing time for social, cultural and leisure activities has been extended from 1am to 2am, meaning that all the islands are now subject to the same timings. Restaurants can have eight people per table inside and 12 outside. The Balearics is allowing nighttime bars to open subject to the same capacity limits as for hospitality venues. Nightclubs remain closed. Beaches are closed from 10pm to 6am on all of the islands.
Basque Country
Restrictions put in place on September 1 remain in force. Indoors, capacity is limited to 50% in bars and restaurants, with no limits outside. Up to eight people per table are permitted, both inside and outside. No consumption at bar counters or when standing is allowed. Closure for all commercial, cultural and social activities remains at 1am. Pubs and nightclubs are still closed.
Canary Islands
The regional government put new restrictions in place last Monday, and there are still restrictions according to the four different alert levels. The majority of the islands are on level one, apart from Gran Canaria, on two, and Tenerife and Fuerteventura, on three. Social meetings among those who don't live together are limited according to the level: 12 people for level one, eight for two, and six for levels three and four. For restaurants on level one, outdoor areas can open with no limits and indoors the capacity is 75% with a 3am closing time. For level two, the capacity falls to 75% outside and 50% inside with closing at 2am. At level three, 75% capacity outside is permitted and 40% inside with a 1am closing time. Nighttime bars, nightclubs and karaoke bars can open on all the islands, but only for hospitality activities – i.e. food and bar services – and with no dance floors. The closing time for these businesses also depends on the level.
Cantabria
The region is keeping its restrictions in place, depending on the risk level in each municipality. The whole territory is between level one and two. For hospitality, capacity is set at 75% for level one with tables of up to six people indoors, and 100% capacity with a maximum of 10 people outdoors. At level two, the capacity inside falls to 50% with six people per table and the same capacity outdoors as at level one. Nighttime venues can only open in level one, with the same limits as for the hospitality sector, and a 3am closing time.
Castilla-La Mancha
Restrictions for hospitality and nightlife remain in place. For restaurants, the capacity inside is 75% and 100% outside, with a 2am closing time. Consumption at bar counters is prohibited and tables are limited to 10 people. Nightlife opens until 3am with a capacity of 75% inside and 100% outside. No dancing is allowed inside, nor is consumption at bar counters.
Castilla y León
The regional government announced last Thursday that it will not extend restrictions further, and that from Tuesday the whole region will return to risk level one. Limits on nightlife will be eliminated and consumption at bar counters will be permitted. Bars and restaurants will be able to allow consumption at the bar and standing, with a limit of 75% capacity and a maximum of 25 people per table. Outdoor areas will have no capacity limits, while the inside of nightclubs and other nighttime venues will reopen with a capacity of 50%. No closing times will be mandated.
Catalonia
New restrictions came into force on Wednesday. The limit of 10 people for social and family meetings was scrapped, while hospitality and nightlife venues must close at 12.30am. Capacity in bars and restaurants is limited to 50% inside, with a maximum of six people per table. There are no limits outdoors, and there can be as many as 10 to a table. Nightlife venues still cannot open their indoor areas.
Extremadura
The regional government of Extremadura announced on Friday that it intends to enter the new normality on September 27. To reach this point, the region is expected to enter level two on September 15, and start to relax restrictions on the hospitality and nightlife sectors. From this date on, bars and restaurants will be able to open until 3am (up from 2am), and capacity indoors will increase from 30% to 40%. With respect to nightlife venues, opening hours will also be extended an hour and capacity indoors set at 30%.
Galicia
From September 15, restrictions on the hospitality sector will not be linked to the risk level of each municipality. There will be two options on how to open and it will be up to business owners to decide between the two. In the first, restaurants and bars can open with a capacity of 50% inside and 75% outside. While in the second, capacity is set at 75% and 100%, respectively, and people can consume at the bar counter if alone or with one other person from their household. In municipalities at extreme and high risk, nighttime venues must keep their indoor areas close, but can open outdoor space at 75% capacity. In medium-risk areas, these venues can open at 50% capacity indoors and 75% outdoors. In low-medium risk municipalities, this is set at 50% and 100%, respectively. Beaches must close between 12 and 6am.
La Rioja
The regional government extended the restrictions in place on Wednesday. This means that bars and restaurants still have 75% capacity limits inside and 100% outside. The recommendation is six diners per table. Closing time depends on each venue's license but 2am is the limit. Nighttime bars and nightclubs have a six-person limit at tables too, while consumption at bars is permitted. The capacity limit inside is 75%.
Madrid
The regional government is going to relax restrictions for hospitality, nightlife and culture at the end of September. For now, the current measures will stay in place. Hospitality venues can open until 1am with capacity limited to 50% inside and 75% outside. Six diners per table are permitted inside and eight outside. Nightlife venues can open until 3am with the same capacity limits as hospitality. Consumption at bar counters is not permitted, nor is dancing indoors.
Murcia
In the hospitality sector, outdoor areas can open at 100% capacity with tables of up to 10 people. Indoors, the capacity is at 30% for municipalities at level three, 50% for level two, and 75% for level one. Tables indoors are limited to six people and consumption at bar counters is prohibited. The interiors of pubs and nightclubs have been closed since July 10, but outside these businesses can operate with no limits. Social meetings are not permitted between members of different households between 2 and 4am and are limited to 10 people in general.
Navarre
The government will relax all restrictions for the hospitality sector from September 17, but for now, restrictions remain in place. Bars and restaurants can open inside with capacity of 60%, but there is no such limit if the venue has a CO2 monitor and a system to locate patrons in the case of a confirmed infection. There can be up to six people per table provided there is a distance of 70 centimeters between them. There are no limits for outdoor tables and there can be up to 10 people per table. Closing time is 1am. Nightclubs and other nighttime venues are limited to 50% capacity with tables of six people. Dance floors are not permitted and closing time is 1am.
Valencia
A series of new measures came into force on September 7 and will remain in place until September 27. The nighttime curfew was scrapped on September 7, and new limits on capacity were introduced. Capacity in bars and restaurants is now set at 50% with a limit of eight people to a table. In outdoor areas, there are no restrictions on capacity, and up to 10 people can be seated at a table. Bars and restaurants must close at 12.30, and consumption at bar counters remains prohibited. Nighttime venues can open until 3am at 50% capacity in indoor areas. Eight people are allowed at a table inside and 10 outdoors. Dancing is also banned.
With reporting by Javier Martín-Arroyo, Guillermo Vega, Cristina Vázquez, Silvia R. Pontevedra and Juan Navarro.
English version by Simon Hunter.