Autopsy on Spanish teacher rules out any connection between her death and the AstraZeneca vaccine
The 43-year-old from Marbella suffered a brain hemorrhage and no evidence of blood clots were found, according to a report first published by the daily 'Sur'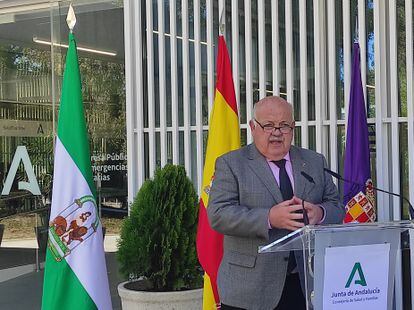 The regional healthcare chief in Andalusia, Jesús Aguirre, stated on Friday that a preliminary autopsy report for a teacher in Marbella (Málaga) who died two weeks after receiving the Oxford-AstraZeneca Covid-19 vaccine states that there is "no causal relationship" between the administration of this medication and her death.
Speaking from Lepe in Huelva, Aguirre stated that the report was "conclusive." The autopsy points to the 43-year-old having suffered a brain hemorrhage, and that she had a predisposition to suffer a stroke, according to the Málaga-based Sur newspaper. The death was one of three that was being investigated by the Spanish Medicines Agency due to a possible relationship between the AstraZeneca vaccine and blood clots.
A series of similar cases across Europe have recently seen countries including Spain, Germany and France suspend its use. But after a positive conclusion on the vaccine by the European Medicines Agency (EMA), released on Thursday, most of these countries – including Spain – have already announced they will restart its use.
It can clearly and resoundingly be said that there is no causal relationship between the coronavirus vaccination and her death

Andalusia regional healthcare chief Jesús Aguirre
After expressing his condolences to the family of the teacher, Aguirre said that the clinical autopsy had been carried out by two pathologists and a coroner, and as such had been done in the "most regulated and scientific" manner possible. "It can clearly and resoundingly be said that there is no causal relationship between the coronavirus vaccination and her death," he said. "There is no relationship between the administration of the AstraZeneca vaccine and the death of this woman," the health chief insisted.
The victim, a 43-year-old mother of two, presented signs of having suffered an aneurysm, which could have been the reason for the massive hemorrhaging that caused her death. The preliminary investigations did not reveal indications of blood clots in the victim's body, although the results from different microscopic studies will be needed from samples that have been taken for the definitive conclusions, the report from Sur explains.
The deputy regional premier of Andalusia, Juan Marín, said on Friday that he was determined for the rhythm of the vaccination campaign to be ramped up once more now that the suspension of the use of AstraZeneca has been lifted.
Emer Cooke, the director of the EMA, stated that the "benefits of the vaccine outweigh the possible risks," with the agency concluding that the use of AstraZeneca is not associated with a general increase in the chance of suffering thromboembolic events.
"We will return to the vaccination calendar that was established on December 9," said Marín. The Spanish government announced on Thursday that the use of AstraZeneca would restart from Wednesday.
English version by Simon Hunter.