Coronavirus outbreaks in Spain's care homes fall by half thanks to vaccination drive
The improved situation has sparked debate about whether restrictions for seniors should be eased, with some arguing for caution and others highlighting the emotional needs of residents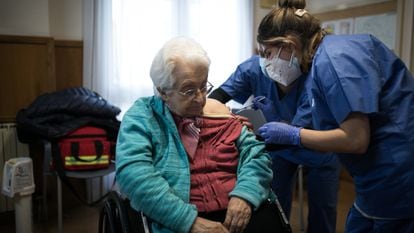 Spain's social service residences can breathe a little easier one year after being besieged by the coronavirus pandemic. The mass vaccination of care homes – the first priority group of Spain's vaccination drive – is beginning to have an effect, with contagions falling. According to the Health Ministry, last week 103 coronavirus outbreaks were reported in such residences, which include care homes for people with disabilities and senior residences. This is half the number recorded the previous week.
Data collected by EL PAÍS show that eight Spanish regions have registered this fall, which has been largely attributed to the vaccination campaign. Indeed, the regions – which are responsible for the vaccination drive and containing the coronavirus pandemic in their territories – have almost finished administering the second dose of the Covid vaccine in care homes. This has prompted some regional governments to consider easing restrictions to allow residents to receive visits and leave their centers. Experts, however, have called for caution.
With fewer contagions, there will be fewer fatalities. We have to start returning to normality

Jesús Cubero, from industry group Aeste
While it is true that the epidemiological curve is on a downward trend across Spain and restrictions on social activities are also helping to curb transmission, the fall in contagions in care homes in the past 15 days has been greater than the total decline. Overall outbreaks in Spain have fallen 7.23% in this period, compared to 50% in social service residences, where a single case is classified as an outbreak. This is a bigger drop than that recorded during the week of November 12, at the end of the second wave of the pandemic, when outbreaks in care homes fell 26% in two weeks.
"We have finished administering the second dose in residences. We are in a very good situation: going from 91 [active infections] in a week, with just four hospitalizations," said a spokesperson for the social rights department in Navarre on Friday. In Navarre, only one outbreak, with eight cases, was reported after the administration of the second dose.
The vaccination drive has provided care homes with the first glimpse of hope since the virus first started to prey on vulnerable residents – nearly 30,000 people have died in social service residences due to the coronavirus or with compatible symptoms. "No significant impact on the number of deaths can be seen yet. It is too soon," says Jesús Cubero, the secretary general of Aeste, an industry group that represents 400 centers. "But evidently, with fewer contagions, there will be fewer fatalities. We have to start returning to normality."
"Visible" impact on regions
It is not yet known whether Covid-19 vaccines stop the spread of the coronavirus, but it is clear that they prevent the most serious effects of the disease and as a result, will prevent deaths. This is already being seen in many of Spain's regions.
According to the health department in the Balearic Islands, the number of active infections in social services residences has fallen by more than 60% in a month, and although a dozen people tested positive for the virus after receiving the second dose, all had minor cases or were asymptomatic.
In Catalonia, the regional government said on Wednesday that the vaccination drive was having a "visible" effect on care homes: only 358 centers had a positive case (0.7% of the total social service residences), 57.7% down compared to 10 days ago. The regions of Aragón and Castilla y León have also detected a fall in contagions. In the latter, outbreaks in care homes now represent 5.8% of all outbreaks, down from 16.6% in December.
In Valencia, a spokesperson said cases in care homes had "fallen by half," but did not provide specific figures. Meanwhile, in the Basque Country, there were more than 400 active cases in residences before the start of the vaccination drive. Today that number is 119. And in Andalusia, the number of positive cases in care homes has fallen to 963, nearly half the figure from 15 days ago.
Debate about relaxing restrictions
The improved epidemiological situation has prompted some regions to consider relaxing coronavirus restrictions in social service residences. In the Balearic Islands, residents of care homes are allowed to leave the center if they are vaccinated, but must present a negative PCR test if they are gone for more than 72 hours. In Navarre, residents who have been vaccinated are allowed to leave and are not required to take a test upon their return. They are also allowed visits one day of the week.
Catalonia also has a plan to ease restrictions and in Extremadura, once all care homes are vaccinated, visiting rules will be relaxed and staff will no longer require periodic antigen tests. In Andalusia, residents who have received both shots of the vaccine are also now allowed to receive visitors and leave their centers.
But experts have advised caution. "We are recommending that regions begin to prepare deescalation plans that allow visits. With prudence, we have to try to return to normality. We have to be more open," says Cubero.
Daniel López-Acuña, a former official for the World Health Organization (WHO), agrees: "It is too soon to be celebrating. People who are vaccinated could get infected or spread the infection and we can't relax the rules on leaving."
But not everyone supports this view. María José Carcelén, the coordinator of the residence 5+1, believes it is important for care homes to be opened. "I have gone a year without hugging my mother," she says. "It doesn't make sense that you can't touch them. They need to feel us close."
Vicente Botella, the head of the Juvany residence in Barcelona, says that while some are afraid to go out, "most of the seniors are very keen to leave, to feel the air on their face, to go for a walk and go away for the weekend."
English version by Melissa Kitson.