Spanish regions toughen Christmas restrictions amid rise in coronavirus cases
Authorities in Madrid, Valencia and Catalonia announce new measures in a bid to curb transmission over the holiday season
Several Spanish regions have announced stricter measures for the Christmas holidays due to a new surge in coronavirus cases. According to the latest Health Ministry report, released on Thursday, the 14-day cumulative number of cases per 100,000 inhabitants now stands at 207. But many areas now exceed the 250-threshold considered by the Health Ministry to indicate a situation of "extreme risk."
Madrid: limits on Christmas gatherings
Madrid's regional health chief Enrique Ruiz Escudero announced on Friday that the limit on social gatherings will be reduced from 10 people to six on December 24, 25 and 31, and on January 1 and 6. On these days, only members from a maximum of two different households will be able to meet. According to Ruiz Escudero, the most recent coronavirus outbreaks in the region have been associated with "family and social gatherings."
The regional health chief also encouraged the use of face masks "both in private and public spaces." According to the Health Ministry's latest report, the 14-day cumulative number of cases per 100,000 inhabitants in the Madrid region stands at 262 – the highest in mainland Spain.
The announcement on Friday comes a day after Madrid premier, Isabel Díaz Ayuso, ruled out stricter restrictions on bars, restaurants and shops. The Madrid region will maintain the nighttime curfew from 12pm to 6am, except on New Year's Eve and Christmas Eve, when it will start at 1.30am.
Valencia: Christmas travel banned
The toughest travel restrictions have been introduced in the Valencia region, which will seal off its borders completely over the Christmas holidays, said regional premier Ximo Puig at a news conference on Thursday evening. This makes Valencia the first Spanish region so far to remove the possibility of inter-regional Christmas travel, which was contemplated in a national plan approved earlier by central and regional officials.
The move eliminates the previous provision allowing trips in and out of Valencia on December 23, 24, 25 and 31 and on January 1 to see relatives and allegados, a term referring loosely to those who are dear to us, and which has created some confusion. The regional borders have been sealed since October, but exceptions had been made for those key dates.
Until January 15, the only people allowed into the region will be those returning to their regular place of residence. Under the state of alarm currently in effect, there are a few other exceptions for essential reasons such as work. Internal mobility between the three provinces that make up the region (Valencia, Alicante and Castellón) is not affected by these restrictions.
A national plan approved earlier this month had called for regional border closures across Spain from December 23 to January 15, with exceptions made to let families gather on key dates. But regional authorities have the power to adapt these guidelines.
Puig also said that a maximum of six people from two households may gather on Christmas Eve and Christmas Day, instead of the earlier limit of 10. And the curfew starting time is being pushed to 11pm except for December 24 and 31, when it will start at midnight instead of 1.30am as had been originally planned.
Puig, of the Valencian branch of the Socialist Party (PSPV-PSOE), apologized for changing the rules just 12 days after first announcing the Christmas plan. "We don't like to create uncertainty or ruin the plans of thousands of families. But if the epidemiological situation changes, we need to adapt to the new reality to better fight the pandemic."
Catalonia: more restrictions for restaurateurs
In Catalonia, government officials said on Friday morning that the region is "in a critical phase" of the pandemic, and announced new restrictions that will go into effect on Monday.
The new measures are a step back from the deescalation plan announced in November, and mostly affect the food and drink sector. Restaurants and bars will only be allowed to open between 7.30am and 9.30am for breakfast, and between 1pm and 3.30pm for lunch. Outside those business hours, only home delivery and take-out services will be allowed.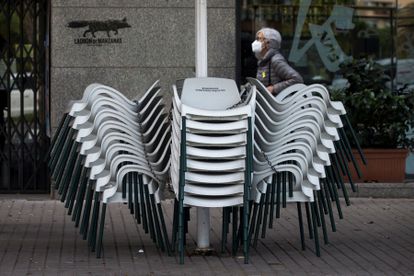 Social gatherings are limited to six people, with exceptions on December 25, 26, 31 as well as January 1 and 6, when 10 people from two different households may meet.
The regional perimeter will remain sealed, but travel in and out of Catalonia is allowed to visit relatives and allegados. Inside the Catalan territory, residents will be confined to their comarcas Monday through Sunday (instead of just on weekends) but again, exceptions will be made for people going to visit relatives or to "a fixed destination" such as a second residence or a hotel in another comarca, which is a traditional administrative division in parts of Spain.
Changes will apply from Monday, December 21 to January 11, with exceptions made for key dates.
"This is not the kind of Christmas we would like," said acting Catalan premier Pere Aragonès. "The situation is forcing us to take steps back."
With reporting by Isabel Valdés, Blanca Cia and Ignacio Zafra.
English version by Susana Urra.