Madrid chief warned against refusing hospital aid to care home residents: 'They'll die in undignified conditions'
In internal emails seen by EL PAÍS, the head of social policy said that the decision to deny certain coronavirus patients medical attention would have "serious legal consequences"
Internal emails from the Madrid regional government reveal that there were concerns about the legality of refusing to admit care home patients to hospitals right from the beginning of the coronavirus pandemic.
Madrid has been the epicenter of the coronavirus outbreak in Spain, and care homes in the region have been hit especially hard by the virus. According to figures from the Madrid regional government, 6,007 care home residents died between March 8 and June 2 from Covid-19 or associated symptoms. This figure includes all centers run by social services for the elderly, people with disabilities and those suffering from mental illness.
The emails, seen by EL PAÍS, show that a top regional official tried to warn colleagues in the Madrid government that denying hospital treatment to care home residents could result in "serious legal consequences." The documents also point to the internal differences within the Madrid executive, which is run by the Popular Party (PP) and Ciudadanos (Citizens).
People with serious disabilities but with a good life expectancy could be refused, and we would be committing an act of discrimination with serious legal consequences

Alberto Reyero, head of social policy in Madrid
On Sunday, March 22, a week after the Spanish government declared a state of alarm, the Madrid region's head of social policy, Ciudadanos politician Alberto Reyero, sent two emails to the regional health chief, Enrique Ruiz Escudero of the PP, expressing his concern over a hospital selection protocol Escudero's department had issued.
This protocol advised the 22 regional hospitals to refuse admission to one of the largest groups of care residents: senior citizens with grade three dependence, who require ongoing or continuous support. The document also recommended that hospitals turn away patients with disabilities who were living in special homes. From Tuesday of that week, news of bodies being left in nursing homes and ambulances refusing to help senior patients had filled the headlines.
Reyero warned Ruiz Escudero that the hospital protocol would "lead to many residents dying in undignified conditions." "If we apply this to people with disabilities, the situation has an even more serious component. In this case, people with serious disabilities but with good life expectancy [...] could be refused [by hospitals] under this referral system and we would be committing an act of discrimination with serious legal consequences. Please, keep this in mind," Reyero added.
In the end, the regional health chief was forced to backtrack on the decision to exclude people with disabilities, regardless of their age, after the protocol was leaked to the media and associations demanded it be changed. The final version of this document, which was completed on March 25, excluded patients with advanced dementia, grade three dependents, and people suffering from a terminal illness.
When Escudero did not reply to Reyero's email or phone calls, the Ciudadanos politicians sent another message later that Sunday. "As we are having problems in talking, here are some of the issues that are worrying me," Reyero wrote, explaining that the situation was "complicated" and that care homes were not up to the task of saving lives. Reyero proposed alternatives such as medicalizing residences or transferring seniors to "medicalized hotels."
According to sources from the social policy department, Reyero did not receive a reply to either of his emails. A spokesperson from the regional health department confirmed that Escudero received the emails, but did not provide information about their content.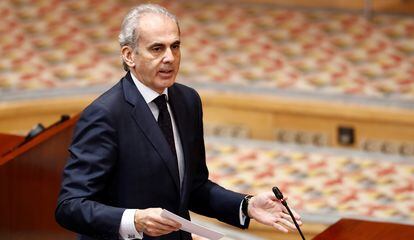 Reyero's department is in charge of care homes and other issues concerning vulnerable people in Madrid. But Reyero has continually been sidelined by the regional government during the coronavirus crisis, with his calls for more support going largely ignored. On Monday, he told the Madrid assembly that "it is not ethical and possibly not legal" to leave senior residents without medical attention.
Around mid-April, as the crisis eased, hospitals began to admit senior care home residents again. According to a spokesperson from the health department, 9,632 residents have been transferred to hospital during the crisis as of June 1. Although the situation has improved over the last few weeks, care homes in Madrid remain unprepared for a new outbreak, according to several sources from the sector, who say that these centers have not received the promised medical reinforcements.
Legal cases
In response to the criticism over the hospital selection protocol, Madrid premier Isabel Díaz Ayuso of the PP said on Tuesday that the document was a draft that "was not sent anywhere." "Residence staff have always acted with absolute transparency and always in adherence to clinical criteria," she said. Several sources, however, including a regional spokesperson, say the document was sent to residences and geriatric groups, which decided on a case-by-case basis which patients to refer to hospital.
The Madrid public prosecutor is set to investigate dozens of residences in Madrid and several courts have received collective lawsuits filed against Díaz Ayuso, Escudero and justice chief Enrique López for involuntary manslaughter, degrading treatment and failure to provide assistance.
Marta María Alberto, a professor of bioethics at King Juan Carlos University, told EL PAÍS that referral protocols should be based on equity, with those with greatest need receiving medical attention.
"In bioethics, we all know that medical resources are limited and sometimes difficult decisions have to be made, but that cannot justify a criteria that rules our certain people on the basis that they have a lower life expectancy," she said.
English version by Melissa Kitson.