Coronavirus cases continue to climb in Spain
Although around 119 people have tested positive for Covid-19, Spanish authorities have ruled out cancelling large events
As the Covid-19 coronavirus continues to spread throughout the world, the tally in Spain had reached around 119 confirmed cases by midday Monday. (read the latest update here)
Of these, 10 were reported yesterday, while today there were two new cases in Catalonia, two in Castilla-La Mancha, one in Castilla y León, 13 in Madrid and nine in Cantabria. That was according to the latest official figures, announced on Monday by Fernando Simón, the director of the Health Ministry's Coordination Center for Health Alerts and Emergencies
Only the regions of Galicia, La Rioja and Murcia, and the exclave cities of Ceuta and Melilla on the northern coast of Africa, are free of reported infections
After two isolated cases were detected in late January and early February, there was a surge in reported infections last week after health authorities introduced more comprehensive testing to include people with unexplained respiratory illnesses, regardless of their travel background.
Only the regions of Galicia, La Rioja and Murcia, and the exclave cities of Ceuta and Melilla on the northern coast of Africa, are free of reported infections.
"In Madrid, there are a number of situations with a different interpretation," Simón told reporters on Monday. "There are cases associated with trips. Secondary infections from identified cases. And areas of interest where these cases have occurred." One of those areas is the municipality of Torrejón de Ardoz, where the authorities are still trying to determine the source of several infections.
"Another situation is associated with a religious group, where a number of different cases have been identified," Simón continued. "We are investigating whether they are related to other isolated cases of individuals who belong to similar religious groups."
"Of the cases in Spain, many cases are so mild that they are in fact being treated in their homes," he added.
The president on the European Commission, Ursula Von der Leyen, announced on Monday that the risk of coronavirus in the European Union had risen from moderate to high. "In other words, the virus continues to spread," she told reporters.
Spanish health authorities are maintaining the lowest of the three existing alert assessments, "containment," but the three areas of Torrejón de Ardoz (Madrid region), the Basque Country and Málaga are under scrutiny due to several unexplained cases. Around 90% of cases in Spain are imported.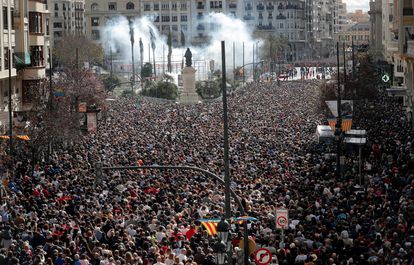 So far, Spanish authorities are also ruling out the cancellation of events that draw large crowds. Valencia on Sunday kicked off its famous Fallas celebrations with a pyrotechnics display, attracting thousands to the Mediterranean city ahead of the main events scheduled for March 14 through 19.
Officials will be meeting throughout Monday to evaluate whether further safety measures should be introduced.
"The coronavirus is scary because it is an unknown disease, but this does not justify the discrimination and racism that we have seen in recent days," said Health Minister Salvador Illa on Monday, speaking on the radio network Cadena SER: "We know enough to try to contain the virus. I think we did the right thing to take it very seriously from the beginning and observe its evolution in China."
English version by Susana Urra.
More information