From avatars of deceased relatives to 'seeing-eye' shoes: The biggest innovations at the CES tech fair
A synthetic voice recreator, a virtual fireplace and fruit scanners were among the award-winning gadgets at the most important technology event of the year
Bracelets that can call for help, anti-snore pillows, VR headsets that examine your eyes and smart beehives – these are some of the most innovative devices created in recent years, according to the Consumer Technology Association (CTA), which since 1967 has been organizing the largest Consumer Electronics Show (CES) in the world. The CTA awards innovation prizes to products that stand out for their design and engineering. Here are some of the more original gadgets and services that have been present at this year's show, held this week in Las Vegas.
Meet with your loved ones who passed away
The Re;memory service, an honoree in the Virtual and Augmented Reality category, looks like something straight out of a Black Mirror episode. "We help you to fulfill your wish to meet your family member who you miss but is no longer in this world," state its creators. Their solution uses artificial intelligence to create virtual humans so that "bereaved families can maintain a bond with the deceased."
Several haptic gloves and vests have also been recognized in this category, as well as multiple headsets. This is the case of Skinetic, a vest designed to experience different sensations in virtual reality, like branches brushing against your chest as you move through the jungle, a curtain of water falling on your shoulders while you pass under a waterfall, or even the breath of a monster that sneaks up behind you.
"Seeing-eye" shoes for blind people
Several devices for visually impaired people were recognized in the Accessibility category. These include Ashirase, a "seeing-eye" shoe. This device is a wearable navigation system with a motion sensor that goes in the shoe and provides navigational instructions through vibrations. Also recognized was Dot Pad, a device that displays images, graphics and charts in tactile form. A toilet lift that allows people with little strength and mobility to use it independently before raising them back to their feet was also among the award recipients.
HAPTA, another device highlighted by the CTA, is a makeup applicator for people with limited fine motor skills, such as patients with Parkinson's or cerebral palsy. The goal is for them to be able to apply lipstick or mascara, explains Casey Barbarino from L'Oreal. This company's invention is a stabilizing handle with sensors that detect hand movements and a system that distinguishes unwanted tremors from intended movements. Although it is still a prototype, the company hopes to launch it this year.
Recover your voice
"Users about to lose the ability to speak can now re-create their voice synthetically, enabling them to keep this essential part of their identity," explains Acapela group, which is behind one of the prize winners in the Digital Health category. The global market for voice technology is growing by 17.2% annually, according to the CTA, citing data from Meticulous Research analysts. By 2025, its volume is expected to reach $26.8 billion.
Many other devices have also been recognized in this category: among them, a sensor that detects abnormal lung sounds, a leadless pacemaker, a test to diagnose monkeypox in laboratories, a smart bassinet that monitors the baby's respiratory rate and detects crying, a foot scanner to minimize footwear returns and a credit card-sized ECG device.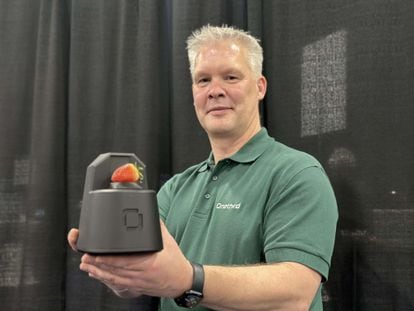 Fruit scanners
A fruit and vegetable scanner that aims to quickly predict the shelf life of fresh produce such as strawberries, blueberries, tomatoes, avocados or mangoes was honored in the Food & Ag Tech category. This tool, developed by the company OneThird, uses artificial intelligence to make its assessments. It is aimed at reducing food waste by up to 25% and cutting labor costs by up to 50%.
According to Marco Snikkers, founder of OneThird, only growers and distributors use these devices at the moment. However, the company intends to take a machine that analyzes the state of avocados to some stores in the Netherlands this year.
Virtual fireplaces
The Graphene Radiator is a virtual fireplace that generates heat from graphene. This device, a winner in the Home Appliances category, can generate heat efficiently with less space and 30% less energy. Other award-winners in this category include a device that analyzes the user's health data to provide a personalized nutrition service, another that creates skincare cosmetics on the spot to treat skin problems and a mattress that analyzes sleep patterns and helps maintain an optimal body temperature.
Sign up for our weekly newsletter to get more English-language news coverage from EL PAÍS USA Edition