Overcrowding and interminable waits in Lampedusa, where migrants now outnumber residents
Italian Prime Minister Giorgia Meloni announced the creation of new Identification and Expulsion Centers after the island received a record-breaking 12,000 migrants in just four days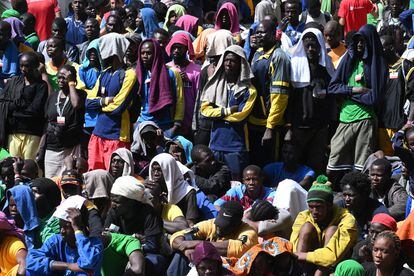 A straight line just a few meters wide in the sea, in the middle of the harbor, traces a sort of imaginary border between Lampedusa's two realities. On one side, there is a row of pleasure boats, their hulls a spotless, gleaming white. Lively music plays on some of them, and tourists in bathing suits with drinks in hand are constantly coming and going. On the other side, there is a pile of empty barges, some made of rusty metal and others of wood; all of them damaged and punished by the water. On this side, there's the wail of ambulance sirens and the hustle and bustle of health workers and volunteers from humanitarian organizations going from one side to the other with thermal emergency blankets.
Migrants are continuously landing in Lampedusa, although the numbers have decreased in the past two days. On Friday afternoon, dozens of newly arrived migrants waited on the dock, under the scorching sun, to receive assistance and be transferred to the reception center. Their faces reflected something between despair and resignation. Meanwhile, an Italian Armed Forces ship was unloading another large group of migrants who had been rescued at sea. Since the arrivals peaked, the authorities have not been able to keep up. As Thursday night became Friday morning, just over 200 migrants had arrived.
Authorities and dozens of volunteers are working hard to restore normalcy. But that still seems far off following the record-breaking number of migrants who arrived in the middle of last week. In just four days, nearly 12,000 migrants came by sea to Lampedusa. The small island of just 6,000 inhabitants — which is closer to Africa than to Italy — had never received this many migrants before. "It is the highest number ever recorded. In four days, the same number of migrants arrived as in all of 2019 in all of Italy [11,471]," says Matteo Villa, a researcher at the Institute for International Policy Studies.
The Red Cross is managing the reception of migrants in Lampedusa. The organization's staff told this newspaper that on Friday morning there were 3,800 people at the first reception center, which is designed to register migrants; they are meant to spend as little time as possible in the center, which has a capacity of 400 people. Throughout the day, authorities transferred about 2,500 migrants to other reception centers in Sicily and on the mainland. "The Italian Red Cross's 130 workers and volunteers are going above and beyond to guarantee the guests' basic needs," says the president of the Italian organization, Rosario Valastro. He added that they distributed 5,000 meals for lunch and another 5,000 for dinner on Thursday. "We are exhausted, but we are still working. For us, people come first," he says.
Scuffles during food distribution
In recent days, the center has been near collapse. There was not enough space or food for so many people. From time to time, as food was being distributed, small scuffles broke out, and the police charged at the migrants. Many had to ask for food and water directly from Lampedusa residents, who opened the doors of their homes to migrants and offered them sustenance.
Mohamed, 15, from Gambia, is taking refuge under the shade of a tree with his compatriots Ibrahim, 17, and Buhakar, 19. Temperatures in Lampedusa these days have been hovering around 30ºCelsius (86ºFahrenheit), but the high humidity makes it feel even hotter. The three of them are carrying water and food in a plastic bag that some of the island's residents gave them.
"The people here are good; they have tried to help us," Mohamed says shyly. He has been on the island for four days. He is a minor who is traveling alone, but authorities still have not processed his case to transfer him to a special reception center for unaccompanied minors. The three of them say that they crossed Mali and Algeria and spent about a month in Tunisia, where they had a "nightmare" experience before leaving Sfax in Tunisia for Italy. Mohamed would like to stay in Italy; Ibrahim wants to go to Germany; and Buhakar wishes to go to France.
In the port, about 200 migrants are crowded under tents that protect them from the sun as they wait for the boat that will take them to Sicily. Those who remain outside the shelter of the tents protect themselves from the heat by putting wet towels on their heads. "I haven't eaten for four days," complains Mihaid, a 23-year-old Liberian, who arrived in Lampedusa last Sunday from Tunisia. "It's too hot here; I feel desperate. I'm happy to be in Europe, but I want to leave here now," he says. He adds that he plans to stay in Italy and study "maybe in Naples." Red Cross volunteers hand out sandwiches and water before the migrants board the ship. There are moments of tension when they think that, again, there will not be enough food for everyone, but this time there are enough reserves to feed the whole group.
In Lampedusa, the hustle and bustle is constant. The first reception center is fenced in and guarded by the Italian Army; police officers come and go with large groups of migrants. Some are taken to the buses that go to the port, where they must embark to go to other reception centers off the island, while officers escort other migrants to identify them at the center.
From a nearby hill, one can see large groups of people wandering around inside. Some are lined up to receive food and instructions, while others sit on the ground to rest as best they can; many take shelter in what little shade there is. Clothes hang from the structure's windows; there's a constant murmur and hardly any empty space.
Political tensions
Off the island, migratory tension has shaken up politics and spilled beyond the country's borders. Led by the far-right Giorgia Meloni, the Italian government recently allocated €45 million ($48 million) to Lampedusa to help the island manage migration. But in the face of such an exceptional spike in arrivals, there is a clear lack of adequate resources to deal with the situation. Meloni, who was elected a year ago and promised to put an end to mass migration, has asked Europe for help. In a video message, the prime minister said that she had invited the president of the European Commission, Ursula von der Leyen, to travel with her to Lampedusa to see the situation on the island firsthand. She visited a migrant reception center on Sunday.
The Italian prime minister also announced that on Monday, at a Council of Ministers, her government will approve new migratory measures, including the creation and expansion of new Identification and Expulsion Centers for "illegal immigrants," as Meloni described them. She also issued a message to migrants: "You should not trust human traffickers, who ask you for a lot of money and put you on boats which are not equipped to make those trips, because if you enter Italy illegally, you will be held and sent back."
"Migration is a common challenge for the European Union that requires a collective response," Meloni said in a statement after a meeting with Hungarian Prime Minister Viktor Orban. She has called on her European partners to make a "greater commitment in fighting against the human trafficking networks and [in creating] an effective return policy."
The U.N. High Commissioner for Refugees (UNHCR) has called on EU countries to demonstrate the "spirit of shared responsibility and solidarity." "We think that now's the time for other countries, other states, other regions to try to support the Italians and to support the people of Lampedusa," said Matthew Saltmarsh, UNHCR spokesman.
European institutions are also supporting Italy. Anitta Hipper, from the EU commission, said "Italy has our full political support" and that the EU executive is "working with Rome from a financial and operational point of view." Hipper called for "solidarity" and "close cooperation" between member states, after Germany refused to receive more asylum seekers from Italy.
For its part, France has demonstrated its willingness to cooperate with Italy in managing the migration emergency that has overwhelmed Lampedusa. Despite past tensions with Meloni over immigration, French President Emmanuel Macron expressed his unwavering support for Rome. "I want to say very sincerely to all our Italian friends that I believe it is the responsibility of the European Union, the entire European Union, to stand by Italy," Macron told reporters on Friday.
Italian Interior Minister Matteo Piantedosi said that he had a telephone conversation with his French counterpart, Gérarld Darmanin, to address the issue. "[We] both agreed on the need to prioritize a strategy to rapidly strengthen cooperation with the countries of origin, which can have an effective impact on blocking departures at their origins," the Italian minister said. "We agreed to work together within the European Union in the coming hours to strongly reinforce the prevention of immigrant departures and the fight against people traffickers," Darmanin said.
But Matteo Salvini., Italy's vice president and the leader of the far-right Lega, broke the conciliatory tone. "Europe doesn't give a damn about what happens in Lampedusa and Ventimiglia. It has become clear in the last few hours that a distracted Europe has guiltily left the Italian government on its own to solve the problem by itself," he said. He went on to specifically call out the German government: "There are German institutions that give millions of euros to German NGOs to bring migrants to Italy."
Sign up for our weekly newsletter to get more English-language news coverage from EL PAÍS USA Edition