'Chabelo' dies: Mexico mourns legendary children's television presenter
Comedian Xavier López Rodríguez, who spent nearly 50 years in Mexican front rooms every Sunday morning on his popular show, has passed away aged 88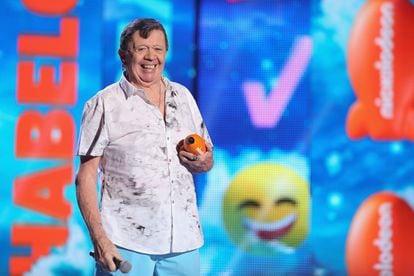 Millions of Mexican families are mourning the death of Xavier López Rodríguez, "Chabelo," who was a permanent fixture on their television screens for six decades. The 88-year-old comedian and children's presenter passed away on March 25 due to abdominal complications, according to initial reports; he had recently overcome an aggressive cancer, as he himself confirmed last year. The host of one of the longest-running television programs in Mexican history, Xavier López spent nearly 50 years in Mexican front rooms every Sunday morning with his show En familia con Chabelo (or, Family with Chabelo). And he spent even longer embodying the famous character from which his name derived.
López's family were from León, in the state of Guanajuato, although he was born in Chicago. He studied medicine and practice for a few years, but his destiny was always on the screen, which made him hugely famous. There were few characters as well known in Mexico as Chabelo. Last year, "every child's friend" as he was known announced he had overcome cancer with his trademark good humor: "Cancer? Yes, overcome. Thanks to God and the doctors, I'm out of danger. Terminally ill? No! Sick? Yes, a bit, ever since I was a little boy. Senile? Since I was 15 years old..."
López made jokes, and he was also the butt of them. Dozens of memes used the figure of Chabelo's character for laughs. He was compared to the Queen of England and other world celebrities to make people smile, in the knowledge that everyone in Mexico would be in on the joke.
Chabelo will live for generations in the memory of Mexico. On the day he announced his retirement, the broadcaster Televisa dedicated a word of honor to him and the comedian himself, in his peculiar projected voice, read out a letter written to him by then-Mexican president Enrique Peña Nieto, in which he thanked him for his work in television and his decades-long promotion of and commitment to "family values." When López's death was announced on Saturday, President Andrés Manuel López Obrador also sent an affectionate condolence to the family on social media: "I embrace both family and friends for the passing of Xavier López, 'Chabelo.' How could I forget that my eldest son used to wake up early to watch him more than 40 years ago."
Chabelo did not always wear his familiar attire of shorts and a sports shirt. He rose to fame in the 1950s on the program Carrusel Musical (or, Musical Merry-go-Round) and had roles in dozens of movies. His first part was in a movie alongside Mario Moreno, "Cantinflas," which gave his career a huge boost, although they never again shared the screen. In that film, Viaje a la Luna (or, Trip to the Moon), he first donned his childish attire, the comic vis that would distinguish him forever. Aged, 87, after his retirement, he gave an interview in which he did not come out very well. His clashes with the journalist put his less friendly side on display and he was ridiculed mercilessly on social networks. There were scores of memes in which his character was made fun of, Chabelo once again finding himself in the position of being the butt of an entire country's jokes.
Sign up for our weekly newsletter to get more English-language news coverage from EL PAÍS USA Edition