Messina Denaro: The 30 years of secrets that protected the Italian mafia boss
The Cosa Nostra capo managed to evade authorities thanks to a wide protection network involving high-level officials, businesspeople, doctors and lawyers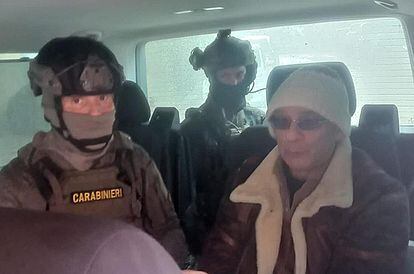 Matteo Messina Denaro, the last major capo of the Cosa Nostra mafia, was the most-wanted criminal in Italy. For 30 years, the state had tried to capture him. He was a kind of ghost, and his ability to evade authorities compromised the reputation of Italy's justice system and police. But the ghost was unexpectedly arrested last Monday at a clinic in Palermo, where he had been receiving cancer treatment for more than a year. It turned out that the mafia boss had been living in Campobello di Mazara, a small Sicilian municipality, just under two miles from his hometown of Castelvetrano, where his mother still resides. In the town, he hung out at the bar, bought groceries and ate dinner regularly at a pizzeria. He even often went to a Palermo boutique to indulge in luxury treats, such as the €35,000 ($38,000) Franck-Muller watch he was wearing when he was arrested. So how come no one managed to detain him in the past 30 years? There is something wrong with the official version of his arrest. According to experts, this is explained by the different levels of omertà, the code of silence observed in a region that the organized crime syndicate headed by Messina Denaro has ruled for decades.
There is no doubt that Messina Denaro was protected during his time as a fugitive. There were three levels of coverage: high-level, involving administration officials and politicians (multiple arrests have been made over the years); mid-level, involving the businesspeople who liaised with his profitable companies, as well as the doctors, lawyers and service providers who looked the other way – what authorities call the "mafia bourgeoisie;" – finally, ground-level: no one in the town of Campobello di Mazara or Castelvetrano betrayed him, indeed they saw him as a benefactor. "He's a good man. It was a mistake to arrest him," a resident of Castelvetrano told EL PAÍS last Wednesday.
"The province of Trapani has a very strong mafia presence, and they do not trust the state. If you have to look for work or food, only the mobsters can guarantee it for you. Mafia culture is a big problem. [Only] individual mobsters can be defeated," says Sicilian journalist Attilio Bolzoni, one of the leading experts on Cosa Nostra.
According to experts, Messina Denaro received high-level protection due to what he knew about the bloodiest period of Cosa Nostra, and the 1992 and 1993 attacks in Rome, Milan, Palermo and Florence. Saverio Lodato, a journalist and essayist, believes that "these secrets have protected Messina Denaro." Lodato, who was a friend of Giovanni Falcone, the anti-mafia judge murdered by the Cosa Nostra in a 1992 bombing, explains: "[Messina Denaro] has information about the 30 years of secrets about the state and the mafia, about the relationship they had. He has been arrested now because time is getting on and he was probably tired of living in these conditions. We will have to see if he wants to live in jail or collaborate. In this case, it is worth asking what comes first, the people's omertà or the state's. They always go hand in hand."
For years, Italy has been waiting for the results of the probe into the State-Mafia case (Trattativa Stato-Mafia), which has been investigating whether the Italian government negotiated with Cosa Nostra in the 1980s and 1990s in order to stop the terror attacks. It is suspected that the state was willing to soften the harsh prison conditions of 400 detainees and grant them other legal privileges if the Sicilian mafia group stopped the attacks.
Judge Nino Di Matteo, who has been tasked with investigating the State-Mafia case, has no doubt that this is one of the factors that has allowed Messina Denaro to escape capture for three decades. "Unfortunately, our country has seen similar situations on other occasions. [Former Cosa Nostra bosses] [Totò] Riina was also a fugitive for 23 years, [Bernardo] Provenzano, for 43. Legal history, sadly, has taught us that these fugitives have been able to remain free for such a long time because the protection network around them was not only made up of mobsters, but, in many cases, also forged by the political, business, professional and even institutional sector. Now we will need to determine if MMD [Matteo Messina Denaro] has also had personal coverage and protection," he tells EL PAÍS by phone.
One of the judges who best knows the Messina Denaro case is Roberto Scarpinato, who investigated Cosa Nostra and the Corleonesi mafia clan for years, forming part of Falcone's legendary anti-mafia team. "MMD was one of those involved in the 1992 and 1993 attacks, and one of the few who know the very important secrets that implicate powerful men and mafia accomplices," says Scarptino, who is now a senator. "During our investigation into him, we determined how he was protected by police force officers, who gave him information to escape arrest. Some of them were arrested and others convicted."
Scarpinato points to a disturbing incident that happened ahead of Messina Denaro's arrest. "Two months ago, another important mafia boss in jail, Giuseppe Graviano, sent one of his men to publicly announce on television that MMD was seriously ill and would allow himself to be arrested in exchange for a secret negotiation that would allow the release from prison of other mafia chiefs sentenced to life imprisonment for the attacks," he says. Not long after, Messino Denaro was captured in Palermo.
The investigation was carried out by Palermo Prosecutor Paolo Guido, who followed the old-school methods of General Carlo Alberto dalla Chiesa, who was assassinated by the Cosa Nostra in 1982. This strategy involved wiretaps, surveillance and checking cancer patient lists for names with the same disease as Messino Denaro. Indeed, it was the mafia boss's ill health that may have ultimately brought him down. He lowered his guard, taking selfies with nurses and even exchanging phone numbers with other patients.
Italy is now divided between those who think Messino Denaro was arrested and those who believe he let himself be arrested. Judge Scarpitano also shares these doubts. "Recently, all his behavior changed. He put aside the sophisticated methods he used before, and made a series of rookie mistakes, such as using cellphones, taking selfies, chatting on WhatsApp and using documents that belonged to relatives of other mafia bosses," he points out.
But sources from the investigation deny this: "It is complete nonsense. Nobody wants to be arrested, especially not him. But it is true that his state of health and a certain exhaustion may have caused him to be less cautious."
In fact, something happened last December that could be linked to his arrest. Messina Denaro always had high-level contacts in Italy: his father began his criminal career as an armed guard for the D'Alì family, wealthy landowners and one of the founders of Banca Sicula, which was the most important in Sicily until it was absorbed by another banking group in 1994. The two families became friends and prospered in different ways. Antonio D'Alì, son of the founder, was later a senator for the political party Forza Italia and undersecretary of state at the Interior Ministry. But last December, he was sentenced to six years in prison for crimes related to the mafia and sent to jail. Exactly one month later, Messina Denaro was arrested.
There are no doubts that Messina Denaro was protected. Bolzoni also believes that this security was provided by "state apparatuses." So far, the documents found by police do not suggest that there will be any answers to the many questions about Messina Denaro's 30 years as a fugitive. And if Messina Denaro was the last capo of Cosa Nostra, who is in charge now?
"There is no clear leader," says Bolzoni. "He commands a business sector linked to the mafia bourgeoisie. The Cosa Nostra went back to its origins when the violent parenthesis of the Corleonesi mafia clan ended. Now it's a real mafia. It does business, infiltrates… it doesn't want problems with the state."
A new era is beginning, and it doesn't want to be held accountable for the past.
Sign up for our weekly newsletter to get more English-language news coverage from EL PAÍS USA Edition
More information