The faces of Peru's protests: 'We will be here until the final battle'
Thousands of Peruvians are calling for new elections after Pedro Castillo's failed self-coup plunged the country into chaos. At least 22 people have been killed in the clashes
The political suicide of Pedro Castillo – who attempted a failed self-coup and was subsequently impeached and arrested – has plunged Peru into uncertainty. At least 22 people have died in clashes between rioters and the security forces. The protestors – most of them concentrated in the Andean south of Peru – are calling for the dissolution of Congress and for new elections to be called. President Dina Boluarte, who was sworn after Castillo's arrest, has been unable to quell the protests.
"I am here for my homeland, for the injustice that is being done to Peru. For the killings that no one takes an interest in. For Congress to be dissolved," says John Paul Jara, 20, sitting on his bicycle in the San Martín square in Lima. He is one of the thousands of people who have taken to the streets to protest the latest political episode in Peru, which has seen four presidents in six years.
For many Peruvians who reside in the interior of the country, Castillo's narrow victory in the 2021 presidential elections was symbolic. As the third Indigenous president in the country's history and a lifelong resident of rural Cajamarca, they saw him as someone who could combat the elite of Lima. His fall from grace – after only 16 months in office – has come as a shock.
There are still a lot of questions about what happened on December 7, when Castillo announced in a televised address that he was dissolving Congress and decreeing a "government of exception."
Johny Arce, 38, says the speech Castillo delivered seemed "kind of weird." The fact that Castillo was trembling and sweating as he gave the address makes him think that perhaps the former president had been drugged or threatened. Or maybe someone had swapped the sheet of paper with the speech, says Arce, and Castillo read it without fully understanding its contents. What Castillo was thinking remains a mystery. But within three hours of giving the speech, he was arrested, throwing Peru into a political and social crisis that is unlikely to be resolved any time soon.
Arce has traveled from Vizcatan del Ene, in the eastern part of Junín, to take part in the protests in Lima. The trip took 20 hours, but he and his friends thought if they didn't leave, no one would know what "the interior of Peru wants." He left behind his wife and three children, but says he will stay as long as necessary. When asked how long that is, he replies: "Until the final battle. Until the end of this country-selling Congress. The people screwed, they have neglected us all our lives."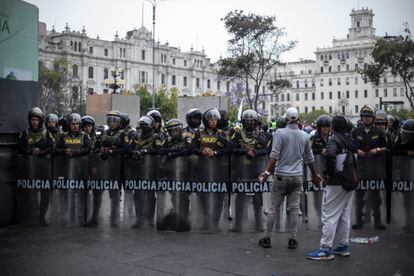 Not all the protests have been peaceful. Demonstrators have also stormed airports, attacked public offices and police stations in inland areas, and set up roadblocks. While in Congress there is discussion about pushing the elections forward from July 2026 to December 2023, for the protestors, the proposal is laughable: they want elections now. It is worth noting that none of the incumbent legislators or members of the executive branch would be allowed to run for immediate re-election, as consecutive terms are prohibited under Peruvian law.
Peru may be a divided country, but they are united in their opposition to Congress: the legislative branch has a disapproval rating of 86%. As for the former president – who faces 10 years of prison time – he still has a lot of support among his stronghold in the south.
"I want my president to be freed. He is a good, upright, correct man, who thinks of the cholada [the mestizos and indigenous people]," says María Cornejo, 77, who had never imagined she would see someone like Castillo come to power. She's protesting because she wants him back. When asked about the attempted coup, she shrugs: "He has a good heart, they [Congress] didn't let him govern."
While it is true that Castillo was consistently opposed by the Congress of Peru, he also governed in an improvised, chaotic manner. At least 70 cabinet ministers – many with no expertise in their portfolios – were appointed and resigned during his short tenure.
"He had the opportunity to make a leftist government, he could have been our Benito Juárez," says journalist César Hildebrandt. "Instead, he was the man who allowed the public treasury to be looted and surrounded himself with vermin. The epic story of change ended up becoming a judicial file."
In his 16 months in office, he was accused of corruption and faced down two impeachment votes. On the day of the self-coup, he was set to face another. All signs indicated that he would have survived the vote, as it did not have the backing of two-thirds of the chamber as required. No one expected what came next.
"The only thing I think he did do was give jobs to his relatives and acquaintances," says Leslie Trigo, a protestor in Lima, in reference to the corruption charges against Castillo.
But on the street, the protestors focus more on Congress and the new president, whom they consider a traitor. On Saturday, Boluarte gave a national address in an effort to calm the unrest. In her speech, Boluarte said she tried to protect Castillo, and maintained that she would not step down from the presidency until there are new elections. She looked nervous and tired. The ongoing political crisis is becoming more tense with deaths, mostly of young protestors shot by police, reported with each passing day. Two ministers have already resigned due to the police repression and the government's state of emergency, which will be in force for 30 days. And on Sunday, Boluarte announced she would fire the prime minister, Pedro Angulo, who she appointed to the position just over a week ago.
Emiliano Yaranga, 51, is from Junín, where a minor and a 23-year-old were killed on Friday. He has come to Lima to protest against Congress. Yaranga, who has been sleeping outside in the capital along with 200 others, says the people are fed up. He explains that Peruvians in the interior are described as terrorists, even though they were the ones who suffered the most under the Shining Path terrorist group, which wreaked havoc in the 1980s.
Sitting on his bicycle, John Paul looks at Lima's San Martín square, which is beginning to fill up with people. He says that he is protesting today because he wants "Peru to be fixed." He reads his latest poem: "I lost my family, because of the street. I am alone today, because of the street. Lost on the sidewalk, nobody helps you. They are killing you, they laugh with joy."
Sign up for our weekly newsletter to get more English-language news coverage from EL PAÍS USA Edition