Why Brazil's first-time voters are backing Lula
More than two million teenagers have registered to vote in the 2022 elections, and polls predict that most will cast their ballots for the leftist former president
Richard da Silva is a 16-year-old public high school student in downtown Rio de Janeiro and wants to go to college to study "something related to psychology." When he was born in 2006, another more famous da Silva was winding up his first term in office – former president Luiz Inácio Lula da Silva. Richard has little recollection of Lula's presidency, but intends to vote for him on October 2. "He represents a way out of this mismanaged government – we need a president who knows the Brazilian people," he tells us resolutely.
Da Silva is one of the two million youths aged 16-18 who recently registered to vote in the October elections. Brazil is one of the few countries in the world that has given older teenagers the vote. Voting is mandatory for citizens over the age of 18, but voluntary for those under that age. In April, a largely spontaneous social media awareness campaign boosted by musicians and celebrities successfully mobilized a generation that is usually politically apathetic. The outcome was unprecedented and "impressive," say Brazil's electoral authorities. The number of young people registered to vote increased by 47% over the 2018 elections.
"Obviously, I don't remember when Lula was in power, but I see how the lives of my family, cousins and uncles improved dramatically during those years," said Richard. He tells us about his cousin Elza, who was able to get a teaching degree and become a teacher because of the scholarships available back then. It makes perfect sense to him why Lula's campaign has constantly evoked nostalgia for the past, and made frequent promises that Brazil will be a happy country once again.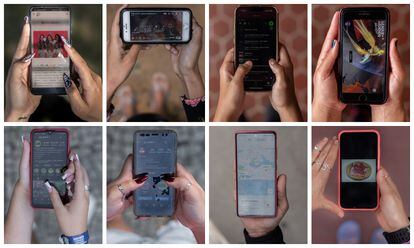 Inês de Jesus Cassoma is a 21-year-old resident of Nova Iguaçu, on the outskirts of Rio. She tells a similar story, and says that she didn't vote in the past election, even though she was eligible. "You wouldn't believe how nervous I am. Young voters like me will decide the future of Brazil," she said. Although she would love to have a Black woman "like Marielle Franco" (the politician and human rights activist assassinated in 2018) as president, Cassoma supports Lula mostly because of his public education policies and programs. She is the daughter of Angolan refugees who fled to Brazil during the civil war, and her father was able to study sociology at the university because of Lula's refugee and immigrant assistance programs. "That changed everything. I wouldn't be the same without the education my parents were able to provide," she said.
Cassoma deplores the tumultuous past few years: cutbacks, teacher strikes and a pandemic that exposed the delusion of trying to provide remote learning for Brazil's poorest. "Public schools were already neglected even before Bolsonaro, but it has gotten worse. The inequality between public and private schools in Brazil has revealed the government's complete neglect," said Cassoma. When the pandemic hit, she had to postpone her plans to study law and African history. Instead, she started up a small cosmetics business for Black women – Cassoma Beauty. But she hasn't given up her dreams of higher education.
Even though Lula is now 76 years old, young Brazilians say he is fully engaged with the issues of the day – LGTBQ+ rights, racism and climate change. But mostly they like his programs that provided greater public university access for the poor when the PT was in power. Racial quotas, for example, permanently changed the face of faculties once dominated by mostly white elites. Lula often cites this as one of his crowning achievements in campaign rallies and interviews.
For young Brazilians, this Lula legacy outweighs the scandal-ridden years that ended up with his imprisonment for corruption, convictions that were later overturned. "I always thought that all those scandals were just an opposition strategy to crush Lula. I don't think they affected him much," said Richard da Silva. It's an opinion shared by many Lula's supporters – he was the victim of judicial and political persecution that wanted to remove him from power at all costs. Others reject Bolsonaro's attacks against the electronic voting systems that have been used in Brazil for the last 25 years, saying that he will use this as an excuse to not concede defeat.
According to a September 22 Datafolha survey, the 16-24 age bracket is where Lula has the biggest lead over Bolsonaro. Fifty-four percent of voters in that age bracket say they will vote for Lula, a 30-point margin over his opponent. Another late-July poll indicated that 70% of young Brazilians would not vote for Bolsonaro under any circumstances.