Concern grows as Western automakers lose ground in China
Beijing loosens restrictions on international joint ventures while local competitors step on the gas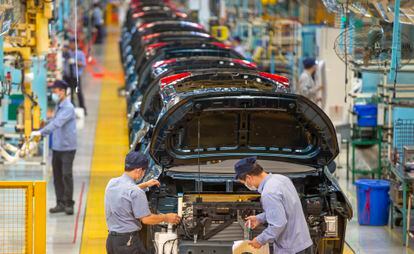 Political meddling is just one of the many headaches that Western automakers endure in China. In July, Stellantis CEO Carlos Tavares blamed interference by the Chinese government for the cancellation of the Jeep-maker's joint venture in the world's largest auto market. But local car manufacturers may pose a bigger threat to foreign companies as they continue to grab a larger share of the Chinese market.
For decades, the world's large car manufacturers had to establish onerous joint ventures with local companies to establish a foothold in China. Beijing hoped that this strategy would transform inefficient local partners into industry leaders. But the policy failed – the local companies failed to develop export markets, and even the most patriotic Chinese consumers preferred to buy cars made by Nissan, General Motors and Volkswagen. By 2000, the German company had claimed more than 50% of the Chinese market.
Now, as China relaxes its international joint venture requirements, local competitors are stepping on the gas. In 2021, foreign automakers saw their combined share of the Chinese auto market shrink to 45.6%, and Volkswagen's market share dropped to 15.5% in the first half of 2022.
Two factors are driving the growing competitiveness of Chinese automakers. The growing pool of domestic technical talent has fed the growth of thriving, privately-owned vehicle manufacturers such as BYD, Geely (which owns Volvo) and Great Wall Motor. China now has a competent group of manufacturers of conventional, mid-range passenger vehicles that can lure foreign designers away from the likes of BMW and the Italian design firm, Pininfarina.
The second factor is Beijing's push to outpace the West in manufacturing electric vehicles. In 2021, 3.3 million hybrid and battery-powered cars were registered in China, accounting for 16% of total sales. Meanwhile, European consumers bought 1.1 million fewer electric vehicles. McKinsey consultants say that the Chinese companies are able to manufacture safe auto bodies that are lighter than those built by their international rivals. The Chinese also have local access to cutting-edge battery expertise from global leaders such as Amperex Technology, valued at $194 billion.
Tesla is currently the only foreign automaker that has succeeded in claiming a spot on the list of China's top 10 best-selling electric vehicles. Research firm Redburn estimates that Volkswagen now has only 10.8% of China's electric vehicle market, although the $89 billion company is planning to launch new models and is investing in research and sales centers.
The increasing competitiveness of Chinese automakers has impacts beyond its borders, as they continue to reinvest profits to take on Western giants in other markets. BYD, the Warren Buffett-backed Chinese automaker that is challenging Tesla for the title of the world's largest electric vehicle manufacturer, shipped its first lot of 1,000 SUVs – the ATTO 3 – to Australia in August. As more Chinese cars start showing up on Western roads, complaints about political meddling by the Chinese government will surely grow louder.