United Kingdom paralyzed by historic heat wave
Heathrow Airport in London tops 104ºF (40º C) while trains cancel routes due to heat-related damage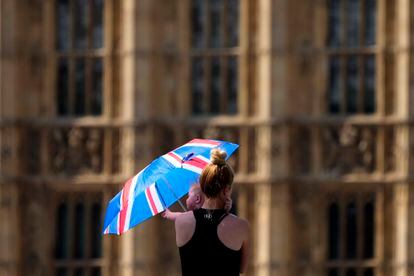 The United Kingdom is in the midst of a historic heat wave that few Britons have ever experienced. Most public transportation, especially railroads, have drastically cut back on services. Authorities have asked people to keep activity to a minimum, avoid traveling, stay indoors during the hottest time of the day, and try to work from home.
The executive director of London's Heathrow Airport told a humorous anecdote to EL PAÍS about some workers in Terminal 5 who went outside briefly just to personally experience the highest temperature ever recorded there. For the first time since recordkeeping started in 1914, a temperature above 104ºF (40º C) was recorded in England: 104.36ºF (40.2ºC) to be exact, at Heathrow Airport. This broke the 2019 record of 101.66ºF (38.7ºC), recorded in Cambridge (eastern England).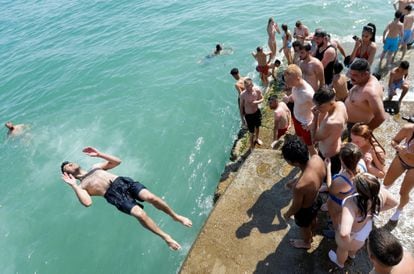 East of London, the town of Wennington was forced to dispatch 15 teams of firefighters to put out fires in a row of townhouses, presumably caused by the high temperatures. London Mayor Sadiq Khan declared the fire a "major incident," which enabled him to launch extraordinary response measures, noting that firefighters are under "immense pressure" during this unprecedented heat wave. Wildfires have also broken out in the forests and scrublands around the outskirts of London. South of the capital city, 25 firefighters battled fires in Croydon County's Shirley Hills Park, while another 175 firefighters struggled to control a wildfire in Upminster's Pea Lane area (east of London).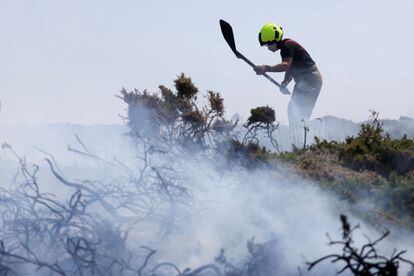 The UK's Meteorological Office and its Health Security Agency jointly issued a red alert for the week of July 18, which is equivalent to a national emergency. Britons began to slow down on the first day of the emergency, but by the second day, the country ground to a halt under the extreme temperatures. Only four London subway and commuter lines have air conditioning. A trip on Bakerloo Line (central London) became a terrifying experience on the first day of the emergency as train cars turned into suffocating ovens and trapping travelers – many of them unsuspecting tourists – in their seats. London's public transportation agency reported a 30% drop in passengers from the week before, but more than a million people still braved the subways, commuter trains, and buses in the early morning before temperatures soared.
Network Rail, the UK's main public railroad operator, cancelled much of its schedule and asked people not to travel if they didn't have to. A tweet from Network Rail explained its cancellations: "Some of our hottest tracks, like the one in Suffolk (eastern England) reached 143ºF (62ºC) on July 18. Temperatures on the tracks can be 20 degrees higher than ambient temperatures, which causes them to expand, buckle and break." On the few routes that are still running, trains travel at half-speed for safety.
Thames Water company director Andrew Tucker told the BBC that water demand "… is about to reach record levels because everyone wants more water, all at the same time." So far no water rationing is planned.
The British government has decided that schools offering summer courses and activities, hospitals, and public transportation must remain open, with the appropriate precautions. The authorities have been issuing frequent warnings to anyone trying to beat the heat in the country's rivers and oceans. At least five teenagers have drowned during the heat wave. "It's a risky activity, particularly for young people who are tempted to go swimming in rivers when the temperatures are so extreme," said Health Minister Steve Barclay.
As night fell on the second day of the emergency, the first drops of rain sprinkled over London. "It will be cloudy over most of the country, with showers moving east on Wednesday morning (July 20)," said the Meteorological Office's forecast. "It will still be warm, but temperatures will be noticeably cooler than on Tuesday."