Former guerrilla Gustavo Petro becomes Colombia's first leftist president
The Pacto Histórico coalition's candidate wins 50.4% of the vote to defeat populist Rodolfo Hernández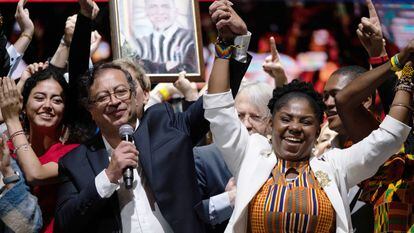 Colombia began a new political era on Sunday – for the first time in its contemporary history, the left will govern the country. Gustavo Petro won the presidency with 50.4% of the vote against populist Rodolfo Hernández's 47.3%. The Pacto Histórico political coalition's resounding victory clearly demonstrates the nation's desire for change after decades of conservative governments. Petro's three-point margin of victory erased any suspicions of electoral fraud and ended the tensest presidential campaign in Colombia's recent history.
Petro waged a political battle against Hernández, but he also battled his own image and reputation. There is immense anti-Petro sentiment throughout a country wearied by decades of conflict and violence. For many Colombians, the former M-19 guerrilla and standard-bearer of the left embodies everything they did not want in a president. Some people, the ones who have historically held power, would have voted for anyone but Petro. Until today.
In another first for Colombia, the country will have its first Black vice president, Francia Márquez. The Afro-Colombian environmentalist who once had to flee her home because of death threats, will also serve as minister of equality. Her success was hard-won – even Petro was unsure about having her on the ticket as his vice-president. Márquez became the star of the campaign, and catalyzed votes for Petro in unexpected ways. She was able to rally the Afro-Colombian vote, women, people in the far-flung reaches of the country, the ones she called "the nobodies." They all saw themselves in this single mother who put a face on the violence they had experienced, and then lifted her to a seat at the right hand of the president.
Weary of the country's deep social inequalities and unhappy with the traditional ruling elite, the frustration of the street protests finally showed up at the ballot box. In 2019 and in 2021, this social discontent sparked mass protests that paralyzed entire cities and left dozens dead, mostly young people, victims of police repression.
Petro has enormous challenges ahead. He cannot disappoint all the people who hope that his victory will bring real change in their lives. But he also needs to unite a broken and divided country.
Petro thought that he would be facing the same forces that he has opposed his entire political life – the legacy of former president Álvaro Uribe, the traditional parties, the political elites, the establishment. But their candidate, Fico Gutiérrez, had already been defeated in the first round of voting. Sixty percent of the country had already voted for change in that round, and those who backed Gutiérrez switched to a Trojan horse candidate – the crude and disruptive Rodolfo Hernández. Here was a Trump-style candidate who quietly gathered enough votes to put up a fight, and even pulled ahead in the polls after the first round by scooping up all the conservative voters who had supported the defeated Gutiérrez.
But the presidential campaign dragged on for too long. Hernández began to falter after the first round, bogged down in a failed strategy of hiding behind social media posts and refusing to participate in a single debate. And he was never able to shake the serious charges of corruption stemming from his days as mayor of Bucaramanga. Hernández remained confident in his victory until the very end, and then quickly conceded. "I called Gustavo to congratulate him on his victory and to offer him my support in fulfilling the promises of change that Colombia voted for today," said Hernández.
Petro will be inaugurated on August 7, succeeding Iván Duque, the last president in the mold of Álvaro Uribe. Colombia's new government will join a regional left-wing bloc that already includes Mexico's Andrés Manuel López Obrador, Argentina's Alberto Fernández, Bolivia's Luis Arce, Peru's Pedro Castillo and Chile's Gabriel Boric.
On election day, the president-elect took to social media with dire warnings of election fraud. But by the end of the day, his tone was euphoric. "Today is a day for the people to celebrate – all the people who took the streets and the town squares."